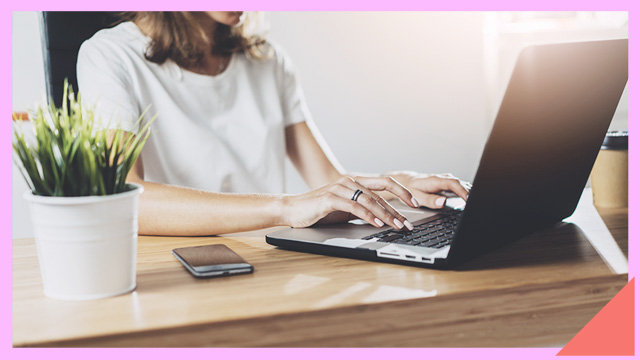 2020 has been a financially tough year for most Filipinos. Some of us have been laid off, retrenched, or furloughed, while others have seen their company shut down. And with the world's post-pandemic future looking as uncertain as ever, it's a good idea to be financially prepared and look for ways to earn some extra income. 
ADVERTISEMENT - CONTINUE READING BELOW
Thinking of taking up a side gig or two? When you sign up for online part-time jobs, you're usually at liberty to take on as much work as you can handle, which means you still get to enjoy work-life balance! Below, check out some online part-time jobs to consider.
Transcriptionist
What you'll do: Convert audio and recordings accurately into text. 
What to expect: Think you've got what it takes to be a transcriptionist? The job sounds pretty straightforward, but you'll need a good ear, fast typing skills, proficiency in grammar and spelling, and the ability to understand context clues. Consider that the audio won't always be clear or indecipherable, so you'll have to make a few intelligent guesses from time to time. 
This job also requires accuracy and a keen attention to detail. You'll cover a wide range of topics, which can include interviews, workshops, and more. 
No previous experience is necessary, but you'll have to take a transcription test.
English teacher
What you'll do: Teach English to non-native speakers through video calls, often with the use of apps or games.
What to expect: Teaching is one of the toughest jobs in the world—and just because you're working from home doesn't make it any easier! In fact, it becomes even trickier since it's hard to pick up on your student's nonverbal cues. You'll need plenty of patience and energy, particularly if you're handling younger students. You also have to be able to determine each student's needs and adjust your lesson plan accordingly. 
Of course, top-notch English skills are required for this job. Don't worry, most companies often provide training before you actually start teaching.
Data entry encoder
What you'll do: Enter accurate and updated information into the client's preferred database. 
ADVERTISEMENT - CONTINUE READING BELOW
What to expect: This job involves clerical duties, including but not limited to organizing data, checking for accuracy, and uploading it into the company's system. Expertise in Microsoft Excel and similar software is a plus. You'll also be working towards deadlines, so you'll also need to develop your typing accuracy and speed. 
It might seem like a menial job, but you'll get to work on your soft skills, such as administrative and organizational abilities.
Social media manager
What you'll do: Curate and produce engaging content for your client's social media channels. 
What to expect: Are you constantly on the 'gram or TikTok? Might as well make use of your love for social media by making a side gig out of it! 
Social media managers are required to stay on top of trending topics and tools. You'll implement a content strategy to keep their client's followers engaged. The job also entails interacting with users and answering their questions. 
ADVERTISEMENT - CONTINUE READING BELOW
For this job, a Communications degree is usually required, as well as demonstrated knowledge of social media trends. 
Copywriter
What you'll do: Write clear and concise sales copy for web or print. 
What to expect: A copywriter's main job is to hook potential customers using words—and to hopefully translate that interest into sales. To do so, the writer needs a firm grasp on the English language, their client's services, and most importantly, the consumers' needs. Whether it's short- or long-form content, you'll come up with powerful copy. 
A Communications or Marketing degree would come in handy for this role. 
Telemarketer
What you'll do: Sell the client's services and answer questions from customers over the phone.
What to expect: The Philippines is a well-known BPO hub, with call centers populating central business districts all over the metro. But did you know that you can also become a telemarketer while working from home? 
ADVERTISEMENT - CONTINUE READING BELOW
You'll need excellent verbal communication and persuasive skills—not to mention tons of patience—to succeed at this job. You also have to be able to keep a cool head while dealing with different kinds of people. 
A lot of vacancies are open with no prior experience needed, but companies usually require at least a vocational diploma or a two-year college degree.
Virtual assistant
What you'll do: Provide administrative services such as managing calendars, setting up meetings, and sending emails. 
What to expect: Think of a virtual assistant as a secretary—but on a project basis. The job responsibilities vary depending on the client, but virtual assistants typically need a proven track record with handling administrative duties. These can include project management and bookkeeping. You'll need to be organized and on hand to anticipate your client's needs. 
A high school diploma is usually required for this role.
ADVERTISEMENT - CONTINUE READING BELOW
Load More Stories