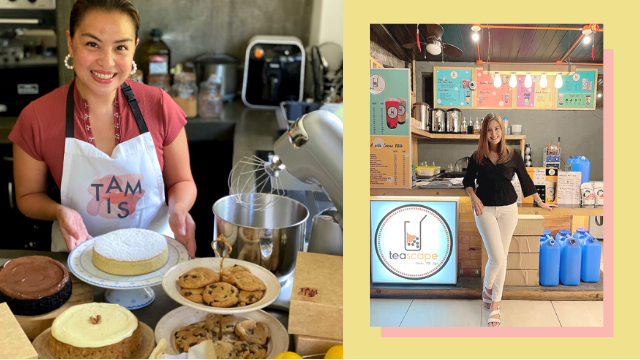 When the spread of the coronavirus all but shut down the world for much of last year, we saw many beloved food and beverage shops close their doors. Some of these would reopen as quarantines lifted, and but not all.
ADVERTISEMENT - CONTINUE READING BELOW
And while this did leave a void in our sources of comfort food, other businesses also sprang up to offer new favorites.
CONTINUE READING BELOW
Recommended Videos
What's more, these businesses have made the most of the limitations COVID-19 has placed on our mobility and willingness to eat out. The shift toward food deliveries has meant lower overheads as they no longer need large dining areas or even storefronts. This is true not only in Metro Manila, but in Cebu as well. And below are just five of the businesses that have sprung up to fill this pandemic-created need. Plus, all of them are run by Cebuana foodiepreneurs! 
Keep reading to find out about the yummy food and beverage options offered by these fierce females from the Queen City.
The Bakery Boutique by Joan-Paula Genson-Zanoria
Online coffee shop The Bakery Boutique may have gotten its start during last year's lockdown, but Joan Zanoria and her kids have been entrepreneurs since 2015. The family's first venture into business was selling mac and cheese at the Sugbu Mercado at IT Park, a weekend food market. They then expanded to sell different snack items at events like concerts, school gatherings, and bazaars.
ADVERTISEMENT - CONTINUE READING BELOW
Their entrepreneurship helped contribute to the family's income, which took a dive during the lockdown thanks to the cancellation of the events at which they had sold their food. So Joan took the business online. The Zanorias set up The Bakery Boutique in July 2020, and it quickly became known for their milk cheese donuts and other novelty delicacies.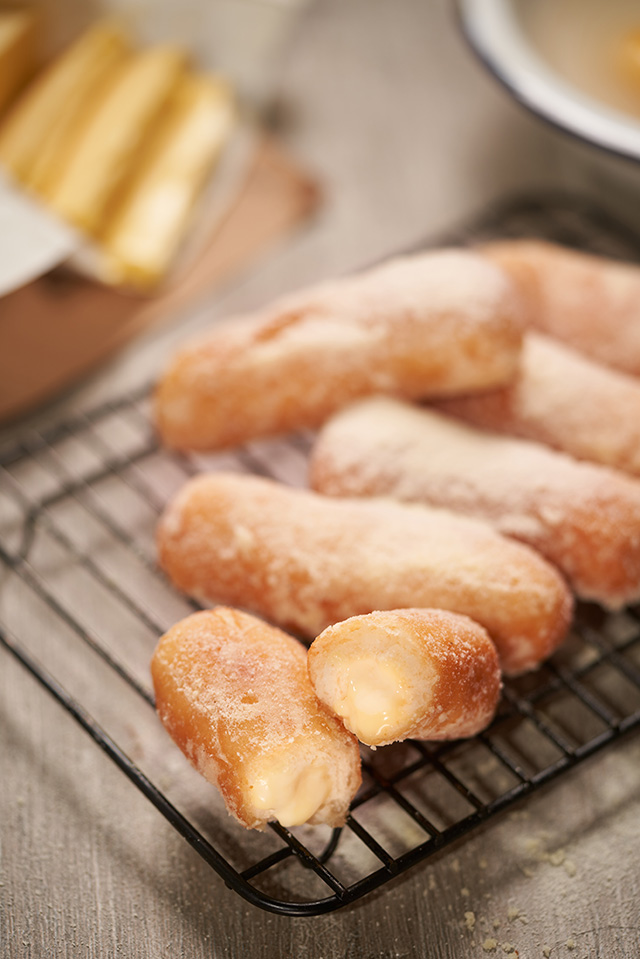 ADVERTISEMENT - CONTINUE READING BELOW
By taking their business online, Joan and her family were able to recoup the losses brought on by the pandemic. "We had to work hard on it, though, to be able to still meet our sales forecasts in spite of all the challenges." She says accessibility to customers was the biggest challenge the lockdown presented. "Riders were limited to cross [from one city to another], thus we were limited to only catering to our own areas."
Joan believes strongly in the concept of paying it forward. As a former working student herself, she now prioritizes hiring students who are willing to work to support their educations. "As a business owner, my number one priority is to provide jobs to students who are willing to work for their allowances. Each time I am able to employ [someone], I get excited to see their growth [and] success while working for us and when they are able to work in a bigger company."
ADVERTISEMENT - CONTINUE READING BELOW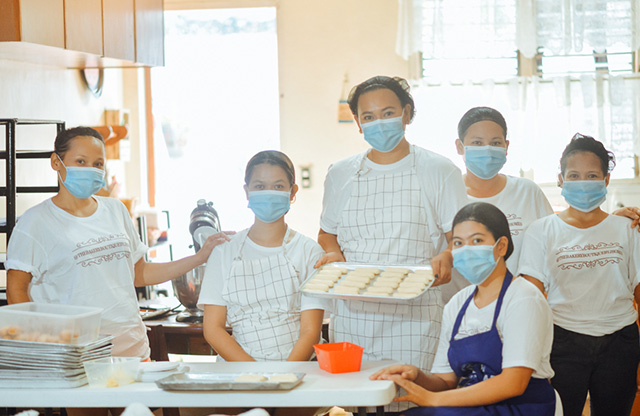 When it comes to starting what she calls the entrepreneurial journey, especially during the pandemic, Joan advises, "Think fast and act fast: Everyone is affected with the situation, don't let the situation hinder you from doing [what] you are skilled at doing. Do not lose your sense of creativity, always remember that not everyone has a gift in entrepreneurship, make most of that gift and be a blessing to others." 
ADVERTISEMENT - CONTINUE READING BELOW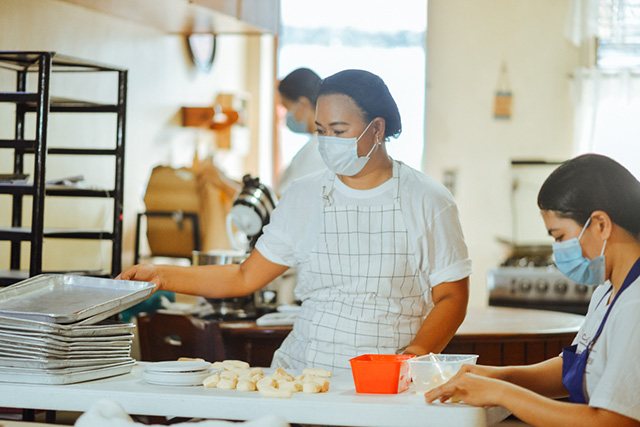 Find The Bakery Boutique on Facebook and on Instagram.
Dulce Cookies Cebu by Aubrey Villanueva
When she moved from overseas to Cebu for graduate studies, former English teacher and academic manager Aubrey Villanueva allowed her fledgling cookie and cake business to take a back seat to her education. Then came the coronavirus, and she found herself having to find ways to help earn enough money to meet her family's needs.
ADVERTISEMENT - CONTINUE READING BELOW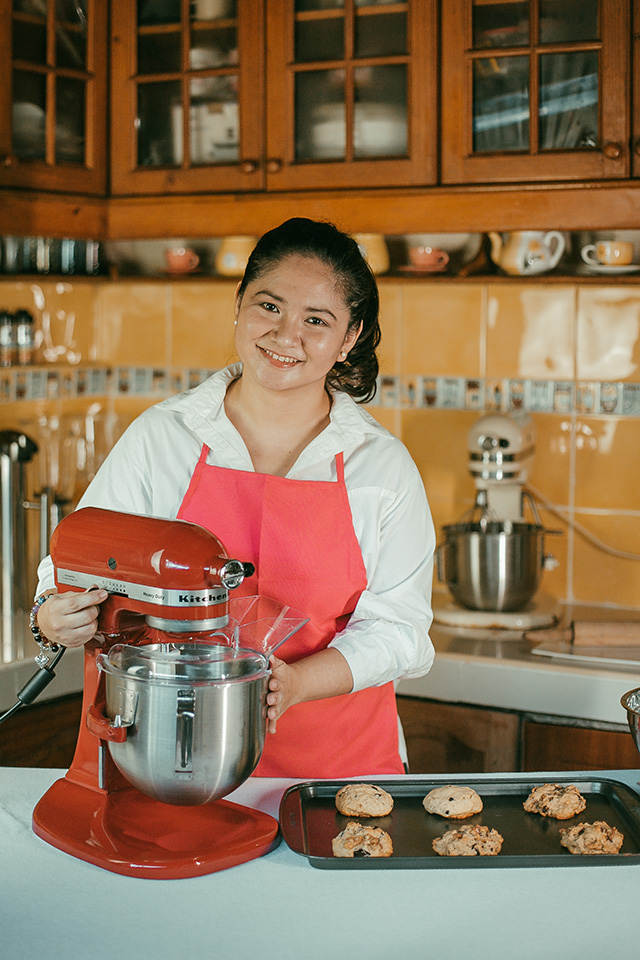 Driven by both necessity and the idleness of staying home all day, Aubrey started baking again. "I wanted people to try my version of my favorite NYC-style cookies," she says.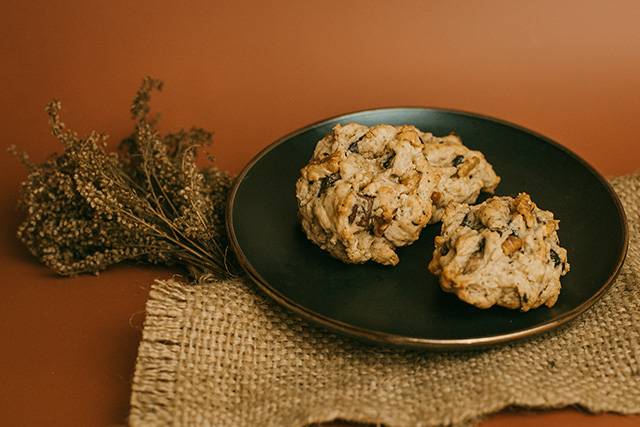 ADVERTISEMENT - CONTINUE READING BELOW
Her nurturing nature and positive attitude also came to the fore. "I love feeding people. I mean, it is a different satisfaction when somebody appreciates your work in baking or cooking. I enjoy getting feedback from my clients, especially the positive ones. And the not-very positive ones? They inspire me to do better. Any form of feedback for me simply means my customers care enough to say something. And repeat orders from satisfied customers are just the best."
Aubrey suggests this kind of positivity as a must-have for anyone hoping to turn a hobby into a business—or going into any endeavor, for that matter. "Optimism is always a motivating factor to make it in any field. Always take the risk, and you will be surprised how the puzzle pieces come into view."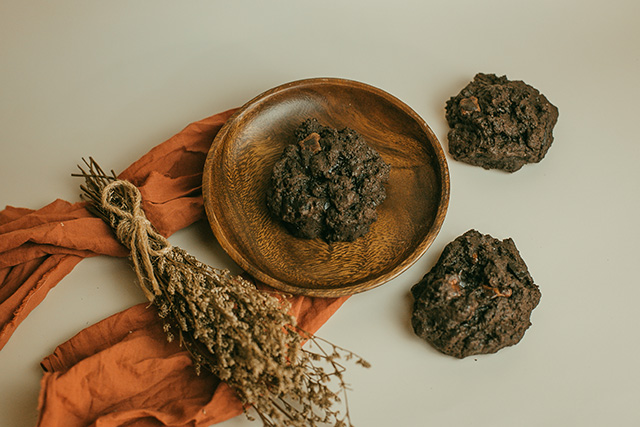 ADVERTISEMENT - CONTINUE READING BELOW
Find Dulce Cookies Cebu on Facebook and Instagram.
MCB SouthSide Eats by Mary Adrienne Valero-Lood and Caecent N. Magsumbol 
If ever there was a business that emerged from the challenges of COVID-19, it's MCB SouthSide Eats. This home-based company provides frozen meals made from fresh and natural ingredients with no preservatives or synthetic additives. Chuck these in the freezer, and when you're ready to eat, just heat with hot water, on a stovetop, or in a microwave—perfect for those who didn't spend the quarantine discovering their inner chef. And loyal customers get some variety, as their menu changes every quarter.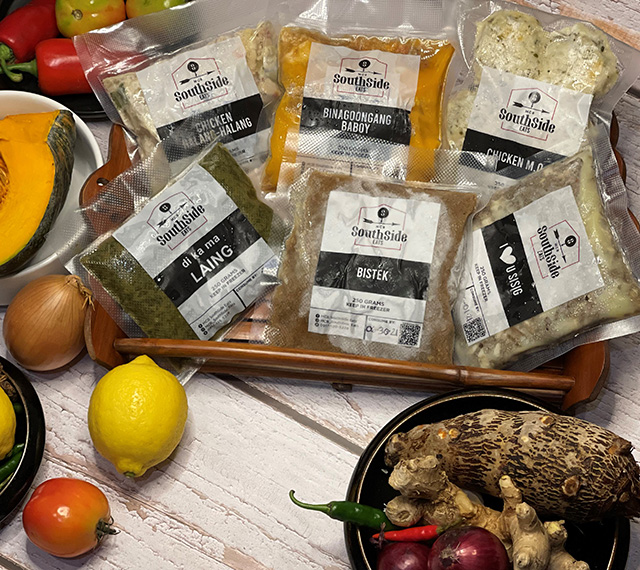 ADVERTISEMENT - CONTINUE READING BELOW
The business is the brainchild of partners Mary Adrienne Valero-Lood and Caecent N. Magsumbol, neither of whom had thought they would be starting a food business in the middle of a pandemic.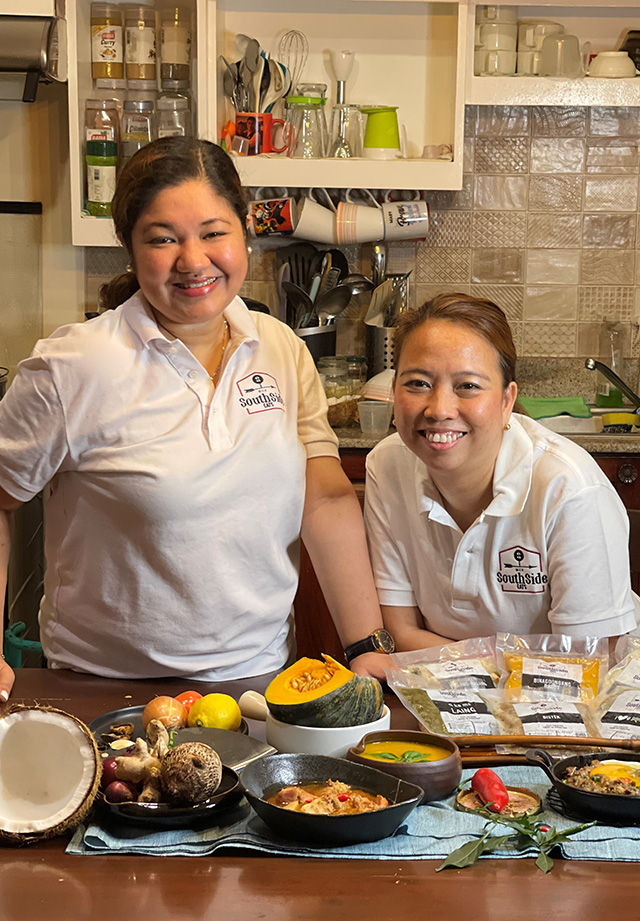 Mary describes herself as previously having been a "total career girl," firmly entrenched in the corporate world. In 2016, she started selling gourmet salts and cookies and had been planning to quit her job in 2020 to take classes in cookery before opening a small café or bistro.
ADVERTISEMENT - CONTINUE READING BELOW
"Then the pandemic hit, and everything changed. I was all of a sudden a full-time mom and homemaker juggling getting my kids through online classes, house chores, taking care of my family, and putting three square meals on the table every day. There were just too many days where there wasn't enough time to do everything. It was my struggle with these competing priorities that sparked the idea of creating make-ahead meals both for convenience and nutrition (no more hotdogs and canned goods if I was in a pinch)."
Enter Mary's best friend, sportswriter and news reporter Caecent, who says she and her husband had always wanted to start a business. "But we didn't know what kind and where to start."
She and Mary sat down together to hammer out a business plan and promptly started their home-based, order-only business. And even though Caecent says the food business is "a whole new world" for her, she focuses on learning about the industry and how to keep their venture going alongside her regular work.
ADVERTISEMENT - CONTINUE READING BELOW
Both ladies have embraced the challenge of balancing business with their personal lives, though. They've turned work time into bonding time with each other and their husbands, who also help with the business.
Mary and Caecent hope to expand their business to other areas of Cebu and Visayas and eventually go nationwide.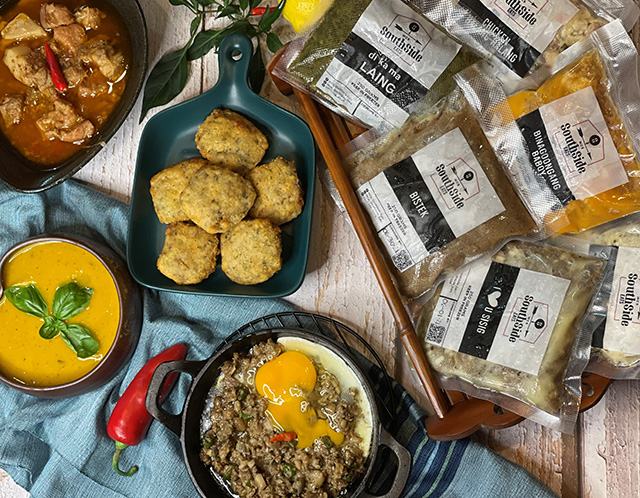 ADVERTISEMENT - CONTINUE READING BELOW
Having built a business in one of the most challenging times for any kind of enterprise, Caecent has this advice for aspiring entrepreneurs: "Giving up is not an option… Some days may not be what you expect it to be but just keep on pushing and praying that things will be better. The best is yet to come."
Mary has several nuggets of wisdom to share as well. "If there is no kingdom to inherit, no millions in trust, then prepare yourself as much as you can. Learn fast and put all your skills, talents, and passion to work. Listen to counsel, but be adamant about your goals. Play fair, but be ferocious. There is work to be done, and there are rewards to be had—there is no time to be timid."
Find MCB SouthSide Eats on Instagram and on Facebook.
Tam-is by Jennifer B. Gutierrez
It's only right that Jennifer B. Gutierrez named her business Tam-is, which is the Bisaya word for "sweet." Baking has long been a beloved hobby of hers, something she inherited from her mother. "Growing up, my mom was always baking and whipping up stuff for us. We were never without cookies or cake at home."
ADVERTISEMENT - CONTINUE READING BELOW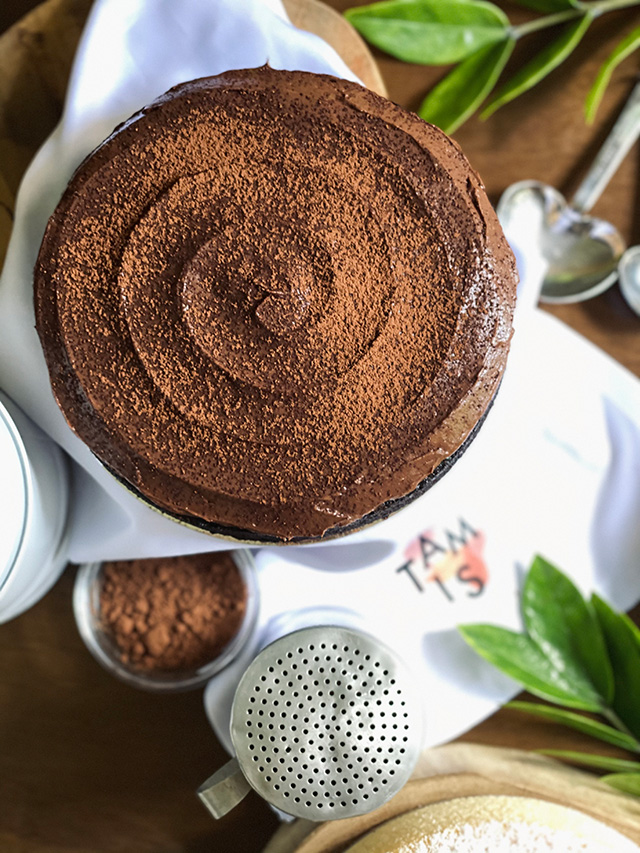 She was actually in Manila when the lockdowns hit, and baking for family and friends became a coping mechanism for her. "Missing home and worrying about my parents in Cebu when the lockdown happened made me turn to baking since it has always brought me a sense of peace and joy."
ADVERTISEMENT - CONTINUE READING BELOW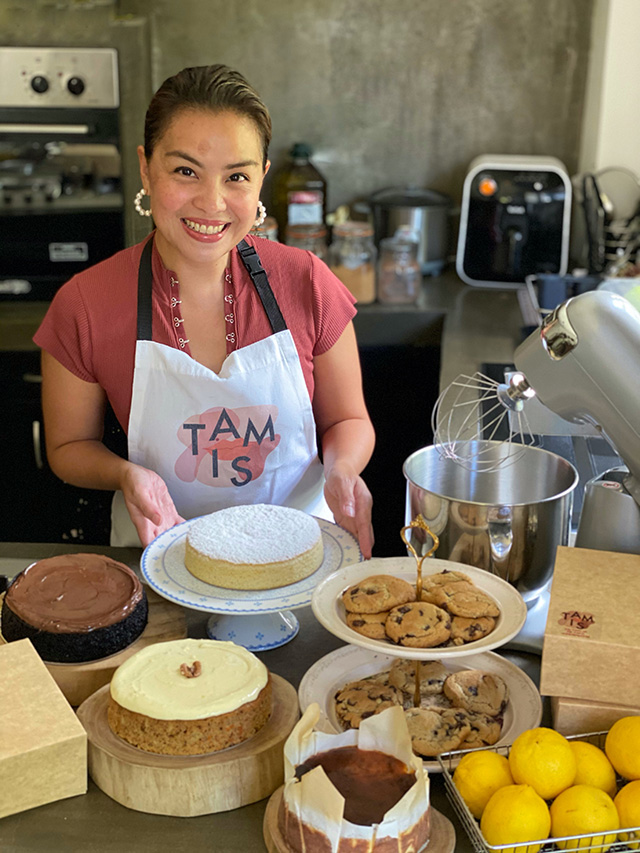 Jennifer's lemon olive oil cake is what she calls "the cake that started it all." Tt gained popularity through word of mouth, and inquiries and orders started pouring in. By May 2020, she had a budding food business. When Jennifer had to come home to Cebu in September for what she calls "daughter duties," it only gave her the chance to expand her business. Now her cakes are available for customers in both Manila and Cebu.
ADVERTISEMENT - CONTINUE READING BELOW
Apart from the earnings from Tam-is has brought in, it's also brought her joy and comfort in tough times. "[Baking] is very therapeutic for me, and I sometimes forget time when I'm in the kitchen. The aroma of all the cakes I bake is very comforting for me. Knowing that my cakes make people happy warms my heart. When clients give me their feedback and comments, it just puts a smile on my face."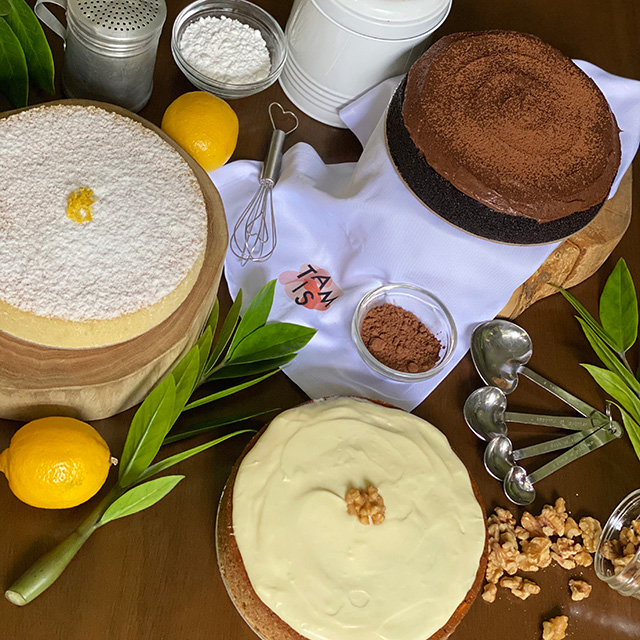 ADVERTISEMENT - CONTINUE READING BELOW
This positivity is something Jennifer recommends for everyone looking to start a business. "There will always be challenges in every business and in our lives, we just need to learn to be flexible and to work around the things that are available to us to survive. We are very resilient people, and we always rise above our challenges. This pandemic is no exception. There is always a solution to every problem, we just have to be open to everything."
Find Tam-is on Facebook and Instagram.
Teascape by Cathy Osmeña Mockon
Former hospital nurse Catherine Johanna Osmeña Mockon knows a thing or two about fighting deadly diseases. COVID-19 could have been a fatal condition for Teascape, the milk tea business she started in December 2019. But she turned it from obstacle to opportunity for the small shop, partnering with delivery services like Foodpanda and GrabFood when the pandemic struck.
ADVERTISEMENT - CONTINUE READING BELOW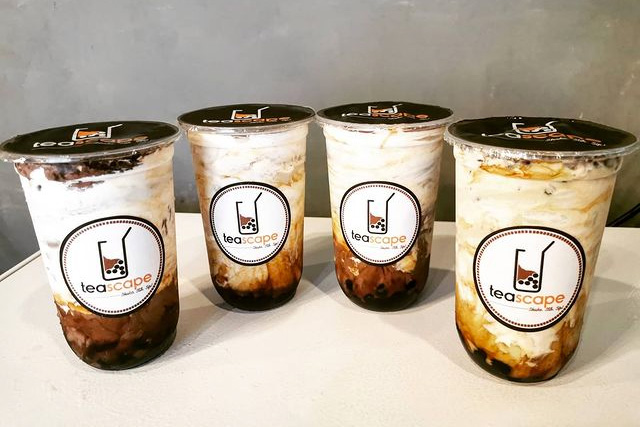 "Frankly speaking, the onset of the pandemic helped my business tremendously," Cathy says. "Our sales really shot up, and my only challenge at that time was I didn't have any staff to help me in the store." Unable to conduct interviews to hire more help, Cathy says the experience "really humbled me and taught me the true meaning of hard work, patience, and determination."
ADVERTISEMENT - CONTINUE READING BELOW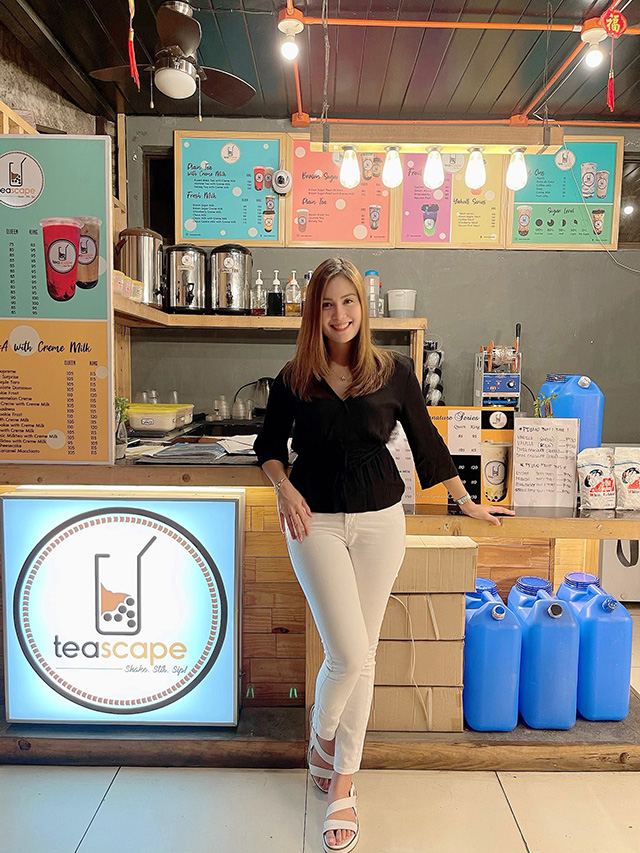 She's also found inspiration in her customers, who keep coming back for her unique, best-selling flavors like the Okinawa Supreme, Red Velvet Surprise, Dark Choco Dominion, and more. "What really caught my heart is seeing people smile after they get a grasp of our milk teas. It's really fulfilling that all the sacrifices that you made eventually paid off when [you see] loyal customers frequently in your store."
ADVERTISEMENT - CONTINUE READING BELOW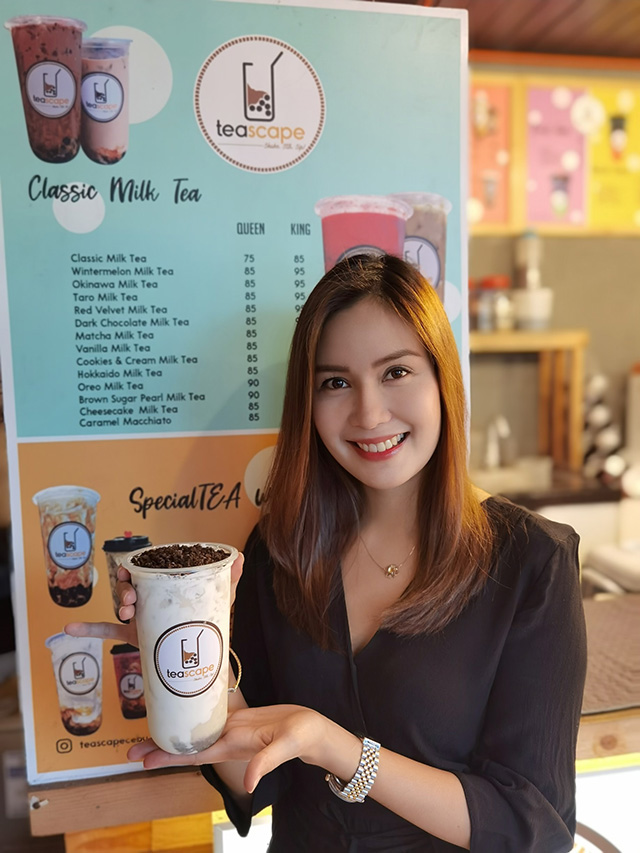 Cathy has plans of expanding Teascape once the pandemic has passed. When asked for advice she can share with those thinking of starting up their own businesses, she says, "It is never too late to start your own craft. And you should always believe that there is stability and opportunity during a crisis."
ADVERTISEMENT - CONTINUE READING BELOW
Load More Stories