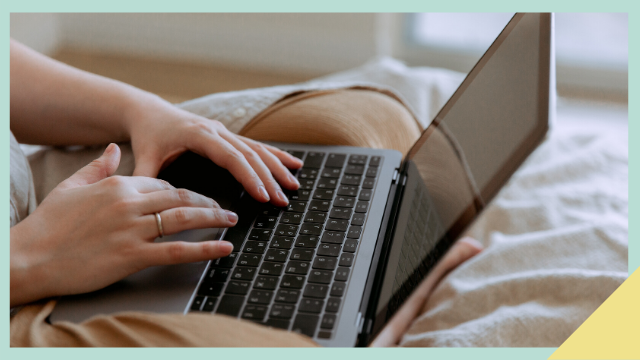 According to a recent survey, most Pinay working moms who have just given birth would prefer to stay home and look after their kids, but because of financial reasons, they have no choice but to return to work after their maternity leave. If you're faced with this dilemma, one option you could look into is working from home — it offers the flexibility you need while letting you earn money for household expenses.
ADVERTISEMENT - CONTINUE READING BELOW
Hot topics:
How This Celebrity Nail Artist Started a Baked Sushi Business with Only P10,000
Real Pinays in Their 30s Share Their Signature Scent
There are many legitimate online jobs out there but if you are confident with your command of the English language and have great communication skills, you might consider becoming an online English teacher. Macey Rae Pabandero, a mom of 10 who works at 51Talk, an English Teaching Language (ELT) platform, says she earned as much as Php30,000 when she was just starting out. "Now I am earning up to Php34,000 exclusive of trainer's fee," she tells SmartParenting.com.ph.
How to become an online English teacher
Macey considered working online when they moved to Baguio more than four years ago. Their neighborhood was quiet — no barking dogs and vehicles rarely passed by because they lived in the mountains. All she needed was a fast Internet connection (3mbps minimum speed, according to 51Talk requirements), a desktop or laptop with an HD webcam, and a headset with extended mic.
CONTINUE READING BELOW
Recommended Videos
According to a 2016 article in Smart Parenting, 51Talk welcomes college graduates with a good command of the English language and encourages the conversational method of teaching English. The company will also provide you with free online training and actual teaching conferences to further improve your skills.
It took a total of five days for the company to process Macey's application and hire her. "I submitted an online application form and they called me up the next day for a phone interview," Macey shares. "Then, they scheduled me for tech check and after passing that, I started a series of training sessions through Skype. This includes grammar and intonation training."
As an online English teacher, Macey would hold one-on-one video lessons with students of different nationalities — "mostly Chinese, and a handful of Japanese students," she says. The students' ages would also vary — Macey shares the youngest student she has taught was below a year old while the oldest was 65 years old.
ADVERTISEMENT - CONTINUE READING BELOW
Lesson materials are provided by the company and the students get to choose which module they want to study for the day. Each class would last 25 minutes.
Macey was able to customize a schedule that worked for her, though 51Talk requires teachers to accumulate at least 65 hours of work monthly during peak hours (when the majority of the students are online). Her day would go like this:
9:00 a.m. to 11:00 a.m. – Class
11:00 a.m. to 3:00 p.m. – Break
3:00 p.m. to 4:00 p.m. – Class
4:00 p.m. to 5:00 p.m. – Break
5:00 p.m. to 11 p.m. – Class
"Starting teachers earn Php100 per hour. Then you get promoted when you complete the requirements," Macey explains. "I would earn Php25,000 to Php30,000 back then but I needed to spend more hours working before I can achieve it."
The challenges of being an online English teacher
Macey is now a specialist for 51Talk. New enrollees will go through her and she will be the one to assess their English-proficiency level. She is also a trainer for teachers, hence the higher salary that she mentions above. However, the mom admits that like any other job, it wasn't always smooth-sailing.
ADVERTISEMENT - CONTINUE READING BELOW
"My first ever pay was less than Php4,000 for the whole month! I also had a lot of absences because power interruptions happened in Baguio very often. I was in danger of being kicked out, so we finally invested in a power back up and I never had absences since then," she shares.
She also had to work hard to become a better teacher so more students would choose her. "I took more upskills training and watched videos from other teachers until more and more students liked me and became my regulars," Macey says. "I worked hard to keep my ratings high so more students would prefer to book me. I also grabbed opportunities that the company would offer."
Macey says the key to getting more students is to make them feel like they are not in school. "As an online teacher, we need to make sure the students are having fun while learning. The kids are burdened by tons of homework and we don't want their English lesson to be another load on their shoulders," she shares.
ADVERTISEMENT - CONTINUE READING BELOW
Click here to read the full interview on Smartparenting.com.ph! 
Load More Stories