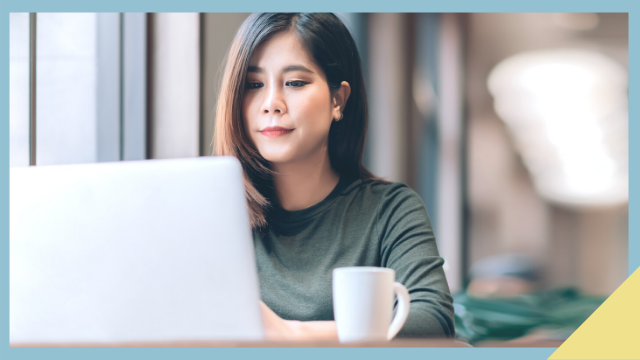 Learning new skills, from cooking, acquiring a new language, leading a team, to IT programming, has now come in handy for most of us. We just need either a smartphone or laptop and internet and it will open us to an online world of limitless set of soft and hard skills. The option for us not to enroll in a physical school, not to mention taking the course at our own pace and schedule, has made upskilling within reach for everyone. Nowadays, choosing a course is just a click away and completing it definitely has an added value to the person as it makes one's profile more attractive to prospective employers. Taking and finishing a course online signify some of the most sought-after traits of an applicant which are: willingness to learn, patient, driven, and the attitude to constantly improve. While taking a nap or sitting on a chair to binge watch is considered self-care, it would be a lot better to allot specific time to enroll in online courses and generally improve oneself. 
ADVERTISEMENT - CONTINUE READING BELOW
Here are some of the courses online that will help you advance your career: 
English for Career Development
Where to take it: Coursera
Having a good command of the language can go a long way and may open up a wide array of opportunities. Regardless of your specialization, communication and presentation skills are basic proficiencies that you must have in order to fulfill your role effectively. For sure, part of your job is to recommend a solution to a client, create a pitch to a customer, negotiate, answer an inquiry, or interview a candidate for a vacancy in your team. This course, which is rated 4.8 in Coursera, provides topics about how you can make yourself attractive to a prospective employer through writing a good cover letter and resume as well as presenting yourself confidently during an interview. The module has video recordings, games, quizzes, and several readings. 
Reinvent yourself: Unleash your creativity
Where to take it: edX
Having an innovative thinking is a characteristic most employers are looking for in a candidate when hiring and in an employee when identifying someone to take on a higher role. It's a given that the market is evolving, hence, having this skill will help generate solutions to different challenges you may face on a day-to-day basis. You can look ahead to expanding your idea space, improving your observation methods, and sharpening your creative thinking skills after finishing this online program. This course is available in edX which has an approximate length of 28 weeks.  
Excel Skills for Business Specialization
Where to take it: Coursera

Excel is still one of the most used programs in a lot of organizations. However, a lot of end-users are not able to maximize the potential of this highly reliable software due to lack of knowledge in terms of its capabilities to create reports. Having a thorough knowledge of this spreadsheet software will definitely increase your employability and help you advance your career because it helps the user be efficient in creating reports and analyzing data. If you're someone who uses any type of data frequently, then this course is for you. This course is available in Coursera which is approximately two months to complete. Upon completion, you are expected to be able to create sophisticated spreadsheets and dashboards, as well as complex computations within the report. 
ADVERTISEMENT - CONTINUE READING BELOW
The Science of Well-Being
Where to take it: Coursera
This course, which is offered by Yale University through Coursera, will help you reassess how you view happiness and allow you to build more productive habits. Why is this helpful in advancing your career? Having the right mindset, while being at peace and joyful in how you view life, will help you learn better, improve your leadership abilities in how you treat your people, and widen your perspective about your purpose both in personal and professional aspect. Rated 4.9, a lot of people who have taken the course are raving about how it has provided challenge and fulfillment regardless of your career level and profession. You will need approximately 10 weeks to complete this course. 
Exercising Leadership: Foundational Principles
Where to take it: edX
If your career path is not an individual contributor, it is a given that the more levels you step on the corporate ladder, the more people you'll have to lead, motivate, empower, and simply work with. Leading people is a crucial role in all organizations so there are a lot of courses about different approaches and styles. There are even some programs that are specific to a role or industry where you belong so you can choose which one to take based on your preferences. A good option is this short introductory course from edX, Exercising Leadership: Foundational Principles, which will help you discover how to lead with the following principles in understanding the role of formal and informal authority, approaching conflict, building trust, and so on. The instructor for this course is from Harvard University and the length of the program is approximately 4 weeks.    
ADVERTISEMENT - CONTINUE READING BELOW
* Sheena Abellera has an MA in Business Administration from Ateneo Graduate School of Business and is a seasoned HR practitioner.
Load More Stories