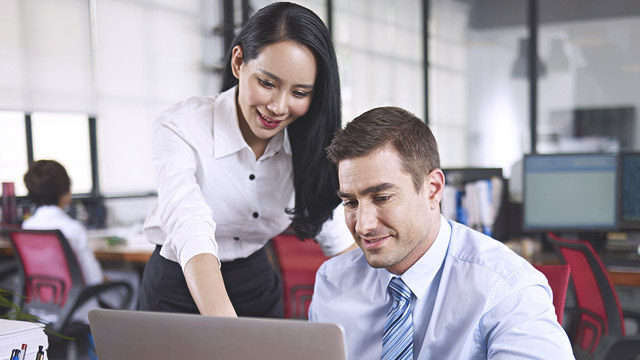 Fluency in other languages aside from Filipino and English will bring you more opportunities, especially if your career is in the IT, hospitality, healthcare, finance and BPO industries. Most multinational and local companies that have clients offshore provide pay premium depending on the language and the proficiency level that an employee has. That's on top of the basic salary which is usually non-taxable. Pay schemes differ from one organization to another with a combination of high basic–low premium pay or low basic–high premium pay.
ADVERTISEMENT - CONTINUE READING BELOW
Now, this may get you interested to enroll in a language course, but take note that these companies don't pay out for basic "hi" and "hello" translations, but for actual certified conversational skills.
The Philippines is one of the top BPO hubs in the world due to the Pinoy's above average ability to learn other languages. Not only do we learn the technicalities of foreign languages such as their subject-verb agreement quickly, but we also acquire their native accents naturally, further giving the perception that they are speaking to someone local.
If you're planning to study another tongue or of you're already multi-lingual and are looking for a raket or a career shift, here are some of the languages that are in demand, as well as their corresponding pay range for the combined basic salary and language premium for entry level to supervisory positions. Note that these are averages of local salaries—these may change if you plan to work abroad:
Japanese
Pay in the PH: ranges from P30,000 to P80,000
Japanese or Nihonggo entails knowing how to read, write, and understand characters in hiragana (the alphabet used for local Japanese words), katakana (the alphabet used for foreign words), and if you're really dedicated, kanji (adopted Chinese characters). Japanese companies in the Philippines are in the fields of manufacturing, banking, electronics, but Nihonggo is also pretty in-demand in the UK as well.
Mandarin
Pay in the PH: Ranges from P30,000 to P100,000
Mandarin-proficient professionals are not only in demand in the BPO industry but also in petroleum, hotel, banking and consumer industries. A lot of these companies' suppliers are from China, hence, someone who can speak their language will definitely help the organization build better business with them. Good thing that there are a lot of Chinese schools in the country where they teach Mandarin, which can help in supplying the increasing manpower demand. 
ADVERTISEMENT - CONTINUE READING BELOW
As of 2016, Mandarin has been considered as the seventh most in-demand language in Britain.
Spanish
Pay in the PH: ranges from P40,000 to P90,000
In terms of vocabulary, learning Spanish is easy for most Filipinos because of the loan-words prevalent in modern Tagalog and Chabacano, among others. Because of this familiarity, it's not unexpected that local outsourcing firms cater to the business needs of Spanish-speaking locales.
If you plan on working in the States, consider that Spanish is the second most spoken language after American English; it's also well-spoken in over four continents.
German
Pay in the PH: Ranges from P45,000 to P100,000
INQ.net reported that more German firms are investing and expanding their businesses locally, which highlights the possibility of having a lot of job opportunities for German-speaking Filipinos. Moreover, Germany is considered one of the leading countries in the European Union and is known to be an economic powerhouse, so if you're planning to work abroad, then this may be a tip you'd like to remember.
ADVERTISEMENT - CONTINUE READING BELOW
French 
Pay in the PH: ranges from P45,000 to P120,000
French is the official language of over 20 countries (including Canada and many African nations), so most BPO companies support French-speaking customers from different industries such as insurance, petroleum, IT, and pharmaceutical. 
Sources: Lifehack, Business Insider, Huffington Post
*Sheena Abellera is an MBA graduate and is currently working for a food manufacturing company as an HR practitioner.
Load More Stories