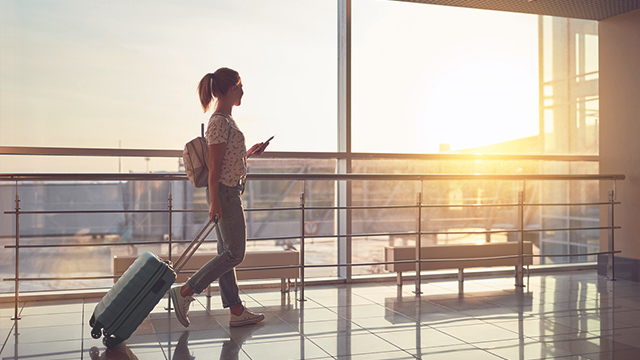 For many people, moving abroad is nothing more than a daydream that floats into your head as you sit in hours and hours of Manila traffic. You imagine the scenic roads, the unique architecture, and culinary adventure that comes with moving to a foreign country. But once you think about the work that comes with it—the job search, visa applications, even the financial strain, the fantasy stops, and it's back to real life.
ADVERTISEMENT - CONTINUE READING BELOW
This wasn't the case for Nikki Isaac, who, at 28, applied to take her master's degree in a business school in Boston. At this point she had already been working in Manila for over seven years, and was kept busy by her job as a marketing manager for a famous millennial-oriented TV channel.
CONTINUE READING BELOW
Recommended Videos
ADVERTISEMENT - CONTINUE READING BELOW
As far as anyone was concerned, she was thriving in a competitive industry with a salary that afforded her a stable life. She lived independently, and drove herself to work every day. Simply put, she was made. But a part of her yearned for something more extreme and out of her comfort zone, and it seemed like it was finally time to unpack her dream of relocating to a different country. 
"For as long as I could remember, I'd always wanted to move and live abroad...  I found that I had built a pretty great life for myself, with a career that I was proud of and a network of professional and personal relationships that I had worked hard to develop. And this is when the opportunity to study and work abroad presented itself to me, and I just knew that I had to take the chance despite how much against the odds my success seemed."
ADVERTISEMENT - CONTINUE READING BELOW
Nikki sent in her application, and got into her school of choice. She then went through an entire process for funding, which luckily, a school representative, along with her family, helped her with. "We had to present bank documents, find ways to have that show money, dealt with surprise expenses.
"The expenses kept ballooning so we had to keep finding new sources of financing every step of the way." According to Nikki, it also took its toll emotionally as the rigorous process would sometimes leave her in a constant state of worry—up until two days before school started, she wasn't even sure she was going to make it.
Once everything was approved, she packed her backs and booked her ticket to Boston, Massachusetts. "I actually missed orientation because I arrived the day before and I was considered a 'late registrant.' I found out on Friday and then the Monday after was orientation."
ADVERTISEMENT - CONTINUE READING BELOW
She attributes a big part of her success to the copious amounts of research she did. "Even if you don't find everything you need, you know the questions you have to ask and who might be able to give you an answer." If there's a will, there's a way—sounds about right.
ADVERTISEMENT - CONTINUE READING BELOW
ADVERTISEMENT - CONTINUE READING BELOW
ADVERTISEMENT - CONTINUE READING BELOW
"Fast forward to more than two years later, I've graduated from business school and finally started working again. It's a bittersweet thing. On the one hand, I'm finally living my dream, on the other hand, I'm dealing with a high level of frustration because this is, at the very core of it, starting my career over again. It's a double whammy of learning my way around a different country's work culture, and that feeling of loss because the strong support group of family and friends that I had back home isn't easily so accessible anymore."
ADVERTISEMENT - CONTINUE READING BELOW
ADVERTISEMENT - CONTINUE READING BELOW
But as Nikki proves, taking a leap of faith can pay off—in more ways than one.
"Despite how hard it can be some days, I do see myself changing. There's a different level of confidence that you get when you see your successes in this kind of situation. I feel myself gaining strength and perseverance that I never had before. The best part? I met my husband when I moved here."
ADVERTISEMENT - CONTINUE READING BELOW
"I wasn't even looking for anyone, and it sounds super corny, but every time I look at that man, no matter what has happened and will happen in the future, it will have all been worth it."
Comments
Load More Stories