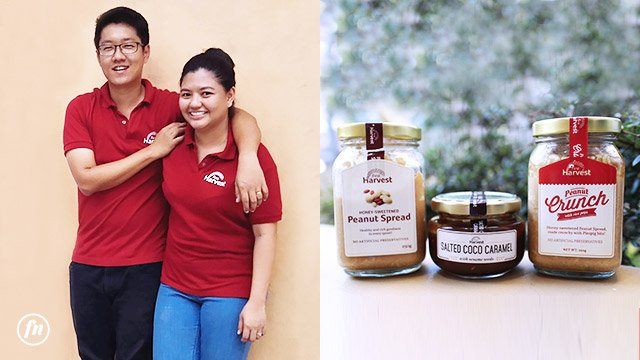 You may have already heard of or tasted First Harvest's really delicious and all-natural honey-sweetened peanut spread, peanut crunch with pinipig, and salted coco caramel, what with them beginning to be gift staples during Christmas and other holidays. But what you may not know is that every First Harvest bottle traces its roots back to the charming love story of co-owners Tajen and Cat Sui, whose vision of paying kindness forward has changed so many lives.
ADVERTISEMENT - CONTINUE READING BELOW
CONTINUE READING BELOW
Recommended Videos
The reputations of Tajen and Cat precede them. The obvious puns from their friends from Human Nature and Gawad Kalinga, as well as the knowing giggles from the nanays of First Harvest reveal that theirs is a love story that many watched unfold.
Tajen was a full-time volunteer at the Gawad Kalinga Enchanted Farm in Bulacan while Cat was then connected with Human Nature when they first met in 2012.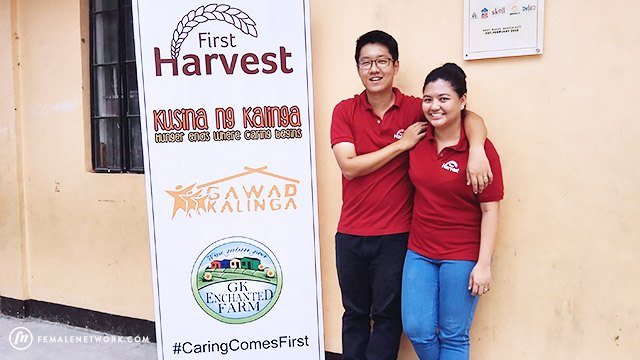 ADVERTISEMENT - CONTINUE READING BELOW
"I remember as a volunteer, Tajen and I would go out on date[s], tapos aalis siya sa pila at ako [ang] magbabayad," twenty-nine-year-old Cat shares. "Kasi what happens is that 'yong allowance na for him, he gives it to the mothers. He gives it to pay [for] the salaries of the mothers. It was that intense." At that time, the GK Enchanted Farm was only starting out as an enterprise to uplift local farmers and create social entrepreneurs. The GK mothers, who make products for the Farm to sell, are some of those it supports.
In order to flourish, the GK Farm needed people to visit and buy their products. "But it will not be sustainable that way," says Cat. "So… why don't we bring the products from the Farm to where the market is?"
One of their first products was peanut butter, which at that time, Tajen decided to sell at one of Human Nature's weekend organic markets. He gave Cat one unsold jar as pasalubong. "Iniwan ko lang sa bahay namin, then the next day I was looking for it… the jar was emptied clean. My brother finished the whole jar in one day."
ADVERTISEMENT - CONTINUE READING BELOW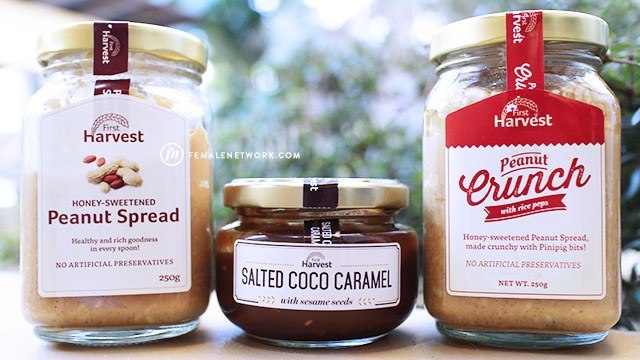 That gave Cat, whose interests lie in marketing, the idea to formalize GK Farm's production process.
With sustainability in mind, the couple started developing the brand, which is now known as First Harvest.
As many stories about small enterprises go, the brand's humble story began in a small 12 square meter space with only one peanut grinder. Kind-hearted individuals helped raise funds to streamline their facilities, and all the while, the couple forewent their own salaries.
ADVERTISEMENT - CONTINUE READING BELOW
"'Yong ginagawa lang namin, ibinabalik lang namin 'yong money. Iniikot lang."
Returns for First Harvest and the GK Enchanted Farm began to grow as more and more orders came in. Even Cat's friends and former colleagues (who seem to be totally invested in her and Tajen's relationship) supported the cause by buying their products by bulk. Every time Christmas came around, it would be such a frenzy that bottles of peanut and coco spreads that haven't even been produced were already sold.
Tajen recalls how crazy it was: "Noong December [2015], from [an] estimated maximum capacity of 6,000 [bottles], our total sales ng jars was around 16,000."
Interestingly, the number of bottles they sold was instrumental to them tying the knot.
It became a running bet among their peers that if First Harvest managed to sell 5,000 bottles, Tajen and Cat would get married, but as they weren't ready yet when that happened, they increased the quota to 10,000. "Pero noong mid-December [2015], lumampas na siya ng 10,000+," says Tajen. "So… nag-propose ako sa kanya. Pero funny nga, the night nag-propose ako, after noon, nag-label na kami [ng bottles]."
ADVERTISEMENT - CONTINUE READING BELOW
While dedication to their advocacy is one value that they both share, their relationship isn't without hiccups.
"[Noong] boyfriend-girlfriend [pa kami]… hindi pa kami magkatabi matulog, so kapag mag-aaway kami sa business… we'd see each other the next day and we'd be okay," Tajen shares. "So it's a challenge, but at the same time, it goes back to the beginning of kung paano kami nagkakilala.
"It is very clear for both of us naman na it is us muna before First Harvest. We're not together because of First Harvest, and I think First Harvest became a medium for us to do the things that we want to do…
"Sobrang thankful ako kay God… Hindi [nga], totoo! " Tajen exclaims as he comically shushes the kilig and the giggles from his colleagues. "At the beginning of the relationship—even until today—marami siyang [Cat] adjustment na ginawa, kasi I would always be the guy who pushed a lot of random things… But we always have to push the envelope and make a statement. Hindi ito 'joke time'… We want to make this big, kasi we have big dreams for them."
ADVERTISEMENT - CONTINUE READING BELOW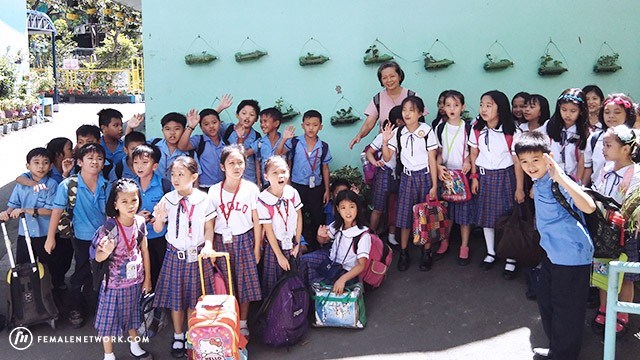 Currently, the couple has been helping out at Gawad Kalinga's Kusina ng Kalinga in Sitio Pajo, Quezon City, which supplies healthy home-cooked meals to the grade school students of San Antonio Elementary School—a way for them to go full circle while passing kindness on.
ADVERTISEMENT - CONTINUE READING BELOW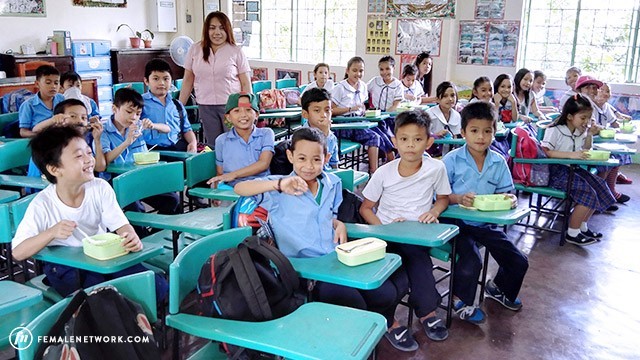 "In the process of doing these things, we feel that it invites a lot of people who want to help," says Cat. And indeed, their advocacy has garnered unasked but appreciated support from so many people.
Moving forward, First Harvest is planning to increase their product line and to help connect farmers to consumers looking for quality-made food products.
ADVERTISEMENT - CONTINUE READING BELOW
Cat gives a nod to her husband. "Tajen is very hands-on in training the community partners… so that we can ensure the posterity of the process." They have been working hard in granting the wishes of the older members of the GK community, which is to give their children employment.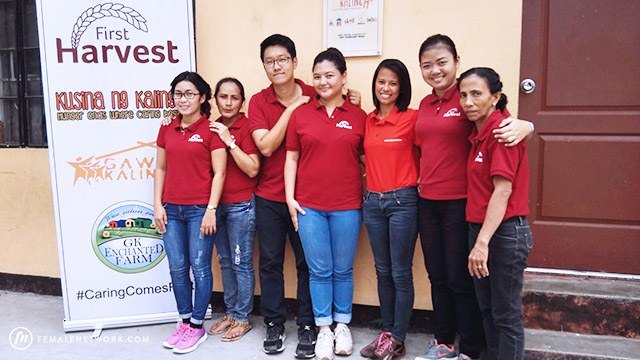 ADVERTISEMENT - CONTINUE READING BELOW
Tajen and Cat have their job cut out for them, but whatever happens, they know that they'll be forging forward. After all, helping build the lives of others is probably the best way to create your happily-ever after.
Comments
Load More Stories