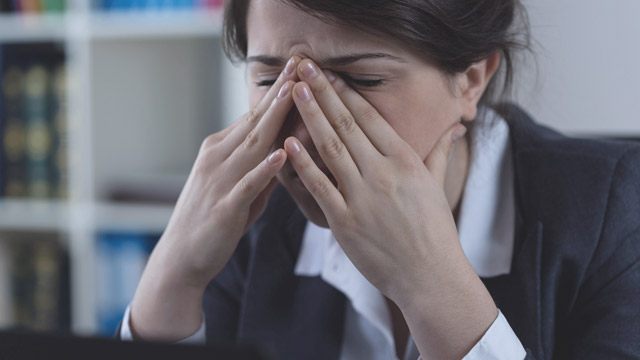 It's pretty normal to feel tired after a long day at work, and for many people, stress is left in the office. But for those who are constantly on call or who feel that it's hard for them to separate themselves from what they do for a living, the line between what's personal and what's professional is blurred, making it harder for them to relax and recuperate even when they're at home.
ADVERTISEMENT - CONTINUE READING BELOW
The pile up of stress may cause a burnout, which is often linked to exhaustion. However, physical fatigue isn't the only symptom of a burnout—what most don't realize is that loneliness comes hand-in-hand with it.
CONTINUE READING BELOW
Recommended Videos
This kind of loneliness isn't brought about by isolation from friends or family. It's caused by the exhaustion brought about by compounded stress and anxiety. A Harvard Business Review feature cited research by Sarah Pressman of the University of California, Irvine, which says that loneliness can have a huge effect on your lifespan; "while obesity reduces longevity by 20%, drinking by 30%, and smoking by 50%, loneliness reduces it by a whopping 70%."
Loneliness caused by a professional burnout can be as painful as loneliness caused by any other personal experience, and while this debilitating condition may manifest as physical pain, it can also cost companies a lot of money due to "higher absenteeism," "more accidents," and "lower profitability."
ADVERTISEMENT - CONTINUE READING BELOW
As much as companies need to take into consideration the stress levels of their employees, it's also important that you be aware of the signs of a burnout. If the mere thought of work fills you with dread and it's becoming impossible for you to find the motivation to face your daily grind, then you may want to try the following:
Relax.
Seriously. Take a breather. Use your leaves to go out of town or even just to stay at home and center yourself. Don't belittle the power of what a bit of rest can do, as quiet time can actually help clear your mind and let your body recuperate from the damage caused by stress.
Unplug.
When you take your leave, inform your team via email (so that there's a trail) that you won't be able to answer any work-related calls or messages. (Just make sure to turn over your responsibilties properly.) Manage their expectations so that when someone crosses the line you made, you can go back and remind him or her that you clearly stated your conditions. Unplugging from online noise can get you to focus more on your personal life. Enjoy your time away by not being stuck on your phone during family dinners or when you're out with friends. 
ADVERTISEMENT - CONTINUE READING BELOW
Deliberate.
Think about the things that have been causing you to feel lonely at work. Is it management? The culture? The lack of social connections? The workload? You'll need to pinpoint where it's coming from and if it's something you can solve. You'll also need to weigh your options, especially if you feel that your physical and mental health have already been compromised.
Inform.
Talk to your boss about what you're feeling, or if your boss is the cause of your stress, then talk to HR. The important thing is that someone from your company knows about your situation so that they can make proper adjustments for you, and both parties can come to a consensus. Remember that you're not anybody's corporate robot, so don't be afraid to speak and to work on a deal that's beneficial to yourself and your team.
ADVERTISEMENT - CONTINUE READING BELOW
Decide.
There will be that turning point when you either get over your loneliness and exhaustion, or you realize that enough is enough. If after all your efforts, you still feel that there's no reason for you to stay in your current company, don't be afraid to leave for a better institution. In the end, no job is worth your well-being.
Comments
Load More Stories