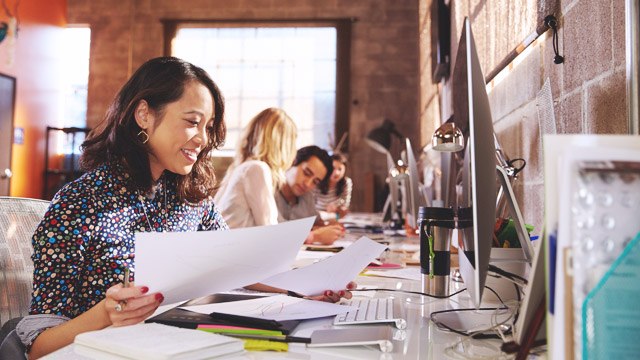 "What do you really want to do?" This decision plays a huge part in our lives. It heavily influences what we potentially do day in and day out for years. This leads us to pursue our passion – after all, who doesn't want to get paid doing what they love to do?
But it's not just about the work, it's also about being able to sustain the other aspects of your life. Looking to shift careers but worried about your change in compensation? Here are some careers that provide a good salary:
1. Digital Engagement-Related Jobs
Yes, this is the in thing now. The world has evolved and the formerly non-existent "digital department" has made its presence felt in every company. Online campaigns and advertisements have become a need for all brands/products as the number of internet users in the Philippines continues to increase – 44% of the population as of last year, according to a report on Huffington Post. Backtrack to ten years ago, people viewed the digital platform as merely a way to send emails, create testimonials for a friend, and post party pics. Now, it's a way to engage with customers and audiences, advertise, etc. A lot of people may not know but a simple website or online campaign involves a lot of employees in the backend. This is a relatively new industry so skilled individuals are a handful, hence, they are paid well.
This category would include Search Engine Marketers, Social Media Analysts, Online Copywriters, Multimedia Specialists and the like.
2. Information Technology Jobs
Based on the recent research conducted by Jobstreet, jobs in the IT field are still providing the highest salaries across levels. In a male-dominated industry, a number of females have started to excel in this field since long ago. IT companies in the country are usually multinational so they provide competitive compensation and benefits to their employees.
3. Financial Services
Businesses always need someone who will make sure that they're using their finances to its optimal capacity. This role will never be out of season because all companies need a finance person who will be in charge of performing the very detailed task of generating financial reports, analysis, and come up with recommendations about the company's financial direction. They are being paid well because they are handling an essential aspect of the organization.
4. Advertising and Marketing
Advertising and marketing people are the ones who conceptualize ideas and execute action plans about how to promote and sell the company's products. They directly affect the company's income, which is why they are paid handsomely. Aside from the basic salary, they often receive commissions and allowances when they hit their targets.
ADVERTISEMENT - CONTINUE READING BELOW
5. Law and Legal Services
Any reputable company needs to ensure that everything they do is within the bounds of the law. Any action that breaks the law can have devastating repercussions. Not only is the company's reputation damaged, but there are legal consequences as well, like ranging sanctions and fines to jail time. In order to avoid all that, we need legal experts to consult with and keep the company in line.
*Salary range: 0-2 years experience: Php 18,000 to 28,000; 3-5 years: 29,000 to 35,000
Sources: World Economic Forum, Huffington Post, InvestPhilippines.gov.ph, Pressreader - The Philippine Star
* Sheena Abellera is an MBA graduate and is currently working as an HR practitioner.
Latest Stories
Load More Stories