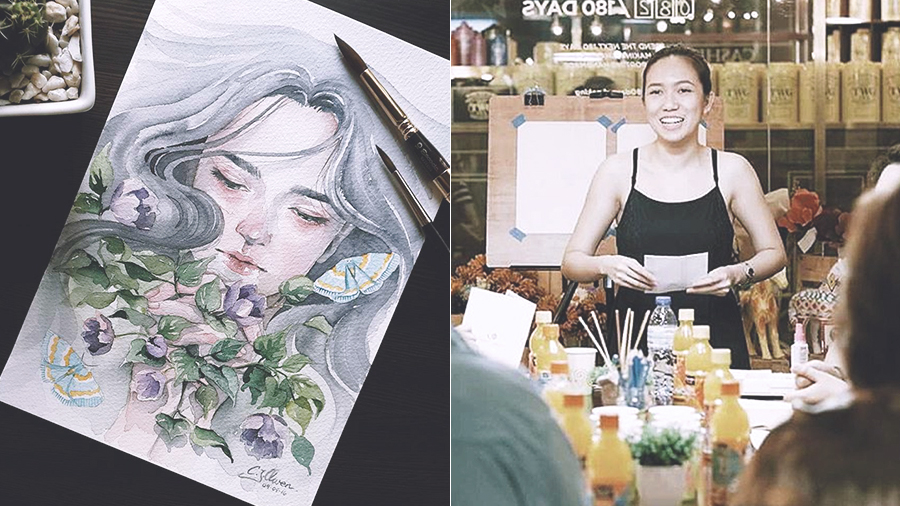 When I got a degree in Fine Arts in 2009, I knew I had to find a job to support myself and make my parents proud. I graduated with honors, and I didn't want to disappoint them by being a freeloader for too long. If we were a rich family, I'd just stay home, paint, and maybe join exhibits or even have a solo show. But during that time, I knew I had to work.
ADVERTISEMENT - CONTINUE READING BELOW
After a month of searching, I finally had a job in a kid's apparel company with low pay and no benefits. I only lasted seven months. I quit and tried to look for a new one. I wanted to work in an advertising agency back then because it was taught to us in college that this was the "dream job." Unfortunately, I didn't land in an advertising agency on my second attempt. Instead, I got hired in a BPO company where I designed website templates. I lasted for almost 2 years. When I quit in 2012, I was immediately hired as a graphic designer in a below-the-line advertising agency. I was happy because I thought I was finally living the dream.
Despite some ups and downs, I managed to survive. I had a great time handling creative projects. I made new friends who shared my passion for the arts. I had the coolest bosses. The job paid well and the benefits were more than enough. But as with all good things, there was a price to pay. My clients' happiness always came first.
I know, every business needs to make their clients happy. But "happy" in the ad industry meant complying with their craziest demands at the risk of throwing away your creative freedom, your personal time, and even sleep. And believe me, it's hard to balance what you want as a designer versus what the client wants.
I was fine with it at first. I tried not to dwell on the pressure. I tried to throw away the artist in me. After all, I chose to work in this industry. "Ginusto mo 'yan, panindigan mo." I told myself.
Three years in the company and I did all that was asked of me. I delivered every client request, and followed my bosses and my seniors diligently. Yet I noticed I was starting to forget what I really wanted to do: to draw and paint. I was losing my edge. I felt incomplete. I forgot to make time for myself. I thought working in an advertising agency would make me feel fulfilled. Sadly, I thought wrong.
ADVERTISEMENT - CONTINUE READING BELOW
One day, my friend showed me the works of Soleil Ignacio. I was so inspired that I suddenly had the rebellious urge to do what I loved most. So I picked up my old Prang watercolor set and my old brushes and started painting again. My job could have my weekdays, but the weekends were mine. I painted quite a lot in a span of six months. I didn't know what to do with my paintings but just looking at them made me happy. My rusty skills frustrated me at first, but I haven't stopped since then.
In 2015, my officemates and I decided to create a group called Milk Collective Ph, a creative lifestyle brand where we could take a break from our advertising lives and create things based on our personal preferences. We sold what we made in different bazaars such as Saturday X Future Market in Escolta, BGC Art Mart, and in 10A Alabama in Quezon City, until Roma and Maan Agsalud invited us to be a partner in Common Room. Despite the uncertainty, we jumped into the unknown with our eyes closed. The risk was worth it as now, Common Room is the first local arts and crafts shop that houses almost 100 local brands. We're glad we took the offer.
ADVERTISEMENT - CONTINUE READING BELOW
With the launch of Milk Collective Ph, I felt fulfilled as an artist again. I looked forward to our bazaars. I balanced my day job with my passion projects. Then I began toying with the idea of quitting my day job to be an independent artist.
After much thought, I pushed through with the risk and resigned from the advertising industry, and eight months into being an independent artist, I haven't regretted my decision. I've had my first group exhibition in seven years, I illustrate for clients who respect my style, I teach in workshops, and I've started a stationery line, which I sell at Common Room and After Nine Keeper in Hey Kessy.
Every success is a milestone, and every failure is a new learning.
Being an independent artist is not easy, and it is not true that you'll have all the time in the world, but I am not complaining. I know this is cliché but I still prefer this to anything that anyone might offer me, even if the money I get is just enough for me to get by. I can finally say that I am truly happy and satisfied with my life.
ADVERTISEMENT - CONTINUE READING BELOW
I am not writing this to convince anyone to quit their day jobs. Going solo isn't always the answer. But my life seemed to point me towards that direction, and it gave me the choice to fall or to fly.
I chose to fly.
Load More Stories