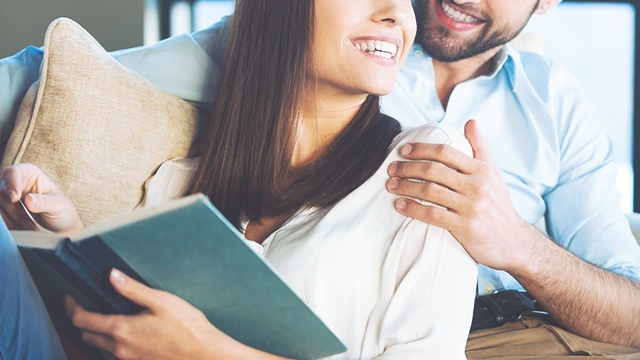 If there was one advice my mother gave me before I got married that I really took to heart, it was this: never fight about money. But at 20 years old and thrusted into a relationship phase I now admit I was so young for, I may have taken that advice too literally. I kept mum about money issues even if I felt like I was on the losing end, and it eventually affected our relationship. I see now that the disagreements could have been easily averted with a discussion early on. So if you feel you're stuck in a rut and losing your financial independence, it's time to have that one-on-one talk with your partner.
ADVERTISEMENT - CONTINUE READING BELOW
In the beginning, I didn't need to bring up the issue because I didn't have a source of income. I was a fresh graduate without a job. My husband, nine years my senior, was the designated breadwinner. I helped him with his business, a mere infant in 2005. Income was unstable. Whatever we earned we placed in a joint account. It simply felt expected that he handled the finances entirely. I asked about every single purchase I had to make. I also didn't demand for an allowance since money went directly to the business.
Even if my husband hardly questioned my financial decisions, it was stifling to have to ask every time.
Every ATM transaction, every credit card purchase, we had to make sure it didn't affect the cash flow for the business. When I brought up the issue the first time, he didn't see the need to have my own account and we agreed we couldn't sustain it as well at that time. Eventually, as I ventured into doing my own thing and our business became stable, I finally had a say on what I do with my own money. But that's almost a decade into the marriage.
ADVERTISEMENT - CONTINUE READING BELOW
In this day and age, you're probably thinking it's a no-brainer to settle money issues early on. But why do we still find ourselves arguing about it at times? And should we shy away from the conversation? I asked my friends to weigh in on the subject, and the opinions parade why the concern isn't as easy as black and white. It's a continuing discourse rather than a one-time discussion, especially when a partner loses a job, when breadwinner roles are reversed, or the differing notions on money and savings just don't match.
One friend shared how her shift from career woman to stay-at-home brought about financial tension in her marriage, and as long as she steers clear from the subject she and her husband are good. Another had to take on the provider hat when her partner was laid off, but they couldn't seem to agree on the new adjustments on their spendings.
ADVERTISEMENT - CONTINUE READING BELOW
"It's a topic that can be a bit uncomfortable but very important in any marriage. [My husband and I] just had to be very honest with each other regarding our financial capacity so we also manage expectations," my friend P said.
It boils down to detailed rules to lay the foundation. Vague assumptions are easily rocked when we face financial crises, so it's best to have a good idea of how things will flow in such circumstances. "We sit down on a budget then allocate who pays for what. Anything extra or for ourselves is at each person's discretion from their own income. I think, generally, there's more flexibility if both partners have a source of income," shared C, married for four years.
In cases when one is dependent, my mom advised to ask for an allowance apart from the budget. Your role at home as a mother and/or as a manager should be valued, and allotting allowance for that also protects you from overspending.
K, who's been the breadwinner for 12 years, also sees how it empowers her husband to have his own money from an allocated allowance.
"He cares for the home and the kids, I can completely depend on him to manage the household, so why should I restrain him from enjoying his own money? [Setting up an amount for his allowance] can sometimes feel like I'm eating up on potential savings. But then I remember that financial freedom contributes to his well-being, and I'd rather have a happy husband and marriage than a lot of money."
ADVERTISEMENT - CONTINUE READING BELOW
"My parents and grandparents always told me to keep some funds secret. I don't believe in that but I do think the spouse should respect your personal savings. If you have a budget and keep to it, your partner shouldn't dip into your savings. That should be yours," C said. I completely agree. A clear line must be drawn between your's and your partner's money. If you've saved enough for a big purchase and the home budget will not be affected, I don't see any reason for him to meddle into your purchases. That should be clear from the start because this is an area where arguments can spring from. "You're getting another bag?" "You have so many shoes already!" can become a nagging pain when you've worked your ass off and saved enough that it's high time to enjoy the fruits of your labor.
ADVERTISEMENT - CONTINUE READING BELOW
"Since I have my own money, I don't need to make paalam if I want to make a purchase, big or small. In fact, I am encouraged to enjoy my money. Luckily, we're both very honest and transparent about our personal purchases. And I think we should always be open about it naman," P said.
If transparency just ends in a dispute, then consider talking to a friend or mentor who can mediate. Lay out your cards and also hear your husband out. Set the budget and savings needed for your financial goals as partners, then decide how much personal money you are allowed to spend without being questioned. It's different for each couple, but remember, there's always a compromise.
Comments
Load More Stories