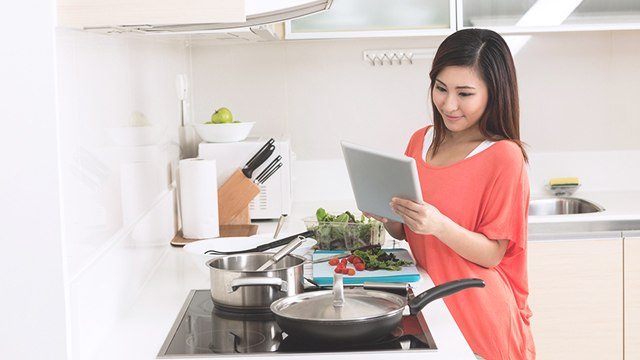 Many Filipinos lose the opportunity to gain valuable life experience because of the mindset that getting married is the only reason to move out of your parents' house. While some choose not to leave because they want to spend time with their folks, there are others who consider their finances to be the biggest hurdle.
ADVERTISEMENT - CONTINUE READING BELOW
If you've been wanting to live independently but have been holding back for fear of being unable to afford the lifestyle change, here are some ways to trim down the cost:
1. Find a space to rent that's close to where you work.
When looking for an apartment, prioritize the location. Moving out and gaining independence doesn't mean you have to make things harder for yourself, so find a place that will help ease your morning commute. You may even ask your HR if there are discounted lease offers in nearby buildings.
CONTINUE READING BELOW
Recommended Videos
2. Join Facebook buy and sell groups to scour for secondhand appliances and furniture.
You don't need to furnish your apartment as if you were vying for a Real Living feature (although they do have very helpful suggestions for designing small spaces!). All you need to survive is a functioning bathroom, a small kitchen with some cooking supplies, and enough space to sleep comfortably. You can start with the bare minimum, and build up every paycheck.
ADVERTISEMENT - CONTINUE READING BELOW
Start joining Facebook groups where people sell quality furniture and appliances at good rates so you can slowly build the apartment of your dreams. You just need to learn how to check the quality of used items. Alternatively, you may also look for installment plans if you really want your things brand new. Either way, personalizing your space can take years. Don't get pressured into a one-time, big-time spending spree.
3. Choose appliances that don't consume too much electricity.
Thanks to inverter technology, you can now choose appliances that'll help lower your electric bill. While it may be tempting to buy the cheapest products out there, remember that appliances are investments, so choose wisely.
4. Instead of going out, start inviting friends over.
Now that you have your own place, you can start having friends over more often! This is also a good way to minimize your expenses. Get creative and have movie marathons, potlucks, and steady hangouts. Which leads us to...
ADVERTISEMENT - CONTINUE READING BELOW
5. Master the art of grocery shopping.
It's easy to go over a grocery budget, especially when you shop on payday. Don't give in to tempation! Plan ahead and stick to the budget. If you're a kitchen noob, pick up a cookbook that has one-pan or five-ingredient recipes.
6. Instead of hiring a cleaner, do it yourself.
If you're used to having someone do the chores, well, that has to change. Consider cleaning up to be a practice of self-love and discipline. (It could even take the place of your workouts, especially when you need to do some deep cleaning!) Another tip? Don't wait until your entire apartment is a mess. Do little chores here and there before and after work. This way, you'll have enough time on weekends to visit your parents.
7. Start doing your own laundry, and learn how to do minor repairs.
Aside from spending less, another advantage is that you won't be at the mercy of other people's schedules. If something breaks in the middle of the night, you'll be able to fix it (even just temporarily) without having to risk leaving your place. 
ADVERTISEMENT - CONTINUE READING BELOW
8. Maximize your new place by working from home.
Need help paying for your new apartment? Get a sideline! If you know how to do graphic design, set up a profile on sites that hire people online. There are many ways to make extra money nowadays, so take advantage of what's online.
9. Set up a workout area.
Or choose a building that has a gym and other fitness amenities. Ditch the expensive gym membership, and start watching YouTube videos to guide your exercise instead. 
10. If all else fails, find a reliable roommate.
Being independent doesn't mean you have to be alone. Find a friend or an officemate who is also looking to go on this adventure and split the expenses and housework. As long as you commit to your responsibilities, moving out will prove to be a great learning experience for the both of you.
Comments
Load More Stories