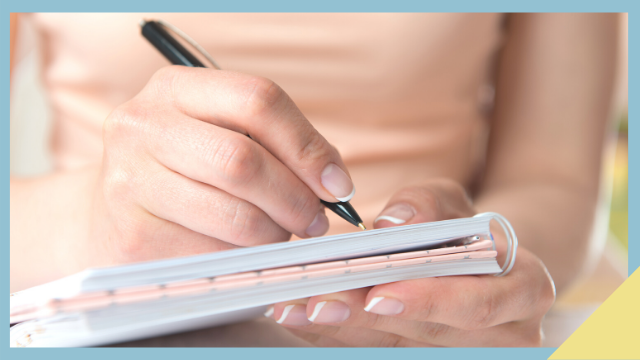 Saving and budgeting is harder when you have a family, but it's all the more reason to start learning how to be in control of your finances. With the COVID-19 pandemic putting a dent on our economy, becoming resourceful and money-savvy is a must.
ADVERTISEMENT - CONTINUE READING BELOW
If you're looking for a simple and easy approach to budgeting, try this money "hack" from mom Frances Folgo-Corpus! Since college, she's been able to allocate her money well thanks to her spending and expenses tracker. All you need is pen and paper!
"I lived away from my family when I was in college, so my mama Janjan told me to record all my expenses, since she does the same thing. Maybe she wanted to train me at the time, or maybe she just wanted to monitor my spending habits," Frances, a 28-year-old nurse tells SmartParenting.com.ph in an interview via Messenger.
CONTINUE READING BELOW
Recommended Videos
Whatever reason her mom may have had, it proved to be successful as it became a habit. When Frances married her husband, Noriel Corpus, and gave birth to her now 2-year-old son Jethro, she told herself that she needed to "level up" because she's now in charge of their family's monthly budget.
ADVERTISEMENT - CONTINUE READING BELOW
A few months ago, she decided to upgrade her budgeting list by making it more visually appealing. After a few searches on Pinterest, she came up with a color-coded tracker which she placed in a bullet journal.
How do I make my own expense tracker?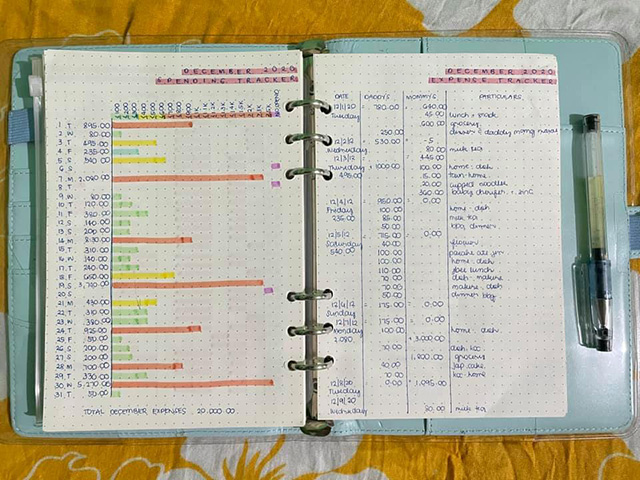 ADVERTISEMENT - CONTINUE READING BELOW
Frances shares that she has two trackers for budgeting: spending and expense. The expense tracker has 4 columns: Date, Daddy's Money, Mommy's Money, and particulars.
"Indicated in Daddy and Mommy's money 'yung amount ng monthly allocation naming for the family. Sa particulars naman, nakasulat 'yung specifics ng daily expenses," the mom explains. "Simple lang siya, isusulat ko lang kung magkano ang pumasok na pera and deduct ko 'yung expenses."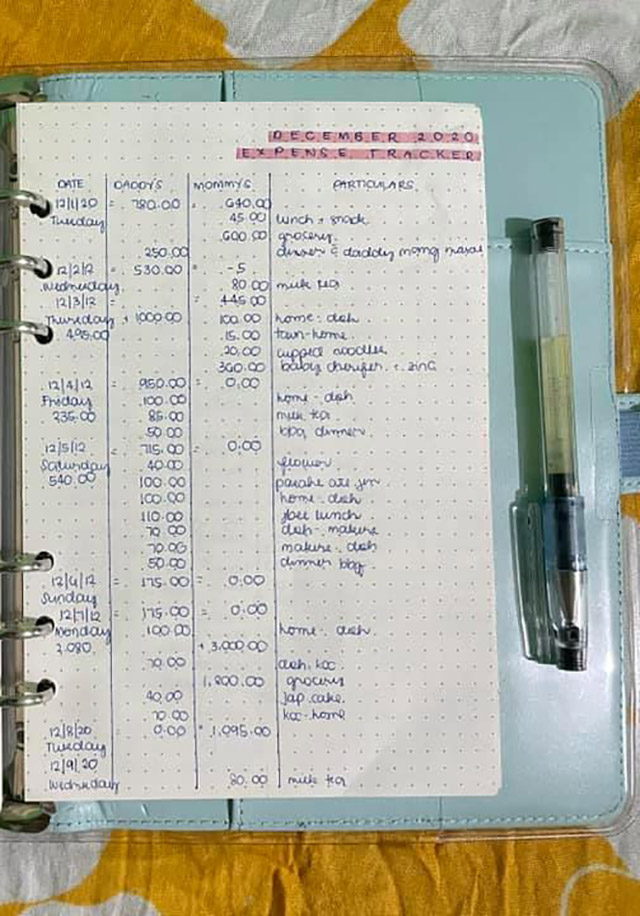 ADVERTISEMENT - CONTINUE READING BELOW
"My spending tracker is the summary of my expense tracker. Basically, color-coded bar graph lang siya ng daily expenses namin.
"Green means I spent less than Php300 pesos for the day, yellow means I spent Php300-599, and red means I spent Php600-5,000 pesos or more," she adds.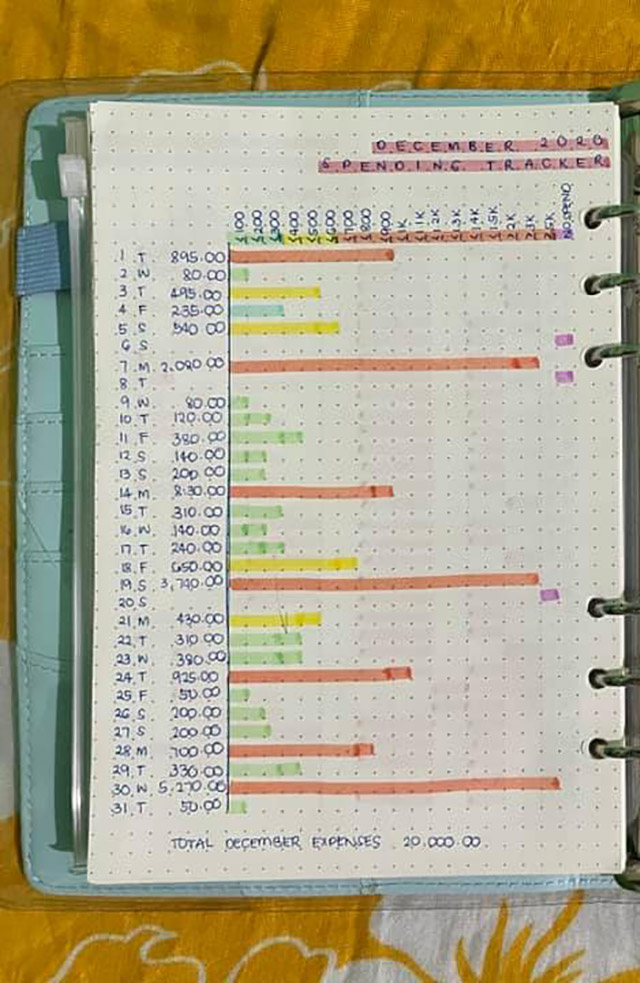 ADVERTISEMENT - CONTINUE READING BELOW
Jotting their expenses using this technique is effective because at a glance, Frances can tell if they're spending more than normal. "Siyempre sa following days, mas maingat na kami sa pagastos," she shares.
The expense tracker also helps her identify how much money they have left for the month. "Dapat pagkasyahin talaga ang budget," she says.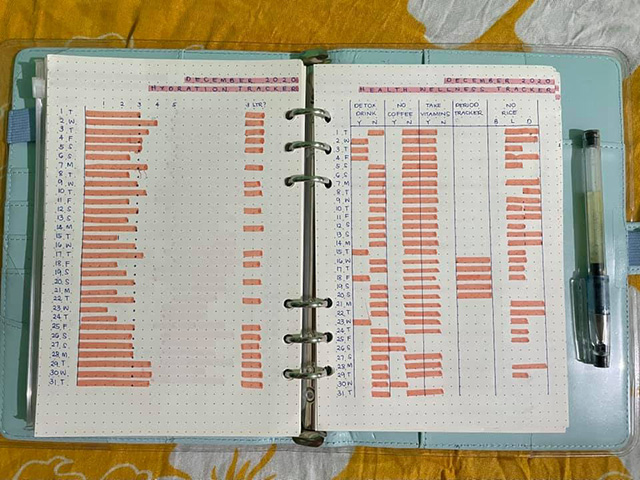 ADVERTISEMENT - CONTINUE READING BELOW
Having this on hand can also help lessen money arguments for couples. According to Frances, "I don't want my husband to question me on where our money went. So far, hindi naman siya nagtatanong — alam niya kasi na isasagot ko lang, with a confident smirk, "Tignan mo lang ang notebook ko, andun lahat nakalista."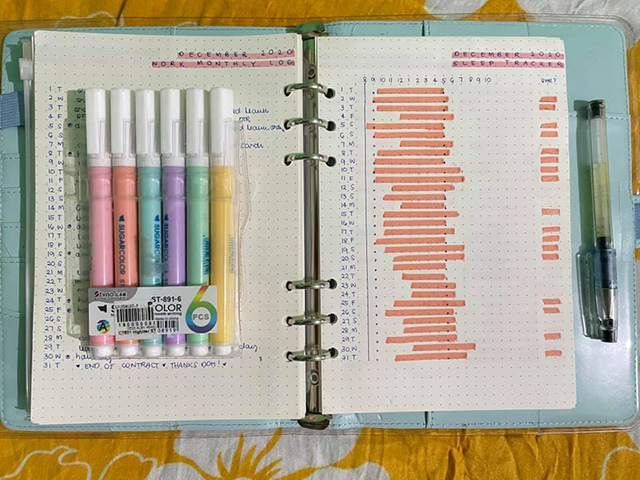 ADVERTISEMENT - CONTINUE READING BELOW
Best of all, it helped her Frances more self-assured. "My expense and spending trackers helped me become financially healthy. Financially healthy in a way that it took a huge baggage off my shoulders and made it easier to handle the family's finances."
The mom adds, "It feels very empowering when you are somehow in control."
Looking for more money hacks? Click here for helpful tips!
Load More Stories