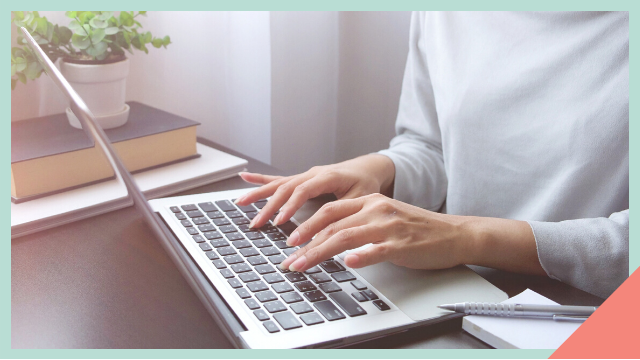 Applying for a job during quarantine? One of the requirements for pre-employment is an NBI Clearance, which tells your prospective boss if you have an ongoing criminal case.
The NBI Clearance certifies that an individual has no ongoing case in any part of the country. It is different from a police clearance and a barangay clearance, which is limited to a particular area only.
Who can apply online?
First-time applicants
Applicants for renewal
Applicants for renewal whose previous NBI clearance has errors/changes in any field
Good news for first-time applicants: You could avail of free NBI clearance under Republic Act No. 11261, or the "First Time Jobseekers Assistance Act." You may visit the online site specific for first-time jobseekers here.
What are the requirements?
For first-time jobseekers who want to avail the free clearance: Present a barangay certificate, issued from your place of residence, which states you are a resident for at least six months. It must also indicate it is your first time to apply for a job. The barangay certificate can be used within one year from date of issuance.
ADVERTISEMENT - CONTINUE READING BELOW
How to register for an account?
1. Go to the website.
2. At the right side of the website, you will see a question asking if you have an old NBI Clearance issued from 2014 to present. For first-time applicants, click "No." Fill out the form, read and accept the terms of service, and click "Sign Up."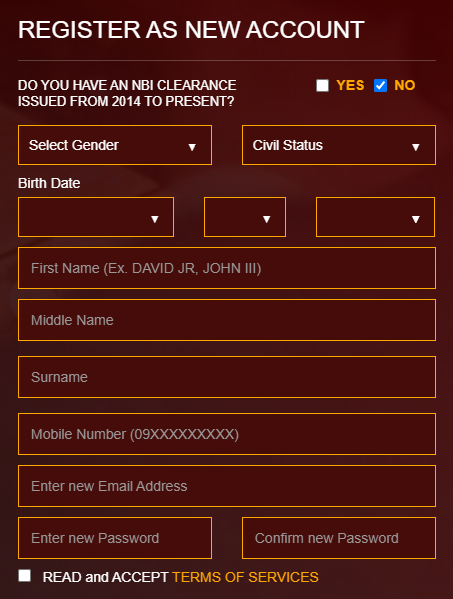 For those who still have their old NBI ID number, click "Yes." Fill out the form, which includes entering your old NBI ID Number. Read and accept the terms of service, then click "Sign Up."
3. A "One-Time Password" will be sent to your registered phone number. Enter the code within five minutes. In case you did not received the code, check the mobile number or e-mail you registered on the website.
4. Fill out the applicant information, contact details, family background, and other information. Afterwards, click "Save Information." You may click "Edit Information" for corrections.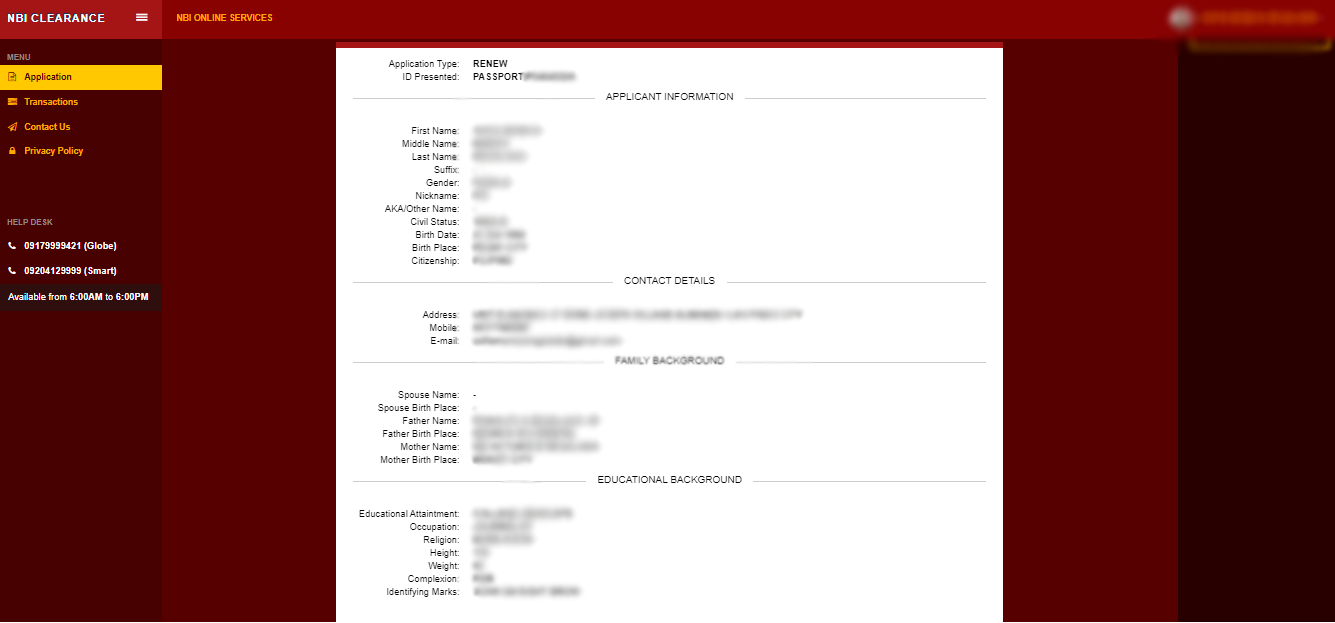 5. Click "Apply for Clearance." For confirmation, click a type of ID you will bring for verification.
6. Schedule an appointment by selecting a branch near you. Select a slot (AM or PM) from the available dates. The blue AM/PM button indicates how many slots are still available on that day.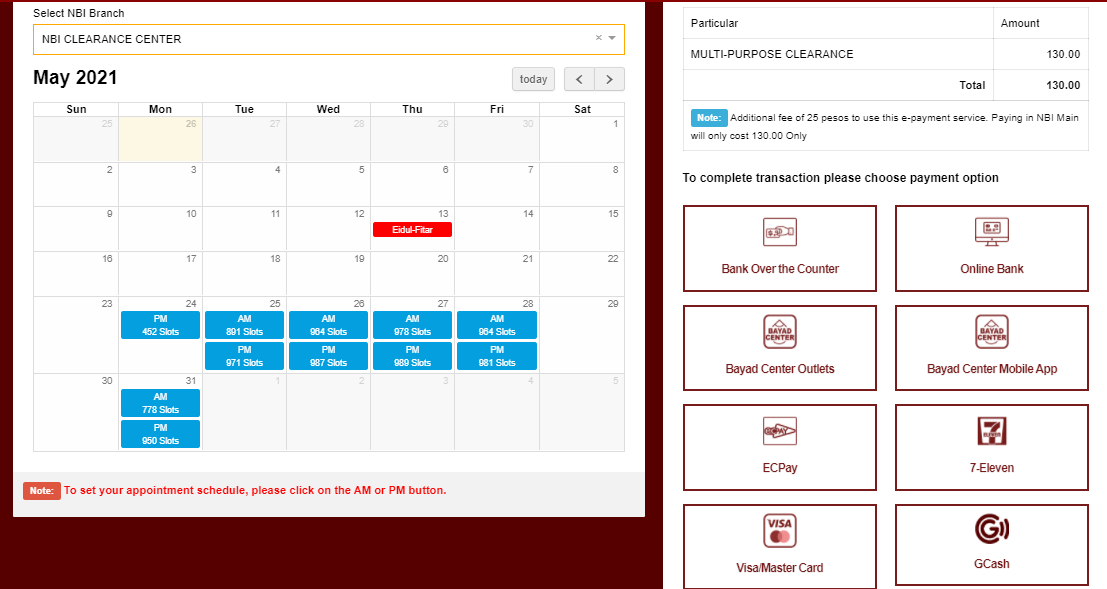 ADVERTISEMENT - CONTINUE READING BELOW
7. Pick the payment option convenient for you. Follow the instructions on how to pay. The NBI clearance costs P130, but availing the e-payment service will incur additional fees. More details below.
8. After paying the fees, click "Transactions" on the left side of the page to check whether it is still "pending" or already "paid."
9. On the day of your appointment, bring your valid IDs, copy of your online reference number, and your NBI Clearance Online payment receipt to the issuing branch.
10. Line up for the photo capture and biometrics. Wait for the printing of your NBI Clearance. When you get a "HIT", you will be asked to return after a few days.
What are the IDs you can present?
Bring at least two of the following original IDs, not photocopies:
UMID (SSS and GSIS)
Passport
PhilHealth ID
Voter's ID or Certificate of Registration
BIR
PRC License
Birth certificate authenticated by PSA
Driver's License
Pag-IBIG ID (not the loyalty card)
Postal ID
Certification from the local civil registrar
Certification from Malacañan in connection with indigenous groups, tribal membership, foundling
Solo parent ID
Company ID (for government employees)
Police clearance issued by police station where applicant is residing of the station's jurisdiction
Seaman's book and SIRV
School ID together with current registration card
Senior citizen ID
MARINA
Note: Applicants cannot present non-government issued identification such as company IDs or Barangay Clearance as valid IDs. First-time job seekers are required to submit a Barangay Certificate to avail of the free service.
What are the payment methods?
You may pay via:
Bank Over the Counter
Online Banking
Bayan Center Outlets
Bayad Center Mobile App
ECPay
7-11
Visa/Mastercard
Gcash
What happens when you get a "hit"?
Getting a "Hit" does not automatically mean you have a "derogatory record." Most of the time, it means someone has a same name that has a criminal record. The NBI needs more time to comb through your records to clear your name. In case the "derogatory record" has been proven, the NBI will reach out for an interview.
This story originally appeared on Reportr.world.
Minor edits have been made by the Femalenetwork.com editors.
Load More Stories