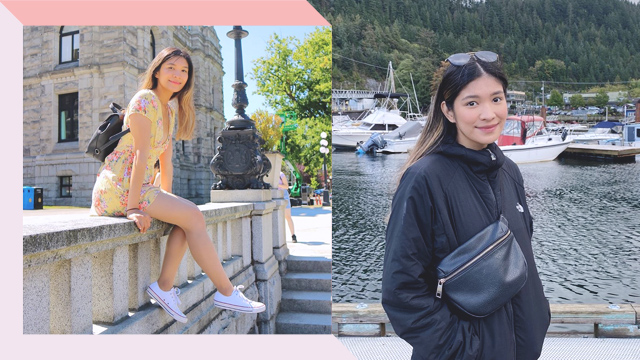 We know studying abroad and eventually getting to live and work in a totally new place is the dream for many. Many students, however, don't really know what the process is really like or where to start. Thankfully, this Pinay started a YouTube channel dedicated to sharing her experience of studying in a different country and eventually getting to live and land a job there.
ADVERTISEMENT - CONTINUE READING BELOW
READ MORE: GUIDES TO STUDYING ABROAD
Rachel Dancel has been living in Canada for three years now where she studied Communication Design Essentials at British Columbia Institute of Technology, Burnaby campus. "Similar to Graphic Design, it is a program partnership of BCIT and Emily Carr University that equips the necessary skills of visual design and content management using computer software or by hand that inspire, inform and captivate target audience," Rachel shares in an e-mail interview.
On why she chose Canada in particular, Rachel says, "I chose to study in Canada primarily because of the quality of their education. Their education system is very reputable in providing high academic standards. Moreover, I knew that graduating from a Canadian learning institution will open a lot of opportunities that would make me a valuable candidate in the international job market."
Here, Rachel talks about her immigration experience:
It's not exactly an easy process.
Moving to a different country sounds like a pretty big deal, so naturally, the process won't be walk in the park. But if it's something you really want, then it's a process worth going through, Rachel assures. "It's definitely not as easy as 1-2-3. When I started, I couldn't see how the end result would turn out but kept going anyway. I feel that that's usually the case when you start something bigger than yourself. There was a lot of worrying and doubts especially in the initial or planning stages but I remained determined to see things through regardless of the outcome. I just wanted to see if I could do it on my own."
ADVERTISEMENT - CONTINUE READING BELOW
Research heavily prior to your application.
A lot of research needs to be done to make sure you choose the school and college degree you really want to take, and that it's aligned with your long-term goals, aka to eventually migrate to that country and apply for a job. In one of her vlogs, Rachel shares that, in order to qualify for immigration, the school she had to choose needed to be part of a Designated Learning Institution and that it offers Post-Graduate Work Permit (PGWP). 
ADVERTISEMENT - CONTINUE READING BELOW
You'd also have to consider the cost and prepare accordingly. It doesn't come cheap and there are several fees to pay, but you can think of it as a long-term investment. Rachel shared that the application for permanent residency under the Express Entry costs $1,325 or roughly P48,000. Add to that the fees for biometrics ($85 or P3,312), medical exam ($300 or P11,056), and IELTS exam ($300 or P11,056), among other fees to obtain the needed documents.
Here's a rundown of the steps of Rachel's immigration process:
Do research on programs and schools you want to take in Canada
Take the International English Language Testing System (IELTS) exam
Gather required documents


For Program Entry to your chosen school
For IRCC Study Permit Application

Applying for NBI Clearance and medical exam
Booking and preparing for flight to Vancouver
Arrival to Canada
Reality check: Not everything might go according to plan.
We've all heard great stories about living Canada, but for Rachel, the biggest misconception about it is that life is relatively easier there. There will be times when plans don't exactly push through the way you envisioned them, and you have to be prepared to jump to Plan B.  "I had to accept not getting my ideal job since I started working here.
ADVERTISEMENT - CONTINUE READING BELOW
"My first job, I worked minimum wage despite being a scholar and holding a degree in engineering. When I started working a full-time job, it still was not enough to support myself if I were to live alone. Without the support of relatives, I know I will have a difficult time managing finances. The amount converted to Philippine Peso may seem a lot, but in Canada it's considered struggling wage."
ADVERTISEMENT - CONTINUE READING BELOW
But for Rachel, the good experiences she's had still outweighs that bad, so if you're planning to do the same, don't be discouraged. She shares, "Hardships are a part of pursuing a good life. Without it, it's not worth pursuing at all."
READ MORE: GUIDES TO STUDYING ABROAD
If you're hoping to move to Canada, here are some tips from Rachel:
Get your finances in order. Make a list of fees included in the application.
Cost of living is high, especially if you plan to move to Vancouver or Toronto. Make sure you have enough funds to support your stay in Canada.
Make sure all your personal documents are up-to-date and/or valid before proceeding with your application.
Make a list of the documents you need.
Figure out the processing times for requesting each document to help you create a plan of attack.
Organize documents in a logical and chronological manner (To make it easier for the person reviewing your application to understand what's inside).
Possible immigration issue you may encounter is making a mistake filling up forms or withholding relevant information on your application. Be transparent or honest. Any kind of misrepresentation can make you inadmissible to Canada.
DIY-ing your application can be challenging since it entails your full and undivided attention. If you find it challenging to complete one, it may be better to seek help from a professional such as an immigration lawyer or consultant to assist you with your application.
ADVERTISEMENT - CONTINUE READING BELOW
Follow Rachel on social media:
Youtube Channel: youtube.com/c/racheldancel
Instagram: instagram.com/rrdancel
Facebook: facebook.com/rrdancel
Load More Stories