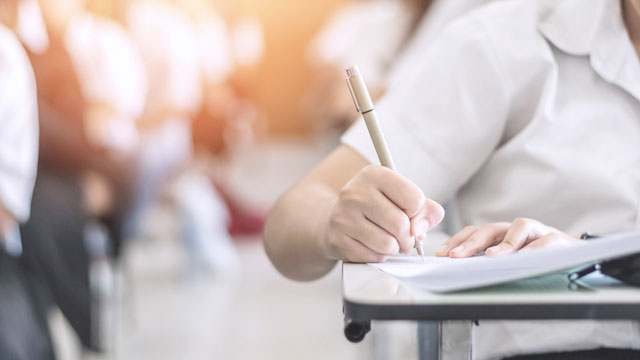 The Civil Service Examination is one of the most difficult examinations in the country. Every year, only around 10 percent of those who take it pass. For the Professional Level, the Civil Service Exam covers the following areas:
ADVERTISEMENT - CONTINUE READING BELOW
CONTINUE READING BELOW
Recommended Videos
Grammar and Correct Usage
Logic and Abstract Reasoning
Numerical Reasoning
Organization of Ideas
Reading Comprehension
Vocabulary
Spelling
Data Interpretation
General Information 
Analysis and Synthesis
In March 2018, out of the 279,787 examinees, only 30,175 passed, or 10.78 percent.
If you are planning to take the Civil Service Exam, first try to take this simple 12-item quiz (many people underestimate it) and see if you can answer all items under five minutes. The quiz is a mock test that is used as a benchmarking tool to gauge your current knowledge level and see the areas in which you need to improve.
After the quiz, you will be given a report based on your performance. A detailed explanation of correct answers is also provided. To pass the exam, you need to answer 10 out of 12 questions correctly or 80 percent of the items correctly-the same passing score used in the Civil Service Exam.
Who Are Exempted from Taking the Civil Service Exam?
Passing the Civil Service Exam is usually required before anyone can work as a non-elected government employee, but not many people know that there are other ways in which you can become eligible for government service. The following Filipinos are exempted from taking the Civil Service Exam:
ADVERTISEMENT - CONTINUE READING BELOW
Board Exam and Bar Exam Passers
These exams are already administered by the Professional Regulation Commission and the Supreme Court. If you pass these exams, you are already deemed by government as highly competent and capable, considering how you passed the rigorous nature of these exams.
Barangay Health Workers
If you have a college degree and have completed two years of college education, and have been accredited by the Local Health Board and have rendered service to the community for at least five years, then you are also exempted from taking the Civil Service Exam.
Graduates with Laude Honors
If you graduated with Laude honors, you could be exempted from taking the Civil Service Exam, but only if the government thinks that you graduated from a reputable educational institution. Some people might think that this is a form of discrimination, but it is actually about being fair-some schools give higher marks to students, causing grade inflation or grading leniency.
ADVERTISEMENT - CONTINUE READING BELOW
Science and Technology Specialists
If you have a bachelor's degree in any field of specialization and have earned a master's degree or a doctorate degree or have at least three years of experience of continuous research or teaching in the same field, then you are eligible for civil service. Many university professors are recruited by the government because of their expertise. They do not need to take the Civil Service Exam.
How to Apply for the Civil Service Exam
You can apply for the Civil Service Exam online. Simply register at the Comex website by providing your personal information. You must have an active e-mail address. Once you're done filling out the online application form, pay the examination fee of P680.
If that doesn't work out for you, you can always go to the CSC field office or CSC Regional Office where you plan to take your exam in person. Fill out the form and submit this to the office. Prepare to pay a fee of P500.
ADVERTISEMENT - CONTINUE READING BELOW
Civil Service Exam Requirements
You will need the following items when applying for the Civil Service Exam:


duly accomplished Application Form
original and photocopies of your valid ID
birth certificate
marriage certificate (for female married applicants)
certificate of no conviction and no pending cases (download the form here)
three passport-size ID pictures with white background 
For those who want to apply for the Honor Graduate Eligibility (HGE) so you won't need to take the Civil Service Exam when you apply to government posts, you must accomplish this form and include necessary documents from your school. 
Your application for HGE will be evaluated, and then you will be provided a certificate of eligibility. Prepare P500 for the evaluation and processing cost. 
Interested? You can check out the remaining exam schedules for 2019 here, or visit the Civil Service Commission's website for more details.
Comments
Load More Stories