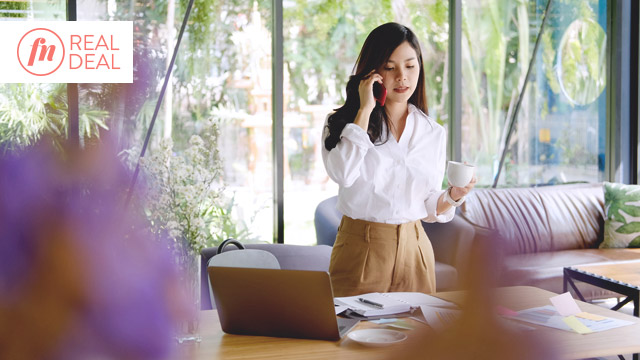 Malou T. Del Castillo is FemaleNetwork.com's #FNRealDeal expert for the month of August. A career coach and author of the book The Career Road Map, she gives simple and logical answers to your questions about how to find fulfillment and success in your industry of choice.
ADVERTISEMENT - CONTINUE READING BELOW
#FNRealDeal is a special FN series where an expert addresses the most pressing concerns of our 30-something readers, based on comments and feedback on social media and Girltalk. If there's any topic you'd like us to discuss (fashion and beauty, career, finance, travel, relationships) or any question you've always been afraid to ask, feel free to reach out to us via Facebook, or send an e-mail to female.network.editors@gmail.com with the subject "#FNRealDeal Question." Senders will remain anonymous.
On 'sipsip and 'epal' officemates
In the years that you've built your career, you've probably met a lot of colleagues that aren't exactly high on the integrity scale. Malou explains that while there will always be these kinds of people at work, it's really up to you whether or not you'll allow them to affect you.
"What's important to realize is why [you are] so bothered about the sipsip officemate...
"I think what you need to identify is how you can manage your own career rather than manage other people's careers."
"So many times people are so affected by other people's perceptions... instead of focusing on taking control of what's going on in your career and how you should manage your career and highlight your accomplishments.
"Focus on talking about your accomplishments and what you've been able to do for your job, for your business, in a very casual way to management... Explain the actions that you did and the results that you accomplished.
"Some people might say that [in itself is] 'sipsip,' but for me, it's not really that. It's explaining how valuable you are and how much you've contributed to your job."
On effectively shifting careers
Before becoming a career coach, Malou was once in brand management and marketing. "There was a time when I felt that I needed a career shift, and that career shift had to do with helping others, advising people on their careers."
While she knew what gave her fulfillment, she initially didn't know where to start, so she began with something simple and basic: research. "I did a lot of research on careers that help people and coach people. For me, that's the first step, so if you realize that there's something you really enjoy and find fulfillment in—in my case it was coaching and mentoring—do some research. Find out what the careers are surrounding that skill or that practice that you want to do."
ADVERTISEMENT - CONTINUE READING BELOW
She then recommends talking with people who have years of experience in the field you want to penetrate before making the leap. "Go and immerse in the field first before you drop and leave your old job... From that point, ask these experts what steps [they] took to become whatever it is that [they're] doing right now...
"I tell people to do this because it's very common to see others and say 'O, parang ang ganda-ganda ng trabaho nila, gusto kong mag-career shift.' Pero 'pag nag-immerse ka na roon—do you really enjoy it? Is it something that you can imagine doing all the time?
While Malou is all for following passions, she also says that it pays to be logical and prepared: "Make an exit plan, financially. How much will it cost to make this career shift? What do you need to invest in? How much will your new career pay you in the beginning, and given that, how much do you need to survive? Look at the practical side of it. I encourage a lot of people to pursue [their] dream career, but be practical too, para hindi nabibigla." 
ADVERTISEMENT - CONTINUE READING BELOW
On the right time and way to resign
Believe it or not, resigning is a process with repercussions that go beyond your last day in your former company. Malou notes: "We get a lot of people who come to us who say 'I really want to resign, I'm so unhappy with my boss,' or for example, 'I've been doing this for so long, I have never been promoted.'
ADVERTISEMENT - CONTINUE READING BELOW
"Don't resign for one or two strong reasons but rather sit down, identify the things [that are] really important in your career."
"What's your long term goal? What's your goal in four, five, six years? Kasi it's very easy to be influenced or swayed even through social media. When you see your friends parang 'Wow, they're so happy with their jobs, and they're so successful. Me, I'm so behind.'"
Resignation takes a lot of thought, and it begins with what you wish to do after. "Identify first what you want for yourself. What do you see doing? What do you enjoy doing? And if you were to be asked five to ten years from now, what job would it be that you would consider doing? Then look at your current job.
"Is what you're doing now going to bring you closer to that long-term job goal or not?"
"Identify also, based on your long-term goal, what are your career values? A lot of people don't do that. Usually when I ask my clients in our workshop, 'If you were transferring jobs, what would be important to you?' And they usually say, 'Suweldo.' 'Yon lang. Suweldo lang. Benefits lang. Promotion.'
ADVERTISEMENT - CONTINUE READING BELOW
She also shares one's salary and position are not the main reasons why employees are unhappy with their jobs. "It's a lot of other things. Like 'I'm not able to make decisions,' 'I can't be creative,' or 'I work in isolation, I don't enjoy teamwork...' Those are what we actually call 'career values.' Everybody's got them.
"Career values are the things that anchor us and make us fulfilled, satisfied, or motivated to do a job..."
"'Pag lumipat ka dahil sa suweldo, and you find out that your new job is actually so boring or so toxic... parang is that really what will make you happy?"
On finding work after being unemployed for years
Finding work after years of unemployment may be daunting, but for Malou, not being in a corporate or business setting doesn't mean that any job will do.
"Let's start at the beginning. What kind of work do you want to do, what kind of studies did you finish, what kind of experience [do you have?] If it's so far back, what skills have you honed in the last few years?
ADVERTISEMENT - CONTINUE READING BELOW
"[I would really discourage] saying stuff like 'Any job will do, kahit saan, para ma-hire lang ako,' kasi it actually works against you."
"From there, make a resume... Identify your skills—everyone's got them—and what have you accomplished with those skills even if it is as an extra-curricular [activity] outside of your work. Let's say you organize activities in your alumni association. Let's say you planned bazaars for your friends in your community. Those are actually accomplishments. 
"Next is identifying where you can apply. I understand it's a little bit daunting, and that's why I recommend...[consulting] with a career counselor to help you figure that out step-by-step. A lot of this information [is also] available online, and I put it in my book The Career Roadmap for people who don't have the means to consult with a career consultant.
"There are different methods to look for a job... One is, of course, the internet. Number two is by referral, which is your network, and then the [others are] job ads, walking into a company, and using headhunters. Also if you're coming in from a long time of being unemployed, and then you've had your resume and you're feeling a little concerned that people may not give you as much attention, I would recommend using your network of contacts...
ADVERTISEMENT - CONTINUE READING BELOW
"Networking accounts for 70 percent of all successful job leads. So in other words, ask your friends, ask your family, ask your neighbors; tell them what it is that you're interested in doing."
On being retrenched and losing your job
If there's one thing that you should remember about losing your job, it's that oftentimes, it's not about you. "Retrenching usually happens not because of the employee's performance. It usually happens because a company has to let go of a certain amount of headcount to save on cost," says Malou.
ADVERTISEMENT - CONTINUE READING BELOW
"You don't have to write it on your resume—you just have to [keep] your resume as it is, including all your accomplishments. How do you talk about leaving? In a very brief and non-defensive way... Dapat you believe and look back on all the things that you've accomplished that had nothing to do with your retrenching.
"You're still a person of value, a person who can contribute. Believe in that."
ADVERTISEMENT - CONTINUE READING BELOW
On choosing between a lateral transfer and resignation to get promoted or move your career forward
"The question you need to ask—and we go back to job values—why do you want to be promoted? Is it because you feel like you should be moving up in your career? Is it because you want to handle bigger responsibilities? Or is it because 'Everyone is being promoted except for me.' Clarify first."
If your reason behind wanting to get promoted is because you know you're ready for more responsibilities, Malou recommends training for the position. "What you need to identify are the things you need to be good at or competent at before you can get promoted... I would actually sit down with my manager, and say, 'What are the things I need to have accomplished, what are the skills I need to have done, so that you can promote me?' Be completely straightforward.
ADVERTISEMENT - CONTINUE READING BELOW
And if the manager says, 'Okay, actually, you have all the skills, the problem lang is there's no position.' Then you need to identify—should you move to a new job? We go back to the values: which company will get you closer to your long-term goal, and what is that company going to give you in addition to a higher position?
"Hindi lang siya seen in isolation. Tingnan mo rin 'yong long-term future mo sa kompanyang 'yon, and will it allow you to have a better future kung lumipat ka roon sa kabilang kompanya."

I'll give you an example: you work for a large multinational company na very well-known... and you haven't been promoted because your boss is still there [and you can't move up]. Then a small startup company that you have never heard of before calls you and tells you, 'Oh, we're going to give you a manager position, but you join us na.'
"Think about it: so what are your goals? If you want stability and security, and if you want the ability to grow your career in a reputable company which will continue to teach and train you and probably give your retirement program, you stay. But if you're willing to take a risk and go to a small company, you're not really sure how stable they are, but they're going to give you a high position—that's where you have to really assess and write down all of your career values.
ADVERTISEMENT - CONTINUE READING BELOW
When you leave [for] that next employer...that's not very well known, is that going to affect or impact your next position after that? Again what's important is 'wag tayong mag-iisip for the short-term only.
"Let's be clear about what's really important to us, both the tangible measures of success, which are money, position; and the intangible, which are job fulfillment and the values important to you."
*Some parts of the phone interview have been edited by Female Network editors for clarity.
Load More Stories