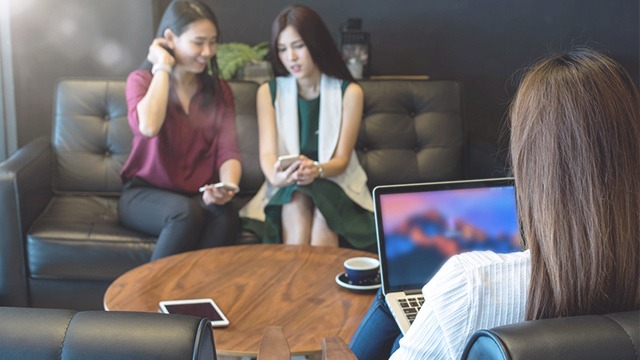 Whether you work in an office or work from home, good etiquette is a definite must-have. You might be thinking it's no big deal, but having a good set of manners at work can really affect how you progress in your career. It's not as complicated as you think, etiquette expert Myka Meier explains, "having good etiquette at work mostly simply means to be considerate and respectful of everyone around you."
ADVERTISEMENT - CONTINUE READING BELOW
Here, we're giving you a few etiquette guidelines that you can start practicing today.
Dress appropriately
Corporate or not, it's important to look your best especially when meeting with clients. If you're not sure how to dress, observe what your colleagues wear and use that as a guide. In general, you should always look neat and avoid wearing anything revealing or distracting.
Be honest
Claiming someone else's ideas as your own or blaming someone else for your own mistakes are things that can do some real damage to your reputation at work. Be truthful and always give credit where it is due.
Stay away from gossip
Sharing chismis is not the only way to connect with your colleagues. On the contrary, it can work against you by making you look like someone who can't be trusted. Shift your focus from the negative to the positive things. It will create a better work environment and will help you avoid unwanted conflict.
ADVERTISEMENT - CONTINUE READING BELOW
Recommended Videos
Think before you speak – or type!
When communicating with colleagues, supervisors or clients, the key is to get your message across using language that is easily understood. Be extra careful what you put down in writing, and always ensure that your tone is respectful.
Set a window time for your arrival
These days, it's impossible to be on time every time. If you have a consistent work schedule, know what the average length of your commute is, and make it a habit to arrive at relatively the same time everyday. For meetings outside the office, always add an extra 30 minutes to your travel time for unforeseen delays such as road works or finding parking.
Remember names
Make it a priority to remember the names of the people you meet for work. It's not only courteous, but it can also impress the person especially if you've only met once.
ADVERTISEMENT - CONTINUE READING BELOW
Learn to listen
Whether you are engaging in a conversation or attending a meeting, give your undivided attention to whoever is speaking. Being completely present to the person speaking will not only assure them that you understand what they are trying to say, it will also help you remember the things you discussed. Avoid glancing at your phone or checking your emails, and don't interrupt with something that can be handled later.
Don't be Patient Zero
If you're sick and contagious, you shouldn't be at work. You have sick leaves for a reason. Be mindful not to put others at risk of getting ill. Rest up or opt to work from home until you're back in good health.
Load More Stories