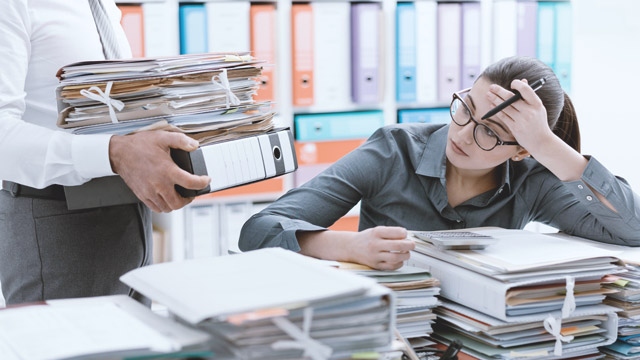 You're a go-getter. When you're in the job that you love, you do your best to make everything work for you and your team. You're always thinking of improving things and you're always working for a higher and nobler purpose.
The thing is, not everyone is like you.
ADVERTISEMENT - CONTINUE READING BELOW
CONTINUE READING BELOW
Recommended Videos
Though you wish you'd see the same amount of passion and efficiency in those you work with, it's not always the case, and since people know how good you are at what you do, they rely on you to fix things when the proverbial crap hits the fan. In fact, Bourree Lam of The Atlantic featured research done by experts from Duke University, University of Colorado, and University of Georgia that revealed that people who appear to be more responsible and more in control usually get jobs passed on to them more—and the sad part is that they are often working for the same rewards as those who are less competent than them. That's more work for the same salary as those with less work, which understandably, makes them feel miserable.
"[Researchers] found that high performers were not only aware that they were giving more at work—they rightly assumed that their managers and co-workers didn't understand how hard it was for them, and thus felt unhappy about being given more tasks," noted Bourree. "Over-reliance" is a thing, and it's not healthy for you if you're the one at the receiving end.
ADVERTISEMENT - CONTINUE READING BELOW
This is not to say that you shouldn't accept extra work or you should stop doing your best in the office, but if management hasn't been able to acknowledge your skills, then you may need to let them and your team know that you have your limits, too:
Talk to your boss.
If things are becoming too heavy for you, approach your direct supervisor. Doing so will help him or her understand where you're coming from, and if management has your best interest at heart, they'll help make the necessary changes.
Make your team understand your workload.
People tend to over-rely on people they trust, so it's up to you to explain why things may go awry if they keep on depending on you to tweak, fix, or at worst, do their jobs. Tell them that while you're very willing to lend a hand, you'll only be able to do so when you have the time to give them your 100 percent. After all, they wouldn't want botched results, right?
ADVERTISEMENT - CONTINUE READING BELOW
Just say no.
When a mountain of tasks you aren't responsible for lands on your desk, you probably just suck it up and get everything done and over with. FN Tip: Stop doing that. Give that folder back to the owner and say you're they swamped, because really, that can't do anything if you don't have the time to go through it.
Talk to your boss…again.
If for some reason the additional workload is inescapable, speak to your boss about what other compensations you may receive. A salary increase and/or a promotion is optimal, but sometimes, the intangibles can be great, too—flexi-time and work-from-home privileges are a couple you can suggest. The point is to find middle ground to make sure that everybody wins, without allowing yourself to get the short end of the stick.
Comments
Load More Stories