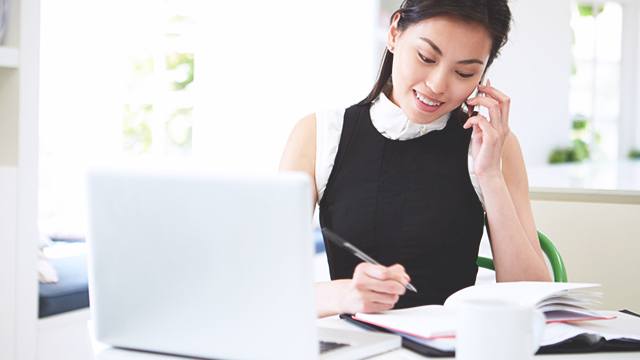 A couple of years ago, I left my corporate job for two reasons: One, to escape a toxic work environment and two, to pursue a big, brave dream. I'm sure you've heard this story before, especially from various articles written by millenials like myself. But let me personally debunk the myth for you—earning a living while living your dreams is very possible. Because I was able to do it. 
ADVERTISEMENT - CONTINUE READING BELOW
And I know what you're thinking—it's definitely easier said than done. You got that right. But I also believe that if you have the patience, determination and (a little bit of) desperation, a seemingly risky decision may actually present life-changing opportunities.
CONTINUE READING BELOW
Recommended Videos
So how to did I do it?
Simple. Work from home. Part-time. Flexi-time. Online. Freelance. Whatever you call it.
But before I tell you how, let me just remind you that this life is not for everyone. I am in no way judging those who work office jobs; most of my heroes are corporate professionals. I also gave up a lot of things to pursue this, but it was the best decision I could have made given my situation at the time. And I do not regret it. That is also why your MOTIVATION will be a big driving force in nailing this kind of life.
ADVERTISEMENT - CONTINUE READING BELOW
So down to the juicy part!
The Platform
First, I created accounts on various online job search sites like Upwork.com and Freelancer.ph. I was a writer and a marketing person, so I mostly searched for jobs falling under copywriting, social media management, branding and translation. You'll see a lot of categories there depending on your preference and expertise.
Next, I built my online portfolio. This can be time-consuming, but you really have to do good at this part because this is what will get you work. You can start by filling out your profile page or compiling your work on a separate website. You also have to put a good starting rate. I started with US$5 per hour. That's not much, but this will increase over time as you get more jobs and positive feedback.
The Effort Is Worth It
Now it's time to apply for jobs. It takes a lot of patience, perseverance and luck. I can't remember how many contests I joined, cover letters I wrote, proposals I submitted and applications I sent. I just know it took a while. Like all things, starting out is difficult. And then one day you'll just wake up and then poof! There's a job.
ADVERTISEMENT - CONTINUE READING BELOW
My first job was successful. I wasn't paid much, but you can't expect to charge big when you don't have the profile reviews and online experience to back it up. It also helps to take tests to increase your credibility. I even paid to take those tests just to be more legit.
Eventually I got more and more jobs. The good thing about these sites is that you can transact everything there. They have escrow arrangements where employers will have to deposit the money first before you start working. And when you're done, your fee will be released to you. You can also get paid via Paypal. But also note that these online payment platforms will get as much as 20% from your earnings in exchange for using the site.
Perks and Finances Are On Point
Eventually, I was handling 4-5 accounts, each paying me at least $6 an hour. It was weekly work, so I was able to get steady income. I was earning around P30,000 a month just by working from home. It was already increments higher than when I was working a nine to five. And I was still able to siesta, do my thing and travel whenever I wanted. The good thing about working online is you can bring your work everywhere, so no need to file for leaves.
ADVERTISEMENT - CONTINUE READING BELOW
Now, how did I get it up to P60,000 a month? Because I still had time (and wanted some form of human interaction), I also applied for local part-time consultancy jobs in marketing and content creation agencies. I was working for different companies who each paid me around P6,000 to 12,000 a month. I was very lucky because all my clients paid on time.
The Catch
The thing about working freelance is that your contract can end any time. You can't actually expect to earn a fixed amount every month. It still depends on how much work is given to you. There are times when you lose work just because the employers already got what they wanted.
Because I was handling all these jobs and my passion projects were also picking up, I decided to let some go to leave more time for myself. Fortunately, my foreign bosses were very considerate and understanding. It was also easy for me ask for vacations and schedule changes because they knew I was doing other things, too.
ADVERTISEMENT - CONTINUE READING BELOW
'Yun lang, no work, no pay. This won't be a problem though because you can always just apply again!
You Can Do This, Too
If you're thinking of the risks, well, to drive a point, you can always go back to the full-time world after you've tried it. Or you may even start a small business on the side. If anything, your experience doing freelance work will help you grow as an individual and a professional. Nothing will be wasted because you've learned your strengths and you can prove your ability to survive on your own.
So if you think that this life is for you, by all means, go for it! And if you're still undecided, maybe the right time, reason and situation will come along. You can't do things like these half-heartedly, because although it sounds like fun, you also need to work hard to reap its benefits.
ADVERTISEMENT - CONTINUE READING BELOW
Your success will really depend on whether you have the motivation and heart to take on this path. Whether you want to be a work-from-home mom or a well-rounded millenial, as long as you have a vision to commit to and a strong drive to succeed, I'm confident you've got this in the bag. Happy hunting!
Comments
Load More Stories