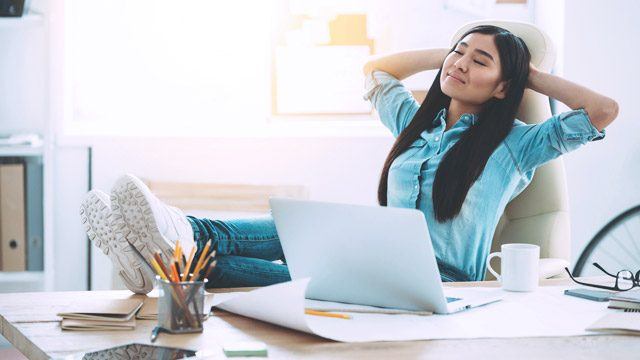 We usually do not put much importance on retirement because for most of us, it's just a concept we won't have to worry about until the distant future. Therefore, we may define it differently from others and most likely have misunderstood it completely. Which is also probably why not a lot of people think about going into early retirement  For some, it may mean as plainly as leaving the workforce at an early age--probably to pursue a passion. But it may also be employer-initiated and is a benefit in the company that will give us an option to have a separation package if we decide to leave after a certain number of years. In both cases, there's the possibility of a pot of gold at the end of the rainbow. 
ADVERTISEMENT - CONTINUE READING BELOW
Here are the things you need to know to help you consider heading down this path:
1. Policy
For the standard rule according to the labor code, retirement package is required for employees who are at least 60 years old and not older than 65, provided that they've had continuous employment with the same company for at least five years.  Early retirement, on the other hand, is a benefit to employees, not mandated by the government. Corporations use this as a tool to heighten employee retention of their employees and give them something to look forward to after long years of service. A company that does not have an early retirement benefit package is not violating any laws.
2. Entitlement and Schemes
There's no standard scheme for an early retirement. As stated on the first item, it's initiated by the employer so expect that packages differ from one company to another. There are companies that offer packages to employees who reach a minimum of a five year straight tenure while others start at 10 years. Some have age as the basis like around 45 years old or 50 years old, etc. 
CONTINUE READING BELOW
Recommended Videos
An example of an early retirement package is 5% of basic pay each month, 50% of which is withdrawable once the five year mark is hit and only at the 15 year mark will the whole fund be withdrawable. Translating that into a conservative sample computation, let's say you started in the company with a P25,000 basic salary, assuming an annual increase of 5% per year and not factoring any promotions, you may have a withdrawable amount of P41,441.23 after five years and P323,678.45 after 15 years: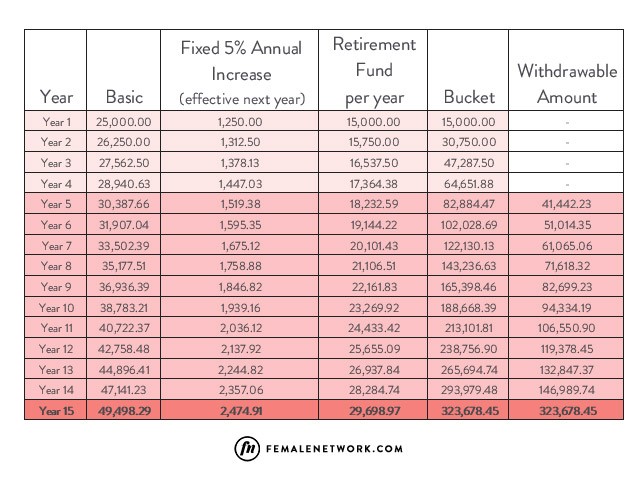 ADVERTISEMENT - CONTINUE READING BELOW
3. Pros and Cons of Availing Your Early Retirement Package
It's anticipated that if you're employed in a company that offers an early retirement plan, it's more probable for you to wait for your eligibility to kick in prior to tendering your resignation. This would enable you to receive a lump sum amount of money as a reward for serving the company for a substantial period. You may have "retired early" but you can definitely still stay in the workforce if you transfer to another company. This way, the cash inflow doesn't stop. Aside from the monetary reward, another advantage is that you have a proven track record you've established due to your resilience and grit that can only be demonstrated through staying in the company for a long period.
On the flipside, there are some companies who will not rehire employees who have already availed of an early retirement package. So, if you've been in the company for quite some time and you're happy where you are, think twice about leaving the company just because you were enticed to avail of the package. You may be letting go of something good.
ADVERTISEMENT - CONTINUE READING BELOW
* Sheena Abellera has an MA in Business Administration and is currently working as an HR practitioner.
Load More Stories