There's an old-school belief that once you've gotten into a good company, it's a must to do everything to stay in it since in theory, you've already got it made. The truth is that success doesn't happen to those who stick to their comfort zone; if you want growth, you should be ready to forge your own path and become more than what you're expected to be. 
Catherine Salceda-Ileto used to work as a broadcast journalist in ABS-CBN's ANC and Studio 23—places that are definitely great to start in. "The idea of being able to create stories that are relevant and influence positive change through broadcast media platforms attracted me to this profession,"  she shared in an email interview with FemaleNetwork.com. "It was a good five year-run as executive director, news anchor and reporter for the country's leading network."
It was during one official engagement that a senior executive from a telco giant offered her the opportunity to lead a department within its corporate communications group. "I took this opportunity to further my communications practice, this time creating sustainable social impact and positive change leveraging the resources and reach of the organization across the Philippines and in the region."
ADVERTISEMENT - CONTINUE READING BELOW
For Catherine, the change was a breath of fresh air and one that she embraced as a merger of what she does best. Read on to see how she successfully moved through some of the industry's most renowned companies to become the Vice Chairperson of the IT & Business Process Association of the Philippines (IBPAP), with a mission to continuously empower women within the country's BPO industry.
Female Network: How was it adjusting from a career that requires a lot of field work to one with a corporate setting?
Catherine Salceda-Ileto: The career shift was something I enjoyed immensely. My corporate job allowed me to continue engaging the media, and a host of stakeholders such as government and policy-makers—the key influencers I had the opportunity to engage with back when I was still a media practitioner. Hence, my corporate job allowed me to leverage these important relationships built over time. In a corporate setting, the performance indicators are of course different and aligned with the overall corporate objectives. The key success and operating principles remain the same--meet your deadline, respect people at work, and be a great team player.
FN:  Why did you choose to become a public relations practitioner? What did it take for you to excel in that field?
CSI: As a Communications professional—I actually cover more than public relations. As a 360-degree Marketing Communications executive, I make sure the brand of my organization is valued and recognized in key circles and in communities where we have presence, creating a positive impact across the various stakeholders within and beyond our sphere of influence. I help in creating platforms that allow the brand to have a purpose and meaning, internally creating pride among employees and externally, contributing to industry and nation-building. To continue to excel in the multi-faceted field of communications, I continue to learn and develop my skills. Getting exposed to the new ways of engaging your publics, and engaging your stakeholders is key. Technology has played a pivotal role in allowing a Communicator to send a message across, measure engagement and results, and create a tribe of influencers.
ADVERTISEMENT - CONTINUE READING BELOW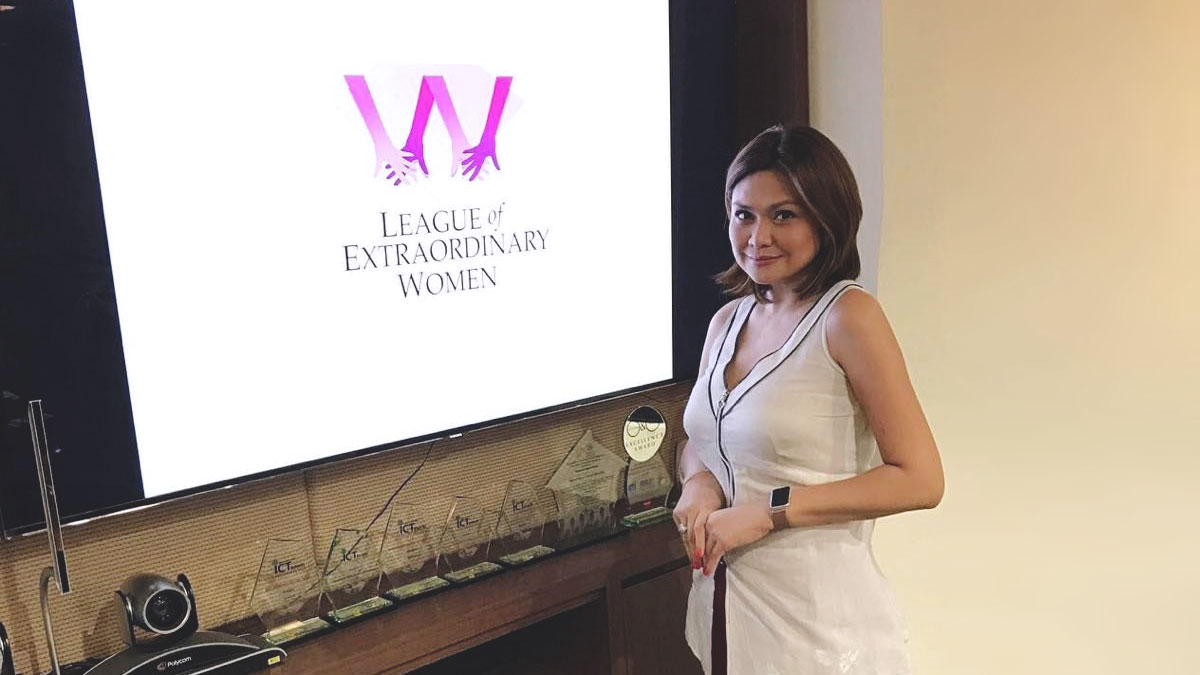 Catherine Salceda-Ileto: "It's important to build a robust pipeline of successful women in leadership positions."
PHOTO: courtesy of Catherine Salceda-Ileto
FN: What is the biggest hurdle that you have encountered so far and how did it mold you into the person that you are today?
CSI: Every day I get exposed to a wide range of publics and stakeholders that I need to engage and influence—each with a unique set of work ethics, behavior, and values, from across the various segments of society and the business community at large. Since I represent my organization, I also serve as the ambassador or spokesperson for a host of issues and I need to be very strategic in my approach and be very creative at times, when sending a message across. All of these hurdles or challenges are opportunities for me to hone my craft to become an effective Communicator for the organization I represent.
FN: Were there things you needed to sacrifice in order to reach success? How did you deal with these?
CSI: Balance. It's important to keep one's balance. My husband allows me to work and lead projects for my industry. I make sure to spend quality time with my family. We try to make the most out of our weekends and vacation days. I also have a very tight circle of friends. I make sure I see them regularly and be there for them. I have a women community both at work and outside work. Women have similar challenges and issues and it's great to have this kind of connection with a community—a support group.
ADVERTISEMENT - CONTINUE READING BELOW
FN: You've played so many huge roles through the years—from being one of the Corporate Communications Heads in Globe to being the Senior Director for Marketing & Public Relations for Sutherland. For a regular 30-year-old woman, these may sound hard to achieve. What would you say to convince her that these aren't beyond her reach?
CSI: When you have a clear idea and goal in mind--everything follows. I have created my career around social impact, countryside development and nation building. Everything starts with what your passion and advocacy is. Find out your passion and you will have a great career!
FN: You currently are the Vice Chairperson of the IT & Business Process Association of the Philippines. How does IBPAP empower every woman in the industry?
CSI: This industry I represent is inclusive and empower women in all levels of the organization. More than 50% of our total workforce are women. It's important to build a robust pipeline of successful women in leadership positions. In Sutherland, I championed the creation of a women engagement platform called the League of Extraordinary Women or LOEW. This was well received and has been adopted as an engagement initiative.
ADVERTISEMENT - CONTINUE READING BELOW
FN: If you were to speak with your 20-year-old self, what career advice would you give her?
CSI: I would tell her to keep dreaming of a better world. Don't be afraid. Be bold. Create waves of positive change.
FN: If you could summarize your entire career in one word, what would it be and why?
CSI: IMPACT. I always strive to create a positive impact and challenge the status quo wherever I work.