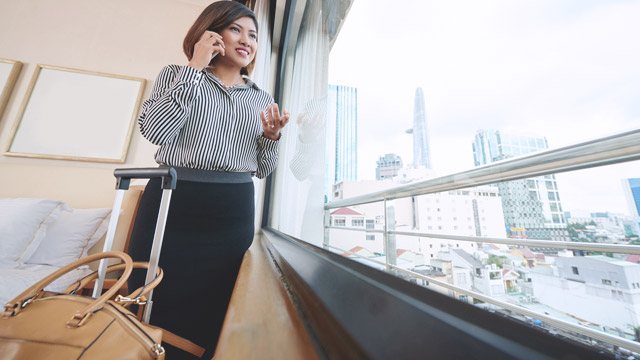 Remember that old song "Manila Girl" that goes "No wall's gonna block you, nobody's gonna stop you?" Well it looks like your empowered, self-made self can keep that confident grin because you, and many women based in Manila, have it awesome compared to those living in other megacities in the world.
ADVERTISEMENT - CONTINUE READING BELOW
In a recent Thomson Reuters Foundation survey, Metro Manila "was ranked as the sixth best megacity for women." Nineteen cities were included in the list, with 20 experts from each asked questions focused on four aspects: sexual violence, access to healthcare, cultural practices, and economic opportunities.
On a scale of 1 (worst) to 19 (best), Metro Manila ranked 17 in economic opportunities, which meant that women are given ample access to education, property ownership, and financial freedom. On the other hand, it scored 13 in sexual violence, which meant that while women can generally live without getting harassed, huge improvements are still needed in educating people about respect and consent, as well as in making roads safer for the general population.
London tops the list of the best megacity in the world, followed by Tokyo, Paris, Moscow, and Shanghai. Metro Manila comes in sixth with New York trailing closely behind. Buenos Aires is at eighth, with Sao Paulo and Istanbul at ninth and tenth consecutively. Jakarta, Lagos, Dhaka, Mexico City, Lima, Delhi, Kinshasa, Karachi close the list, with Cairo considered as the most dangerous megacity for women.
CONTINUE READING BELOW
Recommended Videos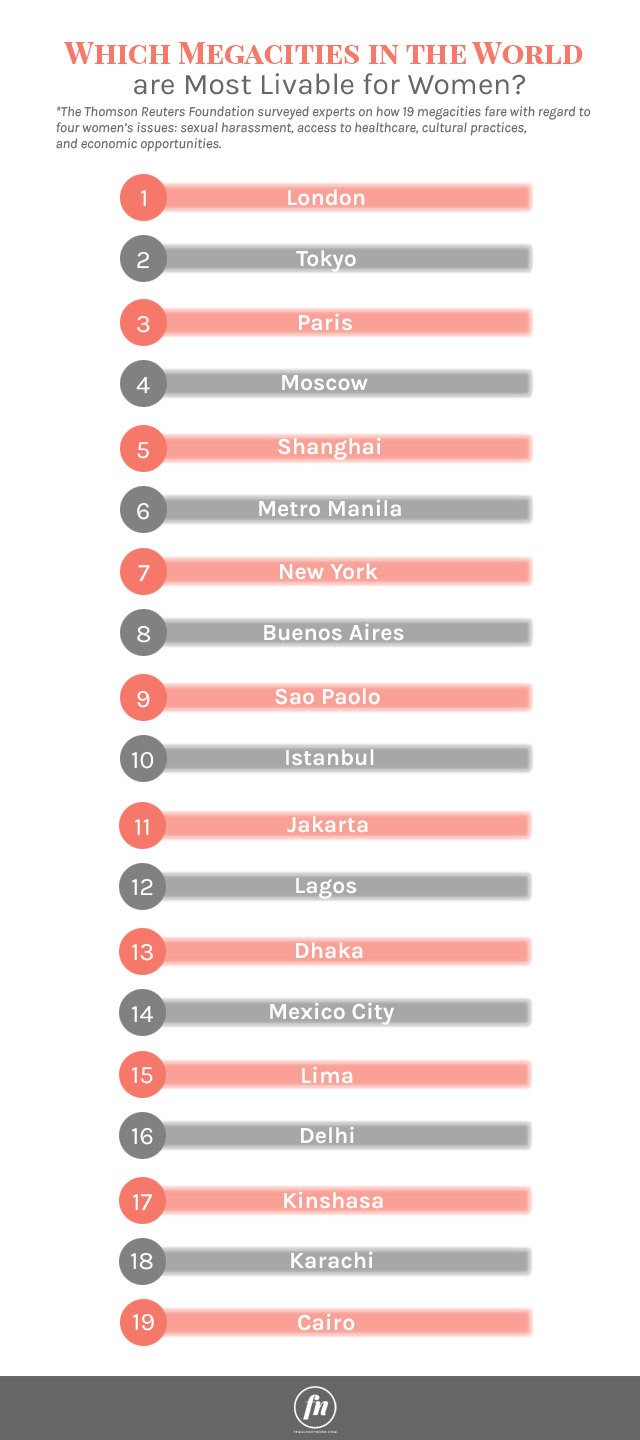 Living in a megacity can be an interesting experience, especially since it's a place that never sleeps. But while there are many perks and conveniences, you still need to be street smart if you want to not just survive, but thrive. Here's how you can upgrade your daily city experience and see Metro Manila in a new light:
ADVERTISEMENT - CONTINUE READING BELOW
Always be in the know.
Don't just rely on Facebook to get information. There are many individuals who often just go through the daily grind without being aware of what's currently going on in the city. Learn to look beyond social media—read the news, listen to the radio, and get your information from legit sources. Don't be afraid to ask people for directions, and don't be shy about speaking to your Uber driver about what's up. The more you know, the better you can adjust to anything that may come your way.
Make the most out of tech.
Everyone knows how hard it is to commute in Metro Manila. While your smartphone may be your lifeline, you may want to invest in other interesting gadgets to make your trips a tad bit bearable. You can start with a good headset. A fitness monitor can also be a great investment so that you can track how many steps you've taken in a day—especially if you need to walk on train tracks when the MRT bogs down (we're not kidding).
ADVERTISEMENT - CONTINUE READING BELOW
Find the best deals.
The cost of living in a megacity may be expensive, but that doesn't mean that you can't find good deals. Didn't baon lunch? Head to your nearest carinderia or jolly-jeep. If you feel like shopping for clothes, tiangges are good places to search for good quality items for less. Setting up your new flat need not be a problem either, as places like Dapitan are great for bargain-hunters.
Know how to protect yourself.
Sadly, with a sexual harassment standing of 13/19 in the Thomas Reuters survey, people really need to educate each other more on how to be respectful towards others. For the time being, women may need to level it up when it comes to area awareness and self-defense. Carrying pepper spray, or even learning a few smart moves that can deter a potential attacker may give you ample time to escape and even save your life.
ADVERTISEMENT - CONTINUE READING BELOW
Be kind.
Metro Manila has all kinds of people, and while not everybody is amicable or agreeable, it still pays to be nice. Give others a chance, and this chaotic megacity may just become a slightly better place to live in.
Load More Stories