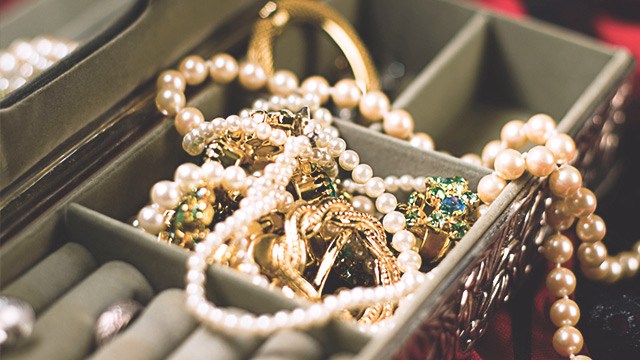 It turns out that Filipinos affluent enough to invest in so-called precious objects prefer jewelry in the form of rings, necklaces, earrings, bracelets and other accessories to store accumulated savings.
According to the latest Consumer Finance Survey conducted by the Bangko Sentral ng Pilipinas (BSP), while only one in 10 Filipino households own precious objects, about 63.1 percent of those who do prefer jewelry over other forms such as furniture, antiques or works of art. Only 50.2 percent of those surveyed said they own valuable objects in the form of furniture, while households that own antiques make up only 5.4 percent of the subtotal.
ADVERTISEMENT - CONTINUE READING BELOW
Those who said they own collector's items such as watches, bags, shoes, dolls, coins, books, etc., are at 3.7 percent. The remaining 0.2 percent ticked "others," including bangka (boats) and makina (machines). See this inforgraphic by Entrepreneur Philippines to learn more: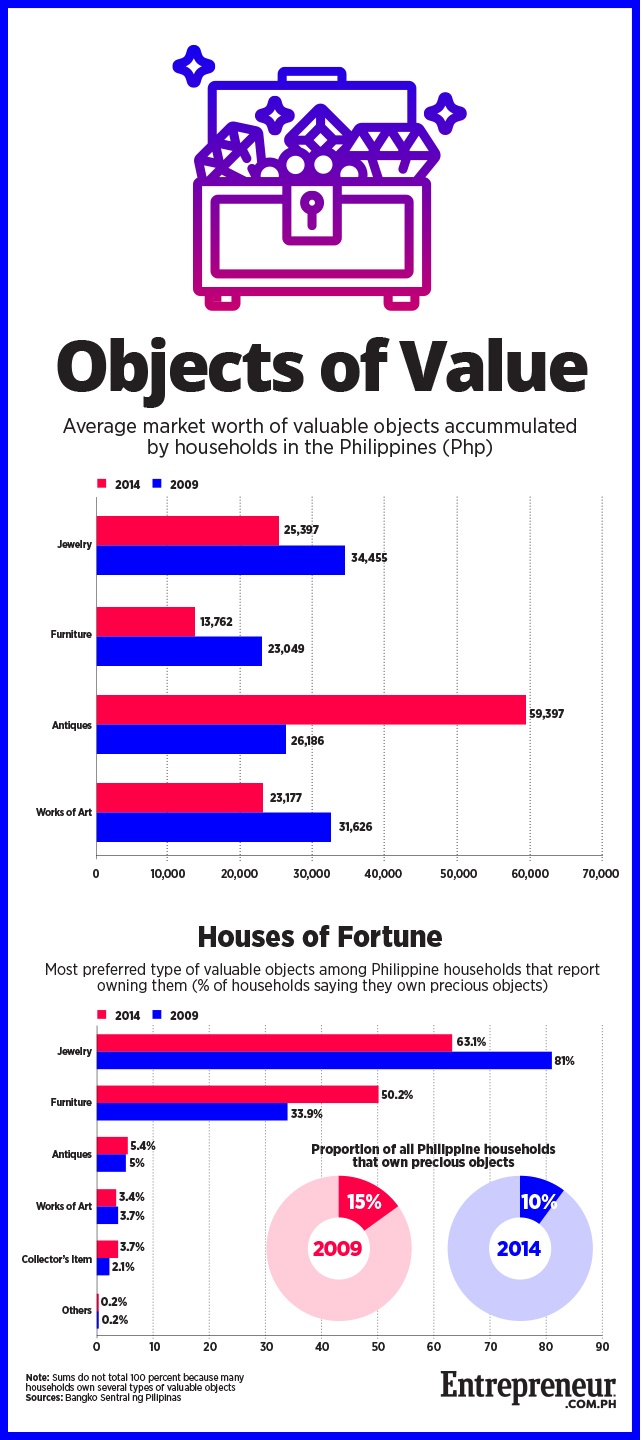 The same survey also revealed that the average value of jewelry held by a Filipino household is about P25,397. That compares to the average value of P13,762 for furniture, P59,397 for antiques and P23,177 for artworks. 
ADVERTISEMENT - CONTINUE READING BELOW
The BSP survey was conducted in 2014 but was only released in January 2017. It is the second edition of the publication, which was first reported in 2012 using data results from 2009.
Despite rising household incomes in the years before 2014, the average value of jewelry held by Filipino households declined that year from P34,455 in 2009. The average value of furniture also fell from P23,049 while the average value of works of art declined from P31,626 in 2009. Only the average value of antiques bucked the falling trend, going up from P26,186 in 2009.
In 2009, 14.9 percent of Filipino households were recorded to own precious objects—4.6 percentage points higher than 10.3 percent in 2014.
This story originally appeared on Entrepreneur.com.ph.
* Minor edits have been made by the Femalenetwork.com editors.
Comments
Load More Stories