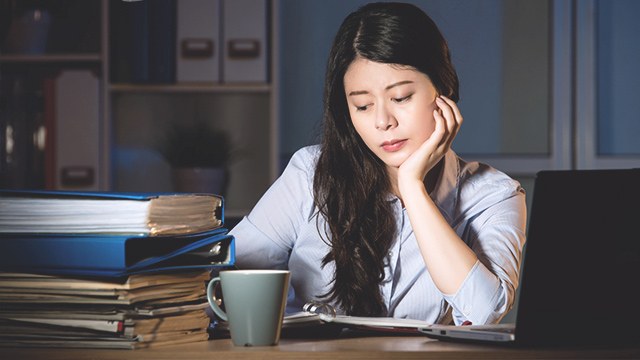 According to JobStreet, the Philippines' 2017 Job Happiness Index fell to 4.97 from 5.25 last year. The country's lower level of job happiness is largely driven by millennials, or those born between 1981 to 1995, who continue to be the unhappiest generational group among Filipino employees. Millennials make up almost a fifth of the Filipino workforce today, the second biggest generational group. 
ADVERTISEMENT - CONTINUE READING BELOW
The survey was carried out between July 31 and August 31, 2017. The findings were culled from a survey that asked 7,000 Filipino employees to rate their job satisfaction on a one to 10 scale with one as extremely unhappy and 10 as extremely happy.
CONTINUE READING BELOW
Recommended Videos
"There are some indicators that say millennials have not found their place at work yet as they continue to move from one company to another. Most also aren't happy with the salary they receive," JobStreet Philippines Country Manager Philip Gioca said in a press conference. "This should be a wake-up call to companies. Last year, millennials were also found to be the least happy among the workforce."
Baby boomers, or those born from 1946 to 1964, responded with the highest job satisfaction rate at 5.63, followed by Gen Z Filipinos, or those born after 1995 at 5.1. Gen X Filipinos (born from 1961 to 1980) averaged 5, while millennials averaged 4.95, the lowest.
ADVERTISEMENT - CONTINUE READING BELOW
Aside from total job satisfaction, the survey participants also rated 13 qualities, which may be divided into five categories: interpersonal relations, logistics, growth and stability, compensation and benefits and company profile that affect their job satisfaction.
The data reveal a pattern on Filipinos' priorities at work across generations. Older Filipino employees or baby boomers and Gen X-ers cited friendly work schedule and convenient work location as the top qualities that make them happiest at their jobs, still, both generations contend that their current occupations lack career advancement opportunities.
Meanwhile, the younger members of the workforce or millennials and Gen Z-ers said their relationship with colleagues make them happiest at work, but both also complain of receiving low salaries and benefits.
Gioca cannot say what exactly caused the job satisfaction rate drop of the Filipino workforce but encouraged local firms to set up open communication lines between its employees and the management for constant feedback.
ADVERTISEMENT - CONTINUE READING BELOW
"A lot of companies already have partnering dialogues and in this dialogue, sentiments are aired so management can actually put a lot of actions to work," Gioca added.
By job position, the happiest employees are those occupying top and middle management positions whose job satisfaction ratings averaged 5.48 and 5.21 respectively. Fresh graduates reported a job satisfaction rating of 5 while supervisors and junior executives were found to be the unhappiest as they both tallied only 4.92.
"If you're an employer this may mean that you have to change some of the things you offer at the office so you may attract and retain the right talents," Gioca said. "As an employer, you have to ask: do you reflect the right culture to the workforce you want to attract?"
Overall, the job satisfaction rating of Filipino employees slid to 4.97 for 2017 from 5.25 last year. The country dropped to third place this year preceded by Indonesia (5.27) and Vietnam (5.19). At fourth place is Malaysia (4.65), followed by Thailand (4.55), Hong Kong (4.45) and Singapore (4.31).
ADVERTISEMENT - CONTINUE READING BELOW
This story originally appeared on Entrepreneur.com.ph.
* Minor edits have been made by the Femalenetwork.com editors.
Comments
Load More Stories