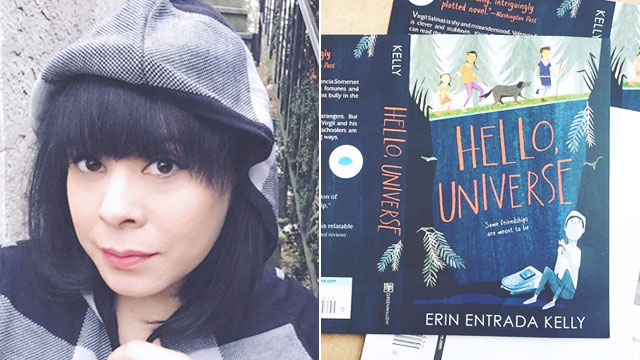 If you're looking for a new title to add to your kid's reading list, here's an international award-winning book written by a Pinay author to put on top of your pile: Erin Entrada Kelly's novel Hello, Universe, which just won the Newbery Medal for Outstanding Children's Book of 2018.

The Newbery Medal is a prestigious literary award given by the American Library Association. It's a pretty big deal that a Filipino gets to take home the grand prize. Previous winners include Madeleine L'Engle's A Wrinkle in Time (its movie adaptation is set to premiere this March), Katherine Paterson's Bridge to Terabithia and Neil Gaiman's The Graveyard Book.

ADVERTISEMENT - CONTINUE READING BELOW

According to the School Library Journal, it also marks the first time the winning book and honor selections were all written by people of color. Coincidentally, the book's illustrator, Isabel Roxas (you might know her as the illustrator of Goodnight Songs, the beautiful follow-up to the well-known bedtime classic Goodnight Moon) is also a Filipina based in New York.

ADVERTISEMENT - CONTINUE READING BELOW

Recommended Videos

Although Erin was raised in the United States, she has not forgotten her Filipino roots and identifies as a Filipino-American. Her books are also heavily influenced by Filipino culture and heritage — many of her Filipino characters speak Cebuano rather than Tagalog (her mom is from Cebu). With four novels under her name, a recurring theme was self-acceptance.



In her website, Erin shares that growing up in the United States, she always felt like the odd one out. "Because I wanted blue eyes and blonde hair, I chose to ignore the Filipino part of my identity. It wasn't until I got older (and yes, wiser) that I appreciated my heritage," she says in her blog.

Hello, Universe, while set in the United States is very Filipino, with its adventure-filled tale that will familiarize readers with Filipino folk tales. But it's the book's underlying themes — "bravery, being different and finding your inner bayani" — that your kids will find relatable.

There are four main characters: Virgil Salinas, who is a shy, kind-hearted boy nicknamed 'Turtle'; Valencia Somerset, who is deaf but brave and smart; Kaori Tanaka, a self-proclaimed psychic; and Chet Bullens, a prankster who loves basketball. All have different personalities, and yet they become friends because of a fateful accident.

Want to check the book out? Here's a bite-sized review from NPR to convince you some more: "Suspenseful, quirky and heartwarming, Hello, Universe makes the world a little smaller, and we are better for that."

ADVERTISEMENT - CONTINUE READING BELOW

Hello, Universe is recommended for children ages 8 and up. You can buy it from National Book Store for Php649.

This story originally appeared on Smartparenting.com.ph.

* Minor edits have been made by the Femalenetwork.com editors.
Load More Stories