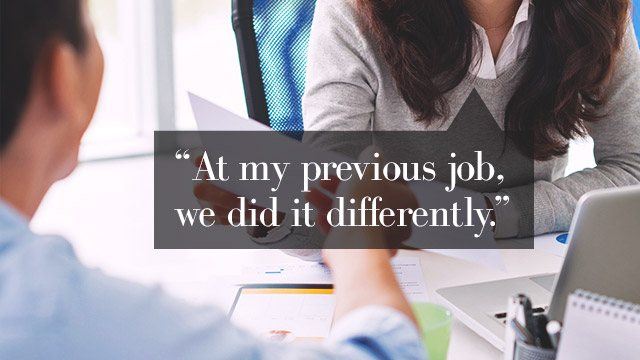 We're all for freedom of speech but there is always a time and place for everything. In general, it's smarter to keep quiet no matter how badly you want to mouth off at your superior, because knowing when, where, and how to professionally discuss important matters is a definite career plus. If you want to move up that ladder or avoid being branded an office pariah, here are the things you should never, I repeat, NEVER, say to your boss.
ADVERTISEMENT - CONTINUE READING BELOW
1. "That's not part of my job."
Everyone has had to do work that's not in their job description. Chances are your superior knows this, too and pointing this out matter-of-factly will not earn you any brownie points. Your job description is not set in stone like the 10 Commandments. More often than not, employees are expected to be flexible and stating that you are unwilling to pitch in or go beyond your role shows your disinterest in the company's success.
CONTINUE READING BELOW
Recommended Videos
2. "I don't know."
No one expects you to know everything. However, saying "you don't know"  or shrugging your shoulders is incredibly off-putting compared to a promise of finding out how to or providing at least your best guess. The minute the boss does the work for you is never a good sign for you career-wise.
3. "My BF broke up with me and I can't think straight today."
Here's the harsh truth of it: not every one cares about your relationship status. Your personal life should not interfere with your work and vice versa. Keep a good balance between the two so that you can function professionally. Get your act together or get a new job is what you will likely get from your boss with this excuse.
ADVERTISEMENT - CONTINUE READING BELOW
4. "I just assumed…"
A professor in college once told my class never to assume because when you do, you make an ASS of U and ME. These words are forever ingrained in me. Trust that no boss will want to hear this, either. You are better off taking responsibility over a lapse in judgement rather than coming up with excuses or finger-pointing.
5. "At my previous job, we did it differently."
While suggestions are generally welcomed, managers draw the line at know-it-alls. Tread lightly when offering better ways to do something or turn challenging and sensitive responses into queries instead of being confrontational. Sometimes, it's better to make your boss think he came up with the idea rather than insisting you know best due to experience.
6. "I cannot work with her."
Back in school, you were forced to work with classmates you did not like. The work place is no different. Personal issues and conflicts with co-workers should not affect the job you do and you must learn to play well with others. Simply put, this is called professionalism.
ADVERTISEMENT - CONTINUE READING BELOW
7. "It's not my fault; it's (insert name's) fault."
Remember what we said about finger-pointing? The blame game is a path you should opt not to take. Explain your innocence rather than instantly implicating others, especially if the primary responsibility is yours. Blaming other people rather than owning up to a mistake or clarifying the situation shows a person's incapacity to lead others.
8. "Why does she have (insert whatever it is you want) and I do not?"
Unless there is blatant favoritism, best stick to your own career rather than questioning another person's promotion or salary. If there is in fact favoritism, act professionally and broach the subject in a calm collected manner and in the proper forum.
Load More Stories