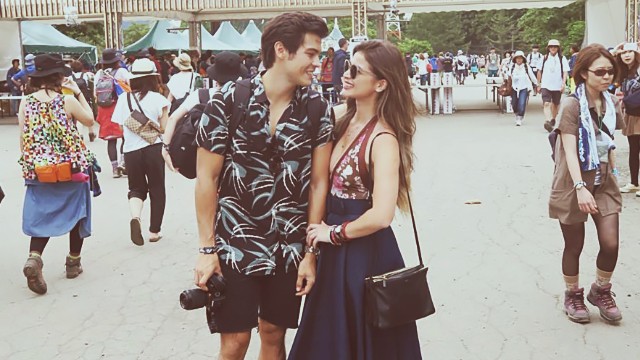 Forget dinner and a movie! Take your date nights to a whole new level with these fun and exciting activities:

1. Conquer a mountain together.
It's going to be tiring, but it's also fulfilling. Just imagine the beautiful landscape you and your beau can appreciate together.

2. Go on a double date with an older couple.
And maybe learn a thing or two!

3. Experience a hot air balloon ride.

ADVERTISEMENT - CONTINUE READING BELOW
Although it can be scary, it's the perfect chance to conquer your fear of heights.

4. Go on a road trip.
Whether that's with other couples or just the two of you, this trip will definitely be a memorable one.

5. Stay up to watch the sunrise.
Stay up late or wake up early just to see the break of dawn.

6. Attend a concert together.

Or go all out and do a destination music festival!

7. Go camping
…complete with a fire, s 'mores, and a tent for two. If you want, you can sleep under the sky and star gaze.

8. Watch a play.
Put on your best dress and get cultural. If you want to go all out on your date, make a reservation at a posh restaurant for some fine dining after the show.

9. Dare each other to do something adventurous.

ADVERTISEMENT - CONTINUE READING BELOW
Like zip lining or something more exciting like white water rafting!

10. Play hide-and-seek inside a mall.
Sometimes, you just need a day where you can act silly around each other.

11. Spend time volunteering.
The couple that helps others together stays together.

12. Learn a foreign language
…and know how to say "I love you" in different ways.

13. Visit a fun theme park!

ADVERTISEMENT - CONTINUE READING BELOW
Just make sure to plan the rides you want to go on in advance.

14. Kiss under the fireworks.
It will be super romantic!

15. Visit an isolated beach.

…and eat fresh seafood, pick up seashells, hold hands while strolling, and talk to the locals – it's definitely something you two should experience at least once in your life.

16. Be mermaids together.

ADVERTISEMENT - CONTINUE READING BELOW
Your dream of becoming a mermaid can finally come true! Guys can do this exercise, too.

17. Go on a tech-free date for a whole day.
Turn off your phones and strengthen your connection through meaningful conversation.

18. Start a new tradition.
Something that you and your partner can look forward to every year.

19. Do a photo shoot!

ADVERTISEMENT - CONTINUE READING BELOW
…because why not?
Load More Stories