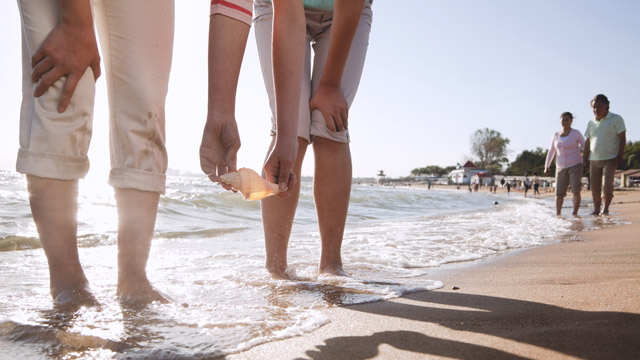 It always confused me why someone would be mad for being chosen among the many prospects of cute, adorable children. I furrowed my eyebrows whenever I see a scene on television wherein the child or teenager would go into a fit of rage the moment their parents tell them that they're actually adopted.

I was six years old when my mom sat me down for "the talk." It scared me a bit and made me think of all the things I might have done that triggered this so-called talk. She started with two words: "You're adopted." I stared at her for a while, trying to let her words sink inside my head and before I could even react, she continued to tell me about my biological family. Growing up, I knew that I had a twin sister and another fraternal twin (who wasn't able to make it). We used to celebrate our birthday together when we were little since our foster parents knew each other, and by the time we were young adults we made sure to meet up when we have the chance.

What I remember from my mom's story is that she knew who my biological parents were, that I had 10 other siblings and they were all living beside the railway along Makati. When my biological mother could not feed us anymore because of their financial status (she would supposedly gamble all the money she had instead of buying milk), she gave me and my twin sister to an orphanage. That's where my mama found me malnourished and half-dead at six months old. Even with her budding career as a doctor and a promising future as a singer as well, she decided to take me home despite everything she already had.

People often ask me, "Why don't you meet them? Ayaw mo ba sila makilala?" In my mind, I always thought, "Why would I want to meet someone who gave me away?" You can say that there is a little resentment and bitterness in my tone but I never really understood why I'm like that when it comes to the topic about my 'real parents.' Most kids would be excited to meet the ones who gave them life, but not in my case. That's probably because I'm content with where I am and who I am now.

If my mama had never adopted me, I wouldn't know where I would be now. I probably wouldn't have graduated from university, I wouldn't have met amazing people who have supported me to do my best, and most of all I wouldn't have been able to give her the joy of having a family of her own, a family to complete her as a person, and as a woman. Some say that adopted children are the most blessed, because they were chosen out of love when no one would love them back. I think that may be true. 

CONTINUE READING BELOW
Recommended Videos
ADVERTISEMENT - CONTINUE READING BELOW
Comments
Load More Stories