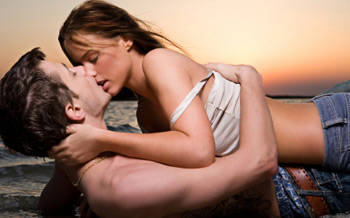 Ever wonder why there's a drink called Sex on the Beach?

That's so if you can't have the real thing, you can always have the drink.

Sex on the beach has got to be the ultimate sex fantasy. Hollywood's fascination with it goes way back to the 1950s movie From Here to Eternity, which immortalized the image of a young Burt Lancaster and Deborah Kerr kissing passionately as wild waves engulfed them.

And perhaps for us Filipinos, it's only natural to fantasize about sex on the beach. The country is after all surrounded by water, giving you about 7,107 islands to choose from as a private spot to sneak in some nookie.  Before you go off to that hot spot, though, here are some things to remember:


Bring a beach mat and a flashlight.

The mats will be useful to prevent sand from getting into the hard to reach places. (Think about how hard it is to get sand out of your cell phone if you drop it on the beach—then think about getting sand in the "unmentionable" parts of your body. It will not be pleasant.) The flashlight, on the other hand, will allow you to avoid the things that go bump in the night like ants and other creepy crawlies.

 
Wait until dark and find a secluded place that will give you some cover.

Sex on the beach is not really something to be doing in the light of day, so head for your spot before the sun goes down. Picking a spot behind a big rock is ideal. This will not only give you some cover, but will buy you a bit of time to "disengage" if you hear someone approaching. The last thing you want is to have someone walk in on you and suffer not just disruption but also humiliation—or worse, a fine or even jail time.

This is where the flashlight we mentioned comes in handy; you'll want to find a place that's far enough off the beaten path that you can be reasonably sure no innocent passerby will happen upon you, and the flashlight will let you keep an eye out for things you might trip over or even help you find ideal nookie nooks.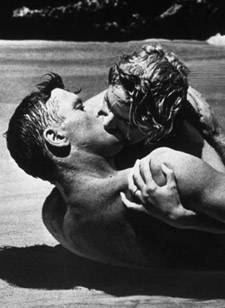 Be aware of local laws on indecent exposure or behavior in your vacation hot spot.

Remember the high profile case of the British couple who got caught having sex on a beach in Dubai? Those are not the kind of vacation memories you want to bring home.

While getting caught in some places means more embarrassment than real trouble, the authorities in other places may not be half so lenient or open-minded about your practicing your proclivities on their shores. Consider the risks of getting your From Here to Eternity moment, and make sure you are willing to face the consequences if you're caught. After all, what you're willing to dare in a place where you'll be told to just pack up and leave or pay a reasonable fine should be much less in a place where you can be blacklisted from ever entering the country again or lose years of your life serving jail time.

According to this article on Gadling.com, some major tourist destinations have added manpower to their police force for the sole purpose of catching couples in compromising positions. The Spanish party island of Ibiza issues an on-the-spot fine of €700 ($1000) if you get caught. Other countries that will slap with serious fines and penalties for doing more than frolicking on their shores:

-    Sweden: €50
-    Italy: €300 plus up to 2 years in prison
-    Croatia: €150 plus up to 30 days in prison
-    Romania: Up to 7 years in prison
-    Spain: Up to €75,000 (average fine is €700)
-    Thailand: Up to $750
-    Turkey: €200 and up to 2 months in prison
-    Egypt: Up to 3 years in prison
-    Denmark: Up to 4 years in prison
-    France: €15,000 and up to one year in prison
-    Greece: Up to 2 years in prison


Prepare to be quick about it.

One thing about sex on the beach is that it's not meant to be done at leisure. Leave that for traditional sex in the sack or other, more private, places. Get it on, get up, and get out of there as if you were just taking a casual stroll on the beach. You'll still get your thrills from the quickie, but you'll risk much less.


Don't forget to use protection.

You go to the beach armed with sunblock and sunglasses, right? Add condoms to your shopping list just in case you get lucky. And remember to practice safer sex!


We're not saying go out and get to home base with the waves crashing near or around you; far from it. It's infinitely safer (not to mention more hygienic) to do it indoors. If you've acknowledged this fact, but still want to try it, even just once, then we suggest following the advice we've just given you. If you decide it's not your thing, though, it doesn't mean you aren't liberated or adventurous. And remember, there's a reason why a cocktail has been christened after sex on the beach—it's partly to let you bask in the reflected thrill of the adventure of it, and it's partly to allow you to say that you've had sex on the beach, even if you only mean that you had a sex on the beach in a bar.


(Page 1 photo © iStockPhoto.com/Tuan Nguyen; From Here to Eternity photo on page 1 courtesy of Columbia Pictures)
ADVERTISEMENT - CONTINUE READING BELOW
Comments
Load More Stories