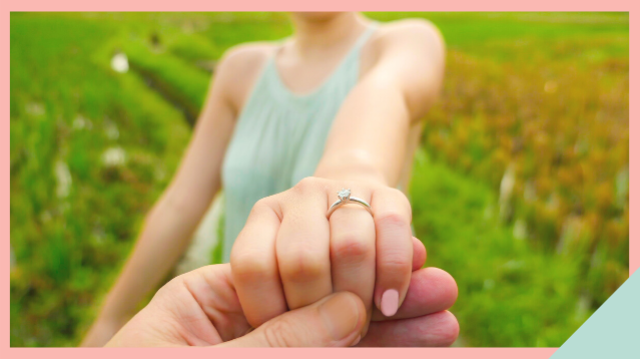 The internet exploded when actress Ellen Adarna announced her engagement to Derek Ramsay, just over a month after they admitted to being a couple. It's game over for the two prolific daters, as Adarna put it.
Memes followed, both congratulating and questioning the couple who had just come from high-profile breakups. Why take the plunge during the most uncertain of times?
ADVERTISEMENT - CONTINUE READING BELOW
Decisions are always hard, pandemic or not. Whether it's choosing what to have for dinner, picking between two job offers, or saying yes or no to a man who wants to have you forever. It's even more difficult because COVID-19 makes the future difficult to imagine, a life coach told reportr.
What drove Adarna to say yes is her business, and Ramsay's. What's worth discussing, however, is the hows of navigating pandemic decisions. 
But before anything: context.
In the middle of a pandemic that has taken so much without warning from people's lives, feelings of fear and anxiety are shared by everyone. Notwithstanding the everyday monotony of being quarantined at home, it's a very uncertain time, especially for those who experienced loss, may that be of a loved one, a job, or an opportunity.
Because of this, people tend to "believe that they have to make a decision immediately or drastically act on a concern on hand," celebrity life coach Myke Celis said.
This is why he thinks it's better, in general, to take advantage of the pandemic and reflect on the major life decisions to be made. 
"Truth be told though, it will be better if people will actually take a step back, reflect and analyze the space they're in because making sound decisions involves the alignment of the mind, heart, body, and soul. Everything else must be taken into consideration, not just the pandemic, because it's only temporary," he said. 
Over the course of quarantine, it's been common for people to make decisions on a whim to overcome stress. Some shaved their head, some cooked bread, some got a tattoo. These decisions are relatively minor and are mostly attempts to save sanity. 
For major life decisions, such as getting married or switching careers, Celis recommends asking yourself the following questions:
What's my current space? It is important to know and accept where you're coming from so as to be able to keep yourself grounded all throughout the decision-making process. How do you feel? What is true at present? Where are you coming from? These require full honesty and humility. 
ADVERTISEMENT - CONTINUE READING BELOW
What is my priority at present? Setting priorities is key. And your safety and overall well-being must be on top. In that case, anything that does not really concern that, let go. Focus on what will have the biggest positive impact on you at present. 
Why do I need to decide now? This is crucial. Seriously, not everything has to happen all at once, including making life-changing decisions. Know that someday, the pandemic will be over and when the dust settles, you are able to see clearly beyond the perceived obstacles objectively. Assess yourself if the situation on hand calls for urgency or not.
How will my decision affect my current space and that of others? During the pandemic, the aim shouldn't be focused on being productive all the time but rather, allowing yourself to survive at the very least. That itself is an achievement. Now coming from that notion, how will deciding now change the space you're in? Being mindful about your space and how the halo effect on others occurs can help you assess the impact of your pending decision.
ADVERTISEMENT - CONTINUE READING BELOW
Load More Stories