Everyone argues with their parents—that's just a fact. But for some people, fights sometimes turn into longstanding feuds, especially if issues pile up and feelings of resentment get in the way. Case in point: Julia Barretto, whose relationship with her dad Dennis Padilla is complicated to say the least.
The actor, who split up with Julia's mom Marjorie Barretto in 2007, developed a tumultuous relationship with her and her siblings, Claudia and Leon, over the years following the separation. Julia previously opened up about their estranged bond in an interview with Karen Davila, saying she isn't ready to reconcile with her father just yet, after years of a push-and-pull connection, wherein they would repeatedly make up and get hurt.
Amidst their rocky past, the two have time and time again tried to mend their relationship. Last year, Julia even did a vlog with her father, hoping to at least clear the air, but then resulted in deleting it after Dennis spoke about their differences at length in a subsequent interview.
"I'm just not that ready. There's just so much pain since I was young," Julia confessed. "I just need more love. More protection. I just feel like [my dad] has to be my number one protector and that's not what I'm getting. It hurts. It's sad."
ADVERTISEMENT - CONTINUE READING BELOW
While Julia opened up and chose to be vulnerable with her emotions in the said interview, her dad Dennis seemed to have taken offense and decided to go on a tirade against his daughter shortly after the video was aired.
At one point, he even brought up the times he provided financial support for Julia and her younger siblings. "Nung malakas pa ako kumita at maliit pa kayo, kanino ba nabuhos lahat? Sa inyo. Kasi gusto ko maginhawa ang buhay nyo," he wrote on Instagram, pleading Karen to contact him for a separate interview for a chance to air his side of the story.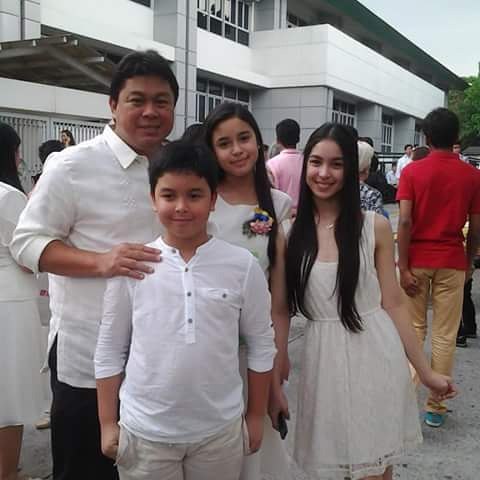 Needless to say, the public has polarized reactions to the infamous father-daughter rift. While progressive netizens expressed their sympathy to Julia, a number of conservative Pinoys took Dennis' side, arguing that a child—whatever the context is—should always honor their parents, alluding this rationale to a valued cultural trait of "utang na loob."
But here's the thing: While we don't know the full story (and will probably never understand the emotional depth of both parties), Dennis rubbing on his children how he supported them is a form of toxic power play, and it shouldn't be tolerated by anyone.
First, it's a parent's responsibility to provide for his or her children, let alone give them a good life. Parenthood is a commitment, and sustaining your kids' needs is not something you do just for you to have the kind of relationship you want with them in the future. Forcing your kids to do so generates feelings of resentment, as explained by licensed marriage and family therapist Carrie Krawiec. "Anything that feels owed or obligated often comes at the price tag of guilt or resentment, so families should reconsider using 'owe' as a method to coerce people and start to use free choice and a sense of autonomy, which yields more gratitude and pleasant feelings," she said.
ADVERTISEMENT - CONTINUE READING BELOW
Second, it's totally valid for children to harbor negative feelings towards their parents, especially in Julia's case, where she went through instability and lifestyle changes as a result of her parents' divorce. Yup, marriages don't always work, and separations are sometimes a healthier solution especially when the situation gets toxic for everyone in the household. That said, it doesn't mean it won't take a negative emotional toll on everyone involved, especially on the clueless kids, who would have to navigate life in an unconventional set-up just to get by, and heck, even thrive. That doesn't mean love isn't there, but having an absentee parent can make you feel disoriented at times and it's totally normal to not feel okay about it.
Listen, I understand that one of the most pertinent lessons we learned from a family-oriented culture is to always honor the elders and to pay back our parents' sacrifices to the best of our abilities. But people should stop treating "boundaries" as a form of "disrespect" because love and respect are reciprocal. If you did your responsibility as a parent—the bare minimum of providing for your kids' financial and physical needs—then props to you, since not everybody rises to the occasion. Still, don't treat it as an investment or something that your children are supposed to pay back in the future. And let's get one thing straight: Being a parent is so much more than putting a roof on your kids' heads.
ADVERTISEMENT - CONTINUE READING BELOW
For starters, parenting is having the instinct to protect your child from detractors, which Dennis has repeatedly failed to do every time he publicly talks about his pain from being estranged from his kids. Sure, social media is an effective tool to feel seen and heard at times, but if it comes with the cost of inviting hate towards the spot of those whom you claim to love and adore, then is it really worth the price to pay?
Perhaps this isn't the endgame yet, and in time, Dennis and Julia hopefully will both find it in their hearts to reconnect and put everything behind them. But until the wounds have healed, may this be a reminder for all parents to be more intentional with their words and actions and check if they're bringing more harm than good. It's not something their kids owe them; it's what they signed up for.
ADVERTISEMENT - CONTINUE READING BELOW
This story originally appeared on Cosmo.ph.
* Minor edits have been made by the Female Network editors.
Load More Stories