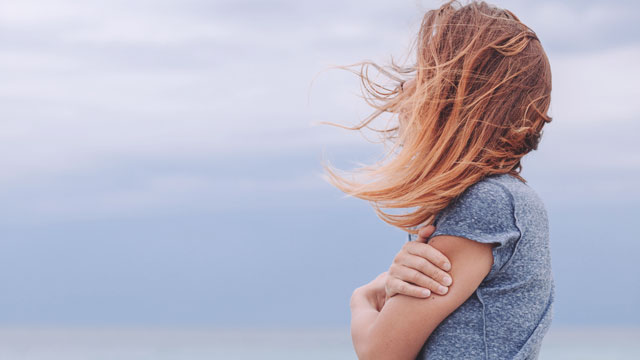 ADVERTISEMENT - CONTINUE READING BELOW
Some people are quick to jump to conclusions. May mag-text lang sa boyfriend or girlfriend, iba na yung iniisip. I used to think that those people were insecure in their relationship, and maybe some of them are, but looking back at my past, maybe they were actually better off being on their toes. I'm not saying that you should be suspicious of every unknown number or friendship your boyfriend or husband has now, just that you need to keep your guard up. If you can already relate to me this early into the story, then I hope that by the end, you'll find solace in it as well.

I was never what you would call selosa. If girls thought my boyfriend was cute or handsome, I'd be flattered. Buti nga may nagkakagusto sa kanila. It shows that I actually have some taste, I would jokingly tell my then-boyfriends. This was never a problem, until my last relationship.

My last ex, let's call him K, had an officemate who so obviously liked him. I knew this because I've always been good at reading between the lines. K was no slouch himself. He knew the officemate had a crush on him and one Christmas, said officemate actually sent him a text greeting with "Muah" at the end.

I remember teasing K about that text. He said that the girl probably just sent that to everyone.

I rolled my eyes. First of all, no sane woman would send Muah to random officemates, not even close ones, unless that was her trademark. And second of all, DUH. "She likes you!" I teased him. "That was her now-or-never moment," I even explained.

I wasn't bothered. Other women could do what they want to do as long as they don't cross the line. Besides, I knew K was mine. What the officemate did was kinda crossing it, but I shrugged it off. K told me to do the same but it was what he said that should have been my first clue.

Between the two of us, K was the seloso one. Like, REALLY, seloso. An innocent text, a picture with a few guy friends, a conversation with someone of the opposite sex—these were all touchy topics for him. So when he told me that the officemate probably just sent a mass holiday text, I should have raised an eyebrow right then and there. Because why would someone who gets suspicious of every little thing tell me that a display as blatant as that was nothing?

A few months later, I received a missed call from an unknown number. I was getting ready to go to school then, but I texted the number to ask who it was. It was the officemate. Ibabalik na raw niya sa akin yung boyfriend ko.

You'd think that should have been clue # 2, but noooooo.

I was so in love with my boyfriend, so sure that he wasn't a cheater, that I told the officemate that if she wanted to ruin my relationship, couldn't she have been more creative? Diba liberal arts ka?

She didn't reply and according to K, she resigned soon after.

That was not the end of that. I was still 100 percent loyal to K, of course, but we were having problems. I couldn't really stand how possessive he was. He would check my text messages all the time, grill me about my male acquaintances, and at one point, I suspect that he even deleted a Facebook friend of mine.

One day, out of boredom, I found myself reaching for his phone. Wala lang. I had nothing to do. I wanted to read his messages. He was lying on the bed that time, but as soon as he saw me reach for his phone, he sat up, eyes wide. "What are you doing?" he asked.

"I just wanna read…" I said and opened a message from an unknown number.

It was from a girl. "Ingat ka pauwi. Muah."

At this point, you might think, huli mo na siya! Girl, ano ba!

I asked him about it and he said that a co-worker just asked to borrow his phone. Wala na daw kasing load.

I remember stewing about it all evening because I checked the time stamp. It was around the same time I called him up earlier that day.

That should have been clue # 3, that my boyfriend was a cheating bastard. But you know me, I chose to believe in him eventually. Looking back at it now, I can't understand how I could have been so gullible or stupid. My friends had let it slip that they heard some things about him, but since they didn't have concrete proof, they couldn't prove it either. Or if they did have proof, or at least, I think one of them did, they didn't want to intrude or be responsible for a breakup.

There were a couple more incidents [insert face palm emoji here] but I chose to believe in him above all. After all, if you couldn't trust the one you're in a relationship with, what was the point of having it in the first place?

A few years later, the officemate showed up again. Yes! That officemate.

While reading K's public tweets—I don't have Twitter so I don't really look at his at all—I decided to look at his direct messages. Breach of privacy, I know, but I figured that since he knew my all my passwords and I actually knew his, wala naman sigurong masama if I look. I really wasn't expecting to find anything.

But find something I did. A message to the officemate. A friendly message to the officemate asking her for her number. We fought about it. He gave me a lame excuse. We fought about it some more,  but eventually, I accepted his explanation.

I KNOW. At this point, you probably think I deserve everything that's coming to me for being so stupid. I won't go into detail about what happened after that except that that same year, I broke it off. Natapos din.

I'm dating someone new now and although I'm still not the jealous type, I'm more wary. If I see a red flag, I follow up. I don't just ignore what I see or hear. Being with K changed my life in many ways, but while I'm still a bit too trusting and naive, according to some people, I won't be as blind as I used to be. That's a start.

If you're currently in a relationship and you feel like your guy is doing something suspicious, don't NOT follow up or ask questions out of some misguided sense of loyalty. Don't bury your feelings or choose to ignore your instincts. Don't be afraid to catch him cheating. Don't make excuses for his lame excuses. Don't think it's wrong to put yourself first.

ADVERTISEMENT - CONTINUE READING BELOW
Recommended Videos
Load More Stories