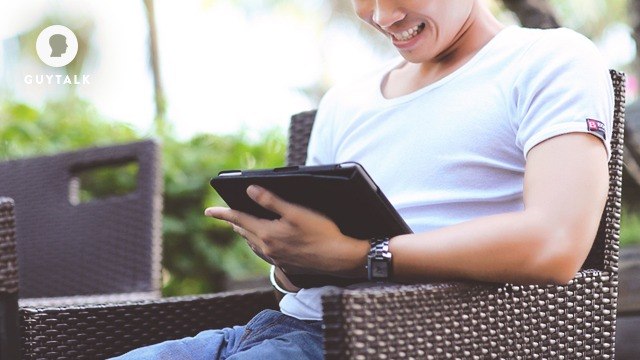 The "official" story: We met through a mutual friend while attending different parties at the Fort. We ran into each other outside where we got introduced by said mutual friend. Exchanged numbers and eventually started going out.
The real story: We met on Tinder.
Yes, I met my girlfriend through Tinder. It's not exactly the usual place to find love, much less a lasting relationship, and yet, we can't deny how technology brought us here. I certainly didn't expect to fall in love with someone I met online, but hey, I'm not complaining.
ADVERTISEMENT - CONTINUE READING BELOW
She came into my life at a time when I was definitely not okay, I was going through the stages of recovery from a breakup.
She wasn't the only one I was chatting with, neither was she the only one I went on a Tinder date with. I even initially passed on her. In all honesty, I was only looking for a hook up, as recently single guys usually do.
CONTINUE READING BELOW
Recommended Videos
She said no, but for some reason we kept in touch.
She helped me deal with my emotions while keeping some physical distance from me, eventually becoming a friend I could talk to. We started hanging out, which turned into going out. That was when we realized and admitted that we had feelings for each other.
There are a few, very valuable lessons that I learned throughout the whole thing:
First was that we came up with the "official" story not really because we were ashamed of how we met, but because it was easier to explain to others, especially our relatives. Our parents aren't exactly tech-savvy, and the whole process of describing Tinder and all its nuances was a chore that we didn't feel the need to burden them with. Trust me, it's better for us this way.
ADVERTISEMENT - CONTINUE READING BELOW
Also, it's good to allow everything to just flow naturally. You definitely don't want to go on Tinder looking for a serious relationship. And even in real life, it's not something you should force. Online dating should be fun, not something you lose sleep over. 
It sounds incredibly cliché, but the more you try to look for love, the more it shies away from you.
I'll end this little confession of mine to answer what many of you might be wondering:
Yes, eventually there was sex. Sheepishly, this was a month into hanging out. But it didn't feel like a random hook up at all. We even talked about what happened right after. The funny thing about it was that I asked her if it was okay through each and every step, afraid that I might be making her feel uncomfortable, but she kept saying yes. Later on, she said that it seemed natural for her, that first time of ours. She didn't regret it at all (I certainly didn't, either), and that it felt… right. When she told me that, I smiled and held her closer, giving her a kiss on the forehead as she fell asleep in my arms.
ADVERTISEMENT - CONTINUE READING BELOW
It doesn't matter how you met in the beginning, but where you are now.
I'm not ashamed at all that I met her online. All I can say is that I'm grateful it happened. I never expected us to end up together and admittedly, in love with each other, but we're both glad we crossed paths eventually.
Load More Stories