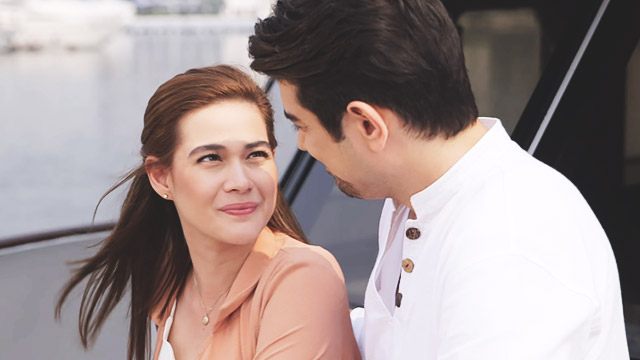 You're probably just as excited as we are about A Love to Last, the ABS-CBN primetime teleserye that stars Bea Alonzo and Ian Veneracion. The show started in early January and has been making hearts flutter with kilig ever since. It's been a big hit so far even online, with its #ALTL hashtags trending every night and being the most-watched program on video-on-demand platform iWant TV.
ADVERTISEMENT - CONTINUE READING BELOW
The story revolves around Anton (Ian) and Andeng (Bea). Anton is the 40-year-old CEO of a big tech company whose wife (Iza Calzado) left him. Now annulled, Anton has to play dad and mom to his three kids Chloe (Julia Barretto), Lucas (JK Labajo), and Kitty (child actress Hannah Lopez Vito). Anton meets Andeng, a 27-year-old event organizer whose own relationship crumbled when she caught her man cheating on her. Anton and Andeng hit it off very well work-wise, but as fate would have it, they hit it off on a personal level, too.
Just last week, we witnessed how much their feelings for each other have grown. Yes, after months of waiting, we finally got to the much-awaited aminan and at last, they are officially TOGETHER!
Yes, we admit, we've caught the love bug. It's kind of hard not to when you get hooked on this series. It gives you all kinds of feels and some valuable love lessons, too.
1. Love can hit you when you least expect it.
And it can happen at any age, at any point in your life, even after your worst heartbreak. Yes, there's life after that. So hang in there! Dadating din 'yan!
2. While waiting for the right one, just enjoy every moment!
Cherish your single life, hang out with good friends, do your best at work, and don't forget to have fun!
3. If you love someone, say it.
Timing is everything, though. Think it through, but don't wait too long. You'll know when it's the right time. Anton certainly did. He was the first to come to terms about how he felt and he wasted no time admitting it.
4. You'll know you're falling in love when you begin opening your life up to the person.
And being with him? Yup, best part of your day.
5. When a guy makes the effort to be with you in tough times and lets you cry on his shoulder, better believe he's a keeper!
Here, Anton takes Andeng to the hospital when they get the news that Andeng's mother fainted.
ADVERTISEMENT - CONTINUE READING BELOW
6. Don't be a denial queen, girl!
There will come a time when you just have to face your fears, whatever they may be. Love ALWAYS involves risk. Here, Andeng FINALLY admits to long-time suitor Totoy (played by guest star Xian Lim) why she can't say yes to him.
7. When you enjoy talking to a person about anything and everything, that's a good sign!
Remember, good relationships stem from first having a great friendship.
8. It's okay to be honest with how you feel.
Remember, Anton had already confessed his love for Andeng, but at that time, Andeng wasn't ready to be honest even if she already felt the same way. At this point, she thinks it's too late, that Anton already had someone else, but she was in for a big surprise. Remember, only do what you think and feel is right for yourself! Everything else will follow.
ADVERTISEMENT - CONTINUE READING BELOW
Load More Stories