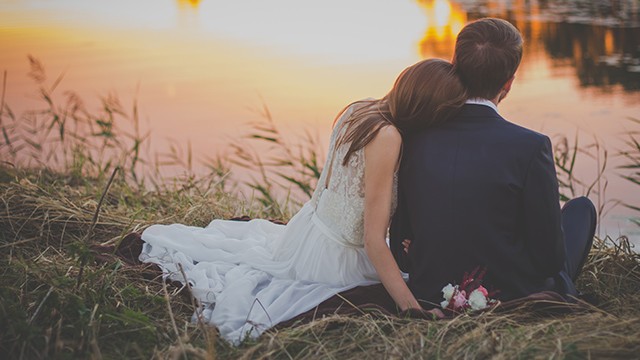 To make things clear, just because a man is taking his time before proposing doesn't mean that you're not a priority. The "waiting" could be because there are things he needs to prepare in many personal, emotional, and even financial aspects, which are the very reasons why some of us decide to tie the knot a bit later than most. Here are some reasons why your man isn't popping the question yet, and why you shouldn't question his commitment so quickly:

1. We first need to be financially stable.
While men are also being pressured to settle down (though significantly less than women, I know), for us, here's a very real world reason to delay marriage: money.

Let's face it: getting married isn't easy, despite all the DIY wedding hacks going around. There's still going to be cash that will be shelled out and in our culture, it usually falls on the man to shoulder the expenses (though of course these should be discussed, as it's different per couple). Regardless, being financially stable is even more important after marriage than the actual event itself, because honeymoon destination aside, there's also moving into your own place and building a family to worry about.

2. We need more time to mature.
Men mature later than women, and that is could be very much true to some when it comes to marriage. For young couples still deeply in love, the thought of marriage is a very common topic of conversation. But sometimes things can go south, and that can lead to a certain phobia when the man enters into a new relationship. With this caution comes maturity, with men learning from their mistakes and – like the cultivation of preferred characteristics in women – this leads to guys having a firm understanding of what they want for the long term.

Youth is sometimes wasted on those who wing it, and the media doesn't help with this illusion of married life as well. The song lyrics "love will keep us alive" should not fool anyone, romantic or not, into thinking that things will fall into place eventually. Tomorrow will come, and when it comes to tying the knot, it pays to have plans.

3. We need to leave our "pagbibinata" behind.
Being single isn't all that bad. You get to do whatever you want, and that includes indulging in hobbies. Shoes, model kits, even cars are all toys to a guy with disposable income. Then there are travel opportunities and sports, things that all require a fair bit of cash to pull off with a degree of comfort. Guys may or may not have long bucket lists, but sometimes these things tend to be better done alone before we can appreciate doing them with a partner for life.

More and more couples decide to get married at a later age, with some waiting until their thirties to settle down. Because of this, many women in long-term relationships are still often confronted with questions from relatives such as "Kailan ka ikakasal?" or more aggressive statements like "Magpakasal ka na at baka hindi ka na magka-anak." You shouldn't let the pressure get to you. If you and your partner have been together long enough, you should be a ble to communicate your goals to each other, and that includes if and when you want to take the plunge. Don't let other people dictate your pace just because they expect you to, remember, this is your call.
ADVERTISEMENT - CONTINUE READING BELOW
Load More Stories