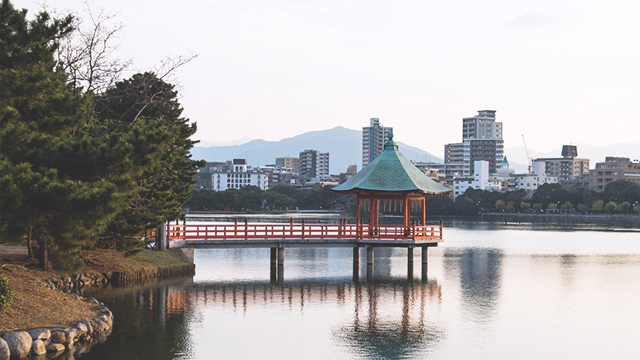 People who want to go to Japan usually fly to Osaka or Tokyo, but while there are certainly plenty to see and do in both, they're not the only destinations worth visiting. Fukuoka, one of the most populated cities in the country, is also a great place to spend your vacation, especially if you truly value your me-time. Read on and see why you (and your inner tita) deserve a trip to Fukuoka!
ADVERTISEMENT - CONTINUE READING BELOW
1. The pace is more relaxed.
Even though Fukuoka is the largest city in the Kyushu region, it's also one of the most laid-back. The people are friendlier, and are less in a hurry to get from one point to the next. There's also a relaxed energy about the place that you don't see in busier metropolises like Tokyo. This is especially evident in places like Ohori Park or Momochi Seaside Park, where it feels almost natural to fall into a daydream.
CONTINUE READING BELOW
Recommended Videos
2. The arts and culture scene is thriving.
The museums in Fukuoka are certainly at par with many international art galleries. The Fukuoka Art Museum, for one, houses works by world-famous painters like Salvador Dalí' and Andy Warhol, while the Fukuoka Asian Art Museum boasts a growing collection of Asian contemporary art. Buddhism can also trace a part of its history in Fukuoka through The Shofukuji Temple, the first Zen temple in Japan.
ADVERTISEMENT - CONTINUE READING BELOW
3. There's no shortage of good food.
Fukuoka is known as the birthplace of tonkotsu ramen. It was originally created as an affordable fast food option for fish market laborers in the area, but this well-loved noodle soup has become so popular that it now has a whole museum dedicated to it. If you love tonkotsu ramen, check out the Tonkotsu Ramen Museum there. Fukuoka is also home to open-air food stalls called yatai. Usually located near popular tourist spots, these stalls serve street food fare like yakitori, ramen, and alcohol. Fukuoka also has an exciting culinary scene. Head on over to Imaizumi to check out small and elusive restaurants and bars that are a must-visit for anyone who wants to experience the city like a local.
4. The shopping won't disappoint.
There are a lot of malls in Fukuoka where you can exercise a bit of retail therapy, the largest being Canal City Hakata. The "city within a city" has plenty of local and international brands, ranging from the affordable to the high-end. Two other department stores, Tenjin Core and Mitsukoshi Fukuoka, are even connected by a series of underground passageways, allowing you to cover as much ground as you can.
ADVERTISEMENT - CONTINUE READING BELOW
5. Mother Nature is at her best.
Urbanization has not dulled Fukuoka's beauty one bit. Wherever you go, you'll see the city living in perfect harmony with the trees, plants, and animals. The Fukuoka Castle Ruins located inside Maizuru Park only adds to the drama of the scenery. Uminonakamichi Seaside Park, a sprawling sea of green with flower gardens, bicycle paths, attractions, and even a zoo, is also one of the city's best spots.
Ready to start planning your solo trip to Japan? Search for flight rates here!
Comments
Load More Stories