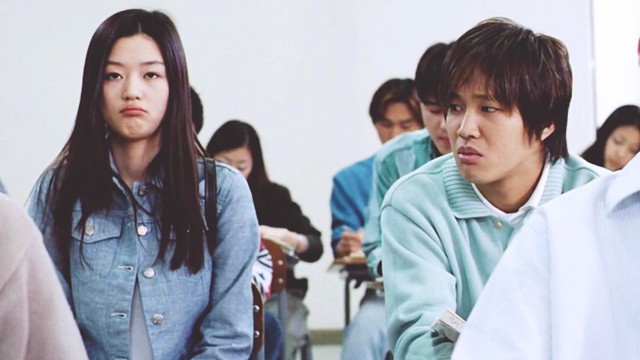 Getting tired and cynical after having loved and lost one too many times? These Korean films can melt even the hardest of hearts. From rom-coms and fantasies to slice-of-life flicks and melodramas, each movie's got an important lesson to tell. Read on to learn about them:
1. The Beauty Inside (2015)
Woojin wakes up every day in a different body. One day, he's a young man; the next, he's an old woman. But one thing about him remains the same: his love for Yi Soo (Han Hyo Joo). This haunting rom-com is the ultimate testament to true love.
 
2. Finding Mr. Destiny (2010)
Is destiny real? This film serves an adorable series of cute scenes as Train to Busan star Gong Yoo plays a man tasked to find a woman's (Im Soo Jung) first love. The problem is the only lead they have is the guy's name.    
ADVERTISEMENT - CONTINUE READING BELOW
3. Pure Love (2016)
Relive the bittersweet moments of your first love with this nostalgic film about one special summer. Classic torpe guy Beomsil (played by Do Kyungsoo from popular boy band EXO) falls for pretty Soo Ok (Kim So Hyun), but as with any love story, things are not always what they seem.
4. A Werewolf Boy (2012)
In this simultaneously heartbreaking and breathtaking fantasy, a sickly girl named Sun Yi (Park Bo Young) finds solace in Chul Soo (Descendants of the Sun star Song Joong Ki), a wild boy who acts like a wolf. She sets off to educate him, but Chul Soo ends up teaching her about love instead.  
5. Architecture 101 (2012)
Are there second chances when it comes to love? In this realistic melodrama, a man (Uhm Tae Woong) and a woman (Han Ga In) who used to attend the same architecture class when they were younger (played by Suzy and Lee Je Hoon) meet again 15 years later. 
6. Like for Likes (2016)
Set in the present time where the digital world rules, this charming rom-com shows three couples using social media to learn about one another and improve their relationships.  Among its star-studded cast are Winter Sonata star Choi Ji Woo, talented heartthrob Yoo Ah In, and Misaeng actor Kang Haneul. 
 
7. Late Blossom (2011)
 
In this quiet and moving film, one elderly couple (Lee Soon Jae and Yoon So Jung) proves it's never too late to fall in love, while another (Song Jae Ho and Kim Soo Mi) shows how much one is willing to endure to hold on to a loved one. 
 
8. The Classic (2003)
 
Past and present collide in this tearjerker that tells the story of two men (Jo Seung Woo and Lee Ki Woo) who fall in love with the same girl, Joo Hee (Son Ye Jin). Years later, Joo Hee's daughter, Ji Hye (also played by Ye Jin), starts a love story of her own when she falls for another student, Sang Min (Jo In Sung). 
 
9. Spellbound (2011)
 
In this rom-com with a terrifying twist, Yeori (Son Yejin) can see ghosts and remains single because of it. Enter magician Jo Goo (Lee Minki) who shows Yeori that love can endure and overcome any crisis—even when it comes in supernatural form.
 
10. My Sassy Girl (2001)
 
No Korean movie list is complete without the one that started it all. This quirky film proves opposites attract. Laugh and cry as you follow the bizarre antics of college student Gyeon Woo (Cha Taehyun) with the unnamed girl of his dreams (Jun Ji Hyun). 


Load More Stories