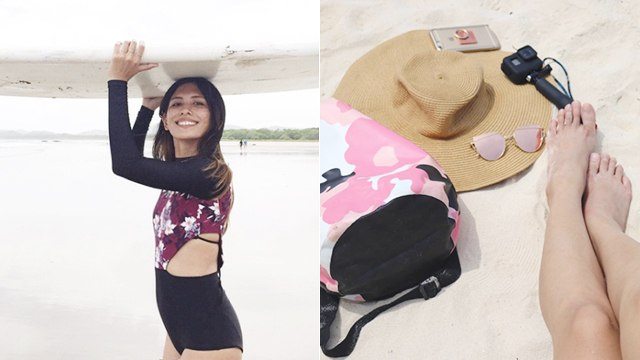 Thanks to the rise of surfing spots many pinoys are getting in on the surfing action. Though La Union has always been the go-to destination, Zambales, Baler, and of course, Siargao have now become equally popular surfing towns to visit. Unlike most water sports, surfing isn't as pricey to get into. Many lessons will charge P500 or less for an hour-long lesson which is already inclusive of surfboard rental. Before you go catch those waves here's a short list of what your surfing kit should include.
ADVERTISEMENT - CONTINUE READING BELOW
Rash guard
A must for many surfers because rashies help protect your exposed bod from numerous irritants. Since we live in the tropics, we don't really need full on wetsuits (as these are recommended for freezing water temperature). In its place, a rash vest or rash guard is enough. The choice between short-sleeved and a long-sleeved guard is up to you. Most people opt for full sleeves since it offers better protection from the direct heat of the sun and from sea creatures like the itchy jellyfish or some floating seaweed.
Sunscreen
Remember that the rest of you isn't as fully covered as your arms. The sun reflects onto the water which will then bounce those UV rays onto your face, neck, and legs. As a precaution, always layer on sunblock even underneath your swimwear.
Cap or visor
The glare of the sun can make visibility a bit challenging. You can opt for sunnies, but a cap or a visor does the job much better. Besides providing protection for your face, it makes you look stylishly cool even though you can't seem to stay on the board.
Dry bag
Popularized by the marines, dry bags are made of durable water resistant fabric. They are sold in different sizes and colors. Dry bags keep your stuff dry if you haven't guessed it yet. Also keeps your belongings sand free making it easy for you to dump your bag on the shore while you hit the waves.
Ibuprofen
For a lot of people who suffer from DOMS (delayed onset muscle soreness - i.e. you feel the aches and pains of Zumba the next day), pack some ibuprofen. This is also a good trick for individuals who have been sloth like when it comes to their fitness. Pop a tablet after your workout and you'll be ready for another day of lessons.
Action camera


Because how else are you gonna proudly share *cough* yabang *cough* on Instagram, Facebook, and every other social network you're on that you managed to pop up flawlessly and ride a wave? If you are really serious about learning to surf and making it your sport, a good camera and surfboard mount setup allows you to review your stance and the areas that need some work. Also, there's nothing wrong with picking a lesser known brand before making your way to some big league surf action recording equipment.
ADVERTISEMENT - CONTINUE READING BELOW
Determination
Surfing has nothing to do with how skinny or chunky you are. You'd be surprised to see many slender beginners fail at keeping their balance and many heavier looking ones succeed at the first try, so it is not about size or weight. Some say that if you know how to ski, snowboard, skate, or bike, surfing should then be easy peasy for you. I say, it's about determination, if at first you wipeout, shake off the water and get back up until you get hang of it. I can't bike but hey I can surf, sort of!
Load More Stories