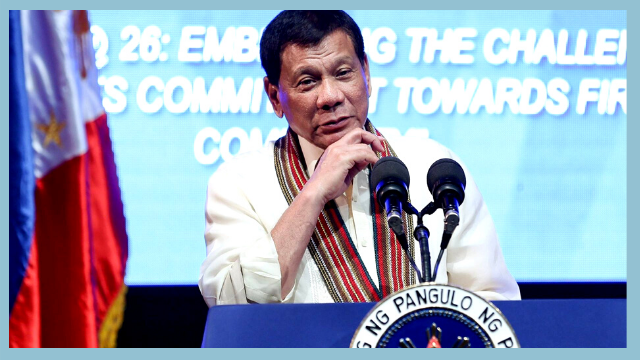 The Philippines in now under Code Red Sublevel-2, President Rodrigo Roa Duterte announced on the evening of March 12 in response to the rising number of confirmed COVID-19 cases in the Philippines.
Following the announcement of an inter-agency task force that would help manage the COVID-19 outbreak in the country, the President read a resolution which notes the: 
ADVERTISEMENT - CONTINUE READING BELOW
Suspension of classes in all levels of Metro Manila until April 12, 2020, "provided that all students shall continue to fulfill their educational requirements during said period";
Prohibition of mass gatherings;
Suspension of land, domestic air, and domestic sea travel to and from Metro Manila "after forty-eight hours from issuance of this resolution," which is subject to "reassesment".
As of writing, there are 52 reported cases in the Philippines. On March 11, Wednesday, a 67-year-old Filipina passed away due to the virus, making her the second local fatality.
The president also told the public not to be frightened or nervous, as a vaccine is currently being developed. "It is true, huwag ninyong maliitin, but do not kill yourselves---the government is doing everything possible to make it controllable, but kung kayo po ay mag- cooperate." 
Earlier, the World Health Organization has declared the COVID-19 outbreak a pandemic. 
"WHO has been assessing this outbreak around the clock and we are deeply concerned both by the alarming levels of spread and severity, and by the alarming levels of inaction. We have therefore made the assessment that COVID-19 can be characterized as a pandemic," said WHO Director-General Tedros Adhanom Ghebreyesus in a media briefing. 
ADVERTISEMENT - CONTINUE READING BELOW
Recommended Videos
"Describing the situation as a pandemic does not change WHO's assessment of the threat posed by this virus. It doesn't change what WHO is doing, and it doesn't change what countries should do."
The Director General summarized how the public should act in the face of the novel coronavirus: "First, prepare and be ready. Second, detect, protect and treat. Third, reduce transmission. Fourth, innovate and learn...
"Let's all look out for each other, because we need each other."
Load More Stories