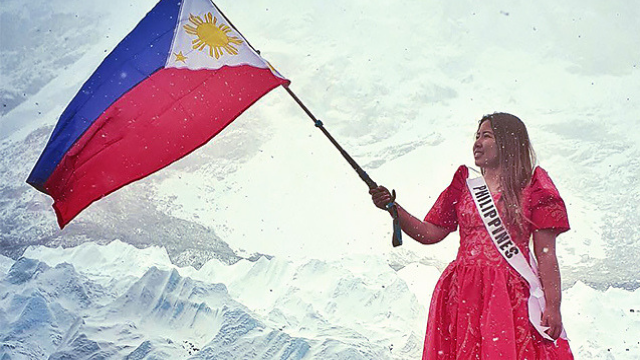 It's a common practice for most hikers to wave their national flag when climbing foreign summits, but you won't believe how this Filipina took the tradition to a whole new level. Last April 22, Bianca Lawas bravely spent an impressive 10 days hiking towards the Everest Base Camp with one goal: to wave the Philippine flag wearing a red Filipiniana gown. "Representing the Philippines [at the] Everest Base Camp," her post read.
ADVERTISEMENT - CONTINUE READING BELOW
CONTINUE READING BELOW
Recommended Videos
Yup, this Pinay changed clothes amid the biting snow at a freezing temperature of -15 degrees Celsius, while situated 5364 meters above sea level, with only the help of a malong and a few friends. "I was a little self-conscious at first because a lot of hikers from other countries were looking at me, but they were entertained and happy. In general, I felt proud and happy," Bianca tells Preview. Check out the full interiew below:
What inspired you to wear the national costume on the Mt. Everest Base Camp? Were there people from other countries who did the same?
"I sometimes really like to dress up in places that I find inspiring and amazing. Since reaching the Mt. Everest Base Camp was a once-in-a-lifetime opportunity, I decided to dress up for the occasion. In mountains outside the country, hikers usually wave the Philippine flag when they reach the summit/destination, so I decided it is better to pair up the waving of the Philippine flag with wearing the Filipiniana gown.
ADVERTISEMENT - CONTINUE READING BELOW
"Nope, no one from other countries wore national costume or any other attire aside from their hiking attire in Everest Base Camp during that time. It was only my idea." 
Could you tell us about the hike?
"It was an 11-day hike with two acclimatization days turned 10-day hike with one acclimatization day because we were late by one day due to a plane accident which happened just a few days before our trip. Each day [is comprised] of a six to eight-hour hike except for the acclimatization day, which is only a four-hour hike. During the acclimatization day, we hiked to a higher altitude and slept in a lower altitude for us to better adapt with the environment. For the first five days, it was manageable for me though every night we'd get a headache due to the altitude and the very cold temperature, and sometimes it was quite hard to breathe even when lying down.
ADVERTISEMENT - CONTINUE READING BELOW
"It was also a challenge that all the rooms in the accommodations didn't have a heater and the dining room heater was only open for two hours every day, usually during dinner time. The food was also a challenge since it was almost always the same and there were no meat/chicken for the most part of the hike. We also couldn't sleep continuously and would wake up in the middle of the night.
"When we reached around 4600 MASL during our sixth day, it was really when things became hard, especially for me. Even if we were walking on a flat surface, we were still very slow. I felt fine but I still couldn't push myself to be faster since I might have exhausted myself, which actually happened on the sixth day. Good thing I was able to rest well on my sixth night and continued the next day. As the altitude increased, the hike became harder especially for people who are not used to walking at higher altitudes.
ADVERTISEMENT - CONTINUE READING BELOW
"I hiked to a place called Kala Patthar (5550 MASL) on the eighth day from a place called Gorak Shep (5140 MASL) during the wee hours of the morning. It was only 1.2 km hike but a steep 410 altitude gain. It was the longest 1.2 kilometers of my life since I was able to arrive at Kala Patthar after 2.5 to three hours of hiking."
How did you manage to bring your Filipiniana with you?
"Most climbers to Everest Base Camp are provided with porters. Each porter carries 30 kgs. of baggage good for 2 people, so 15 kgs. per hiker. I made it a point to have my Filipiniana made with the lightest materials. Good thing [that] my whole baggage was just around 12 kgs. or less including my Filipiniana gown so I was able to have it carried by the porter since it was way less than the maximum weight."
ADVERTISEMENT - CONTINUE READING BELOW
Tell us about your experience wearing a Filipiniana atop the Everest Base Camp. How did you change first of all?
"I brought a malong with me. It was challenging to change into my Filipiniana gown because it was so cold (around -15 degreee Celsius) and it was snowing. My friends also helped me and zipped my dress."
How did representing the Philippines make you feel?
"It's not like may contest or whatever conference sa taas. It was just my idea to dress up for the occasion. I was a little self-conscious at first because a lot of hikers from other countries were looking at me, but they were entertained and happy. In general, I felt proud and happy."
Would you do it again?
"If given a chance, why not? If that happens, I hope next time [the weather is better] with no snow."
This story originally appeared on Preview.ph.
* Minor edits have been made by the Femalenetwork.com editors.
Comments
Load More Stories