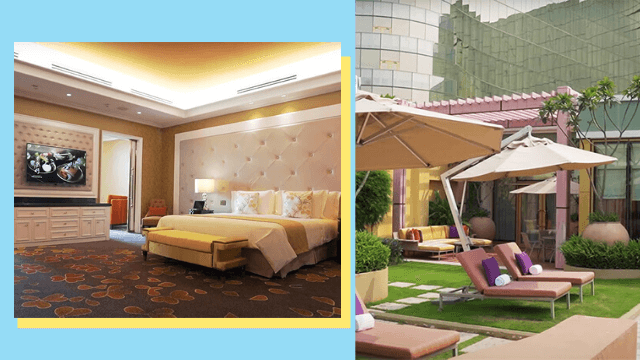 Okada Manila is one of Asia's largest ultra luxury integrated resorts, and its latest concept proves just why it deserves that title. Introducing Villa El Nido: the most opulent suite on Okada's property. It's 1,400 square meters of pure luxury, designed for celebrities, tycoons, and royalty. But if you want to live like a king, you have to pay like one too.
ADVERTISEMENT - CONTINUE READING BELOW
The price tag of Villa El Nido? P1 million. Per night.
The whopping cost might make your eyes water, but it's a guarantee of the best of Philippine hospitality. You get what you pay for, and that saying couldn't be truer for this palatial villa.
Each guest begins his stay at Villa El Nido by entering the foyer, which is illuminated by a patterned overhead skylight. The gold and plum color scheme is usually the first thing guests notice-they're the colors of royalty, which is precisely how the suite makes you feel.
Each bathroom is decked out in pink marble tiles and bathtubs. 
Photo by
Esquire Philippines
.
The main hallway leads to two plush bedrooms, one with a door to a private patio and the other leading to the pool area. Each master bedroom has its own his-and-her bathrooms decorated with pastel pink marble and golden accessories. The suite is also home to three other bedrooms of almost the same caliber. The doors to the indoor gym and spa with sauna are also located in the main hallway.
A few feet into the suite is the main living area, which features a dining table for 16 and a stunning chandelier. The suite also has a minibar, complete with all the whisky you'll need for your stay.
The outdoor area of the villa has a swimming pool and Jacuzzi, and wait for it, real grass. Across the glass walkway, which cuts through the outdoor area, is the entertainment room that can double as a mini theater, a "throne" room that will make you feel like you're on the set of Game of Thrones, and a bedroom that's often used as a children's room for guests with families. According to Jastin Sanio, butler supervisor of Okada Manila, these three areas are a favorite area for family bonding.
As if that wasn't enough, the villa also comes with a butler-on-call, which is included in the cost per night.
The 16-seater dining room is complemented by a complete set of spirits in the minibar. 
Photo by
Esquire Philippines
.
This seating area doubles as a 'throne' room, complete with a golden chandelier. 
Photo by
Esquire Philippines
.
You can also request for a private chef, masseuse, and trainer for an additional fee, but if you can afford to pay P1 million a night, the additional costs will be pocket change.
ADVERTISEMENT - CONTINUE READING BELOW
Every inch of the room (or rooms, should we say) screams luxury, from the Roberto Cavalli amenities to the flowers flown in from Africa.
Each room is also equipped with state of the art technology, like their smart toilets and DigiValet system. Okada tablets let guests control each room's devices, from the lights to the sound system.
"You essentially have your own hotel within the hotel," concludes Winston Toledo, Okada butler, who has served as the on-call butler for the villa. The villa can also be repurposed for business purposes, as businessmen guests often use certain areas to hold meetings.
The exterior of Okada can be seen from the villa's pool area. 
Photo by
Esquire Philippines
.
One of the outdoor seating area's of Villa El Nido. 
Photo by
Esquire Philippines
.
As to who is actually willing to cough up P1 million a night? "That's confidential," says Sanio and Toledo. Because aside from the nightly fee, guests pay for a low-key stay in Manila's luxury resort.
ADVERTISEMENT - CONTINUE READING BELOW
With such a big price tag, you might assume the villa rarely gets visitors. But according to Toledo, this is far from the case. "It is usually fully booked. The usual last-minute bookings are usually within the small room types, the basic rooms. Even with the cost of the room, you get a last-minute 11 p.m. booking for the villa. Then they'll check out at 12 p.m. It was a shock at first, but it became a norm that people are willing to spend their money for that."
Villa El Nido is the sister villa to Villa Coron, another 1,400-square foot suite with the same floor plan, design-and price tag. Villa Cebu is also similar in fashion, only it's a little "cheaper," priced at P800,000 per night.
Guests can also request for pre-arrival arrangements, like airport pickup, with additional costs. The ultra-luxury villas were opened earlier this year, just three years after Okada Manila was launched in 2016.
ADVERTISEMENT - CONTINUE READING BELOW
Ready for a tour? Watch this video by Esquire Philippines below:
This story originally appeared on Esquiremag.ph.
Load More Stories