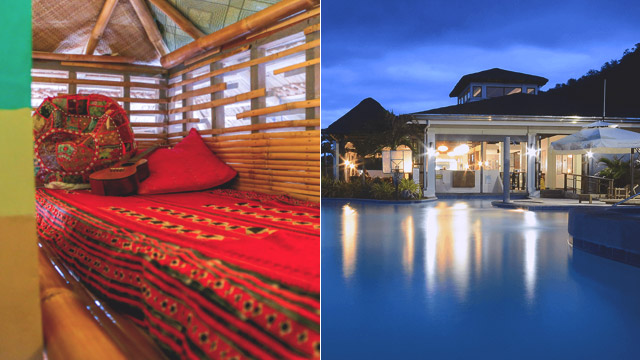 Thanks to road improvements and the easy commute, the province of La Union in the western seaboard of Luzon is a favorite spot for those who only have a few days to spare outside the Metro. We round up accommodation options, whether you're flying solo or traveling with the whole gang to the Surfing Capital of the North.
For the bold and daring solo traveler
Vessel Hostel
MacArthur National Highway, Urbiztondo
E-mail: vesselhostel@gmail.com
Rates start at P980/bed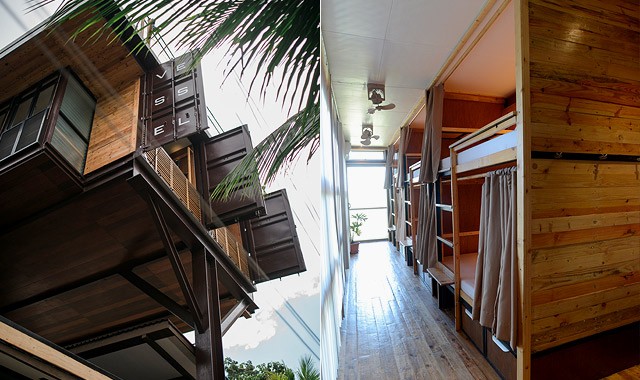 ADVERTISEMENT - CONTINUE READING BELOW
Surfer architects Buji Libarnes and Nikki Dela Paz-Libarnes gave a whole new meaning to upcycling after they repurposed old shipping containers and turned them into a four-level hostel. Vessel Hostel, which is located right next to their home (also made of a container van!) exudes '60s modern vibe with its minimalist design and vintage aesthetic. The dorm-type accommodation has a total of 22 beds split into four four-bed rooms and one six-bed room.
Camp Avenue
Taboc Beach, San Juan
Contact: 0917-408-4381
E-mail: thecampavenue@gmail.com
Rates start at P750/tent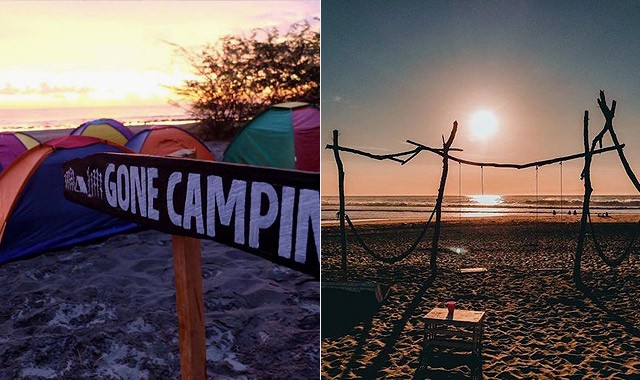 Camp Avenue is perfect for travelers who don't mind roughing it out by the beach. You can either rent a tent that comes with pillows, insulation foam, toiletries and free breakfast the next day (P750), or just pitch your own gear (P350/no breakfast, P500/with breakfast). There's also a hut-type accommodation with foam beds at P1,200 per head. After a whole day of lounging around the hammocks and swings or surfing, you can party with the rest of the guests and dance to the beat of Camp Avenue's guest DJ for the weekend.
ADVERTISEMENT - CONTINUE READING BELOW
Circle Hostel
Circle Road, Urbiztondo
Contact: 0917-505-4329
E-mail: lu@thecirclehostel.com
Rates start at P500/hammock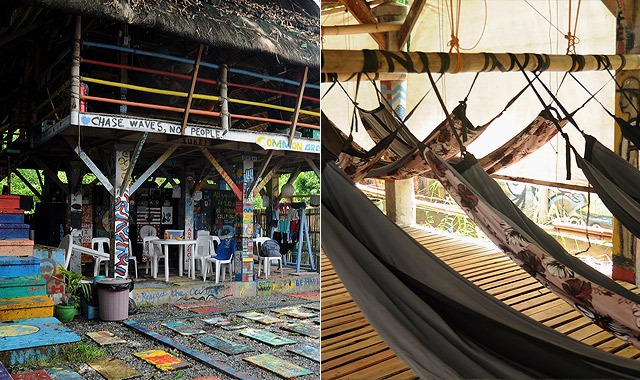 All branches of The Circle, including the one in La Union, live by the motto "There are no strangers." The budget- and eco-friendly hostel has enough space for guests to meet and mingle, may it be by painting murals on the walls or just lounging around the beanbags while waiting for an afternoon surf session. The Circle Hostel La Union has two bunk rooms—a co-ed dorm and an all-female dorm—with 45 single beds and 35 hammocks with built-in mosquito nets.
Flotsam and Jetsam Artist Beach Hostel
MacArthur National Highway, Urbiztondo
Contact: 0917-802-1328
E-mail: flotjetlife@gmail.com
www.flotsamandjetsamhostel.com
Rates start at P680/bed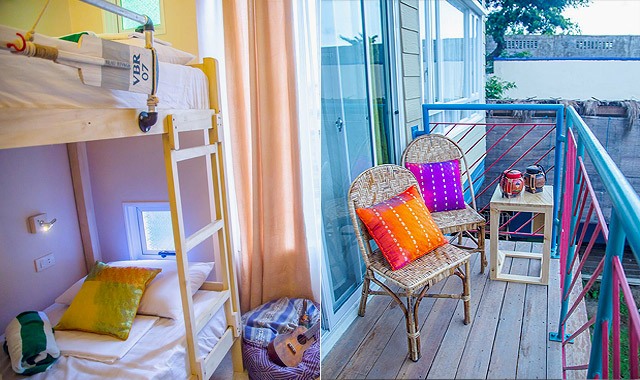 IMAGE Flotsam and Jetsam/website
ADVERTISEMENT - CONTINUE READING BELOW
Flotsam and Jetsam, setting of Jay Abello's 2015 film titled—well, Flotsam, is an artsy beach hostel where imagination and accommodation meet. The common areas are filled with colorful pillows, designed with flickering lights, and made as comfortable as possible to encourage interaction among guests. Their dormitories come in all shapes and sizes—an eight-bed bamboo hut, a shared room that looks like an aircraft cabin, and a four-bed air-conditioned dorm that comes with ortho bed toppers. In case you want some privacy, you can also book one of their themed rooms.
For the couple on a romantic getaway
Urbiz Garden Bed and Breakfast
134 Beachfront Urbiztondo, San Juan
Contact: 0917-590-8256
E-mail: mch.antonio@gmail.com
Rates start at P2,500 for two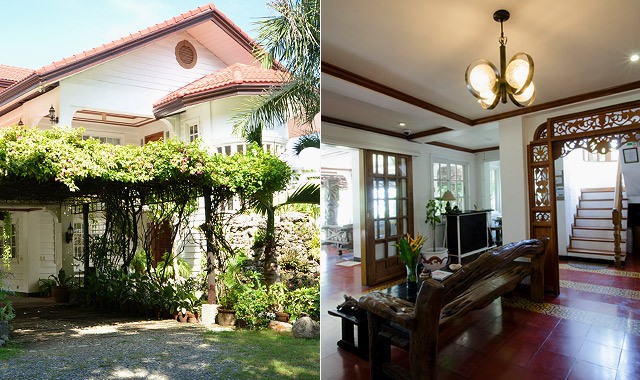 Urbiz Garden was originally built as a family vacation house in 2001, but with the influx of guests in La Union, it opened its doors to tourists in 2007. It maintained its countryside charm, thanks to the home-cooked Ilocano meals and floorboards and wooden furniture that remind you of home. The location is far from the crowd too, ensuring privacy for your romantic getaway.
ADVERTISEMENT - CONTINUE READING BELOW
Kahuna Beach Resort and Spa
MacArthur National Highway, Urbiztondo, San Juan
Contact: 0917-830-0363
E-mail: info@kahunaresort.com
Rates start at P5,765 for two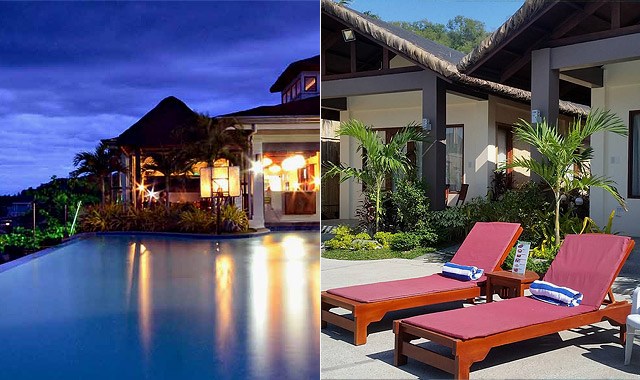 Tag along your special someone for a relaxing weekend in one of the 40 Balinese-inspired cottages at Kahuna. The resort features three swimming pools, a bar and restaurant that serves international cuisines, and an in-house spa where you can pamper and indulge yourself. You can also book the Pool View Suite, which comes with a private patio and a panoramic view of San Juan's glorious sunset.
For BFFs looking for a weekend escape
San Juan Surf Resort
MacArthur National Highway, Urbiztondo
Contact: 0917-887-5470
E-mail: sanjuansurf@yahoo.com.ph
Rates start at P6,130 for six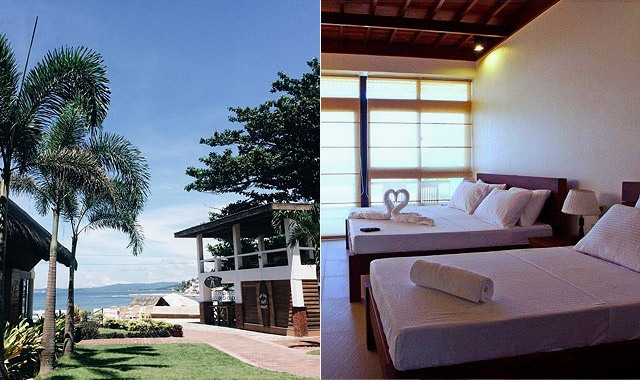 ADVERTISEMENT - CONTINUE READING BELOW
San Juan Surf Resort may be the best bet if you and your friends want to learn surfing. It has a family room that can accommodate up to six people (P6,130) and an ocean-view room that can fit up to eight persons (P8,760). After a good night's rest, you can sign up at the San Juan Surf School, established by Filipino-Australian professional surfer Luke Landrigan, and catch a wave or two through the help of trained surf instructors (P400/hour).
Cozy Cabin
MacArthur National Highway, Urbiztondo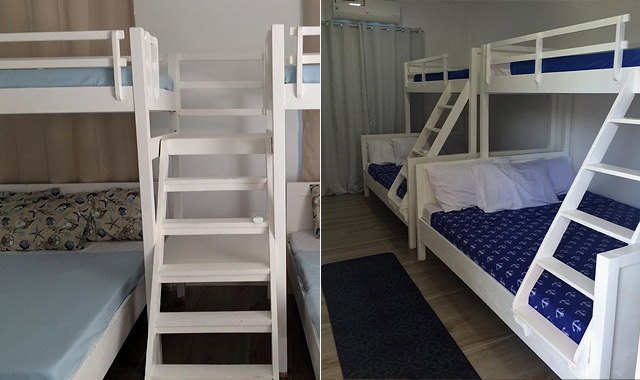 Since it opened in December 2017, Cozy Cabin has been catering to large groups who don't mind sleeping in an all-white room with just the bare essentials. There's no WiFi and cable TV but you probably don't need that if you're right beside a surf spot.
ADVERTISEMENT - CONTINUE READING BELOW
For a family spending quality time together
Isla Bonita Beach Resort
117 Velasco Street, Ili Sur
Contact: 0998-984-6420
E-mail: pat.laming@gmail.com
Rates start at P3,400 for four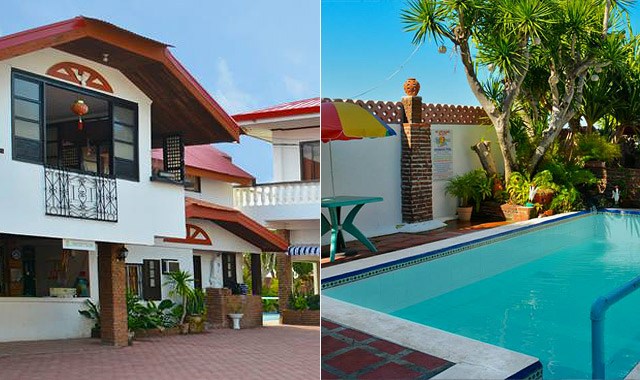 This secluded resort boasts a number of family rooms inspired by old Spanish homes. The largest suite, aptly called the "Big House," can fit up to 10 people. Guests also get to use the grill, pool table, board games, and two swimming pools. There's also a videoke machine free for use—sold!
Casa La Playa
Seagull Street, Montemar Village
Contact: 0917-577-0313
E-mail: casalaplayaresort@gmail.com
www.facebook.com/casalaplayasanjuan
Rates start at P4,500 for six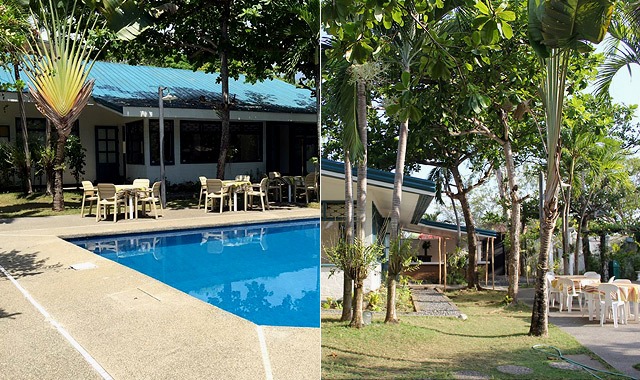 ADVERTISEMENT - CONTINUE READING BELOW
Enjoy privacy even in a crowded beach like San Juan when you're at Casa La Playa. You can book a nipa hut (P1,800) that's good for three persons and experience a no-frills beach life. For bigger families, they have the air-conditioned two-bedroom unit (P6,000) that can fit up to eight persons. The young ones can enjoy an afternoon dip in the pool while you're lazing on beach chairs.
This story originally appeared on Spot.ph.
* Minor edits have been made by the Femalenetwork.com editors.
Comments
Load More Stories