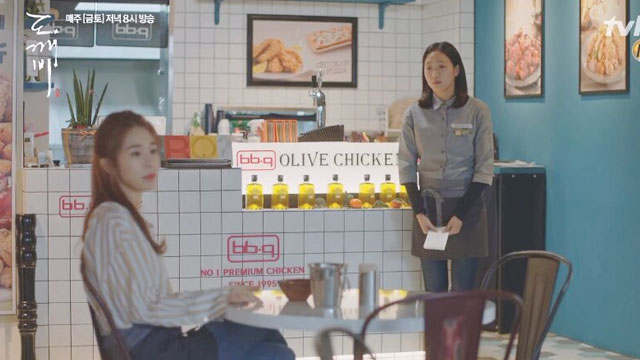 Pinoys have been loving everything S-Korean, whether it's fashion, makeup, or music, and of course, K-dramas.  
From the ultimate classics such as Endless Love, Full House, and My Girl to high-rating shows like Goblin, Descendants of the Sun, and The Heirs, there's a TV series for everybody but either way, it's hard not to love them all. And if you're one of those fans who want to re-live their favorite Koreanovela moments, why not visit the actual locations themselves? Here, we list seven K-drama restaurants you should check out if you plan to go to South Korea:
1. BBQ Olive Chicken
Where you've seen it: Goblin
If you're a fan of Goblin, you probably know this place as the place where Euntak (Kim Go-Eun) was a part-time worker. In the series, it was owned by Sunny (Yoo In-Na).
Other than chicken, this three-storey restaurant also offers rice meals, pasta, pizza, coffee, mocktails, and craft beers.
Address: 11-5 Gwancheol-dong, Jongno District, Seoul, Korea (Near Jonggak Train Station)
Business hours: 10:00 a.m. – 12:00 a.m. (Monday – Friday), 11:00 a.m. – 11:00 p.m. (Saturday – Sunday)
2. Dal.komm Café
Where you've seen it: Descendants of the Sun
This café chain was seen many times in other K-dramas but its appearance in DOTS may be its most popular yet, thanks to the unforgettable moment when Captain Yoo and Sergeant Major Seo were waiting for their lady loves Dr. Kang Mo-Yeon and Dr. Yoon Myung-Ju with adorable stuffed teddy bears.
This quaint café not only serves various types of coffee. They also offer refreshing juice blends, non-caffeinated drinks, and bingsu.
Address: 108 and 109, Building 3D, Prugio City, Bundang District, Seongnam City, Gyeonggi Province, Korea
Business Hours: Weekdays 8:00 a.m. – 11:00 p.m.; Weekends 10:00 p.m. – 11:00 p.m.
3. Luka 511
Where you've seen it: When a Man Loves
This posh Korean-European fusion restaurant is seen in a lot of notable K-dramas such as Emergency Couple, Missing You, Fight for My Way, and Introverted Boss. You can choose between a cozy interior or an outdoor dining experience that are both perfect for quiet dates.
Address: 115-16 Cheongdam-dong, Gangnam-gu, Seoul, South Korea
Business Hours: Visit their booking site for their business hours 
4. Pino Bistro Italiano
Where you've seen it: Rooftop Prince
Pino Bistro Italiano is another TV series location favorite as it was also seen in various K-dramas, like A Gentleman's Dignity, Here Comes Love, and Jealousy Incarnate.
ADVERTISEMENT - CONTINUE READING BELOW
According to reviews, they serve delicious and exquisite food without going over the top. It also has an artistic vibe to it thanks to its classy interiors.
Address: 613-3 Pungsan-dong, Ilsandong-gu, Goyang-si, Gyeonggi-do, South Korea
Business Hours: 11:30 a.m. – 10:00 p.m. (Sunday – Saturday)
5. Yulim Noodle House
Where you've seen it: My Love from the Stars
If you're craving for some hot noodles on a cool and breezy day, Yulim Noodle House is your best bet. Seen in the drama My Love from the Stars, this restaurant has meals worth trying since they use recipes that have been passed down three generations with ingredients that are grown only in South Korea.
Address: 139-1, Seosomun-ro, Jung-gu, Seoul
Business Hours: 11:00 a.m. – 8:30 p.m.
6. Restaurant Kioku
Where you've seen it: Uncontrollably Fond
Sushi lovers, rejoice! Located in Seoul, this restaurant you've seen in the 2016 K-drama Uncontrollably Fond is perfect for those who love Japanese cuisine. They have private and semi-private rooms making it the best place to hang out with your friends; they also have lounges and bars for those who are in the mood for a couple of drinks.
Address: 97 Saemunan-ro, Sajik-dong, Jongno-gu, Seoul, South Korea
Business Hours: Visit their site for their business hours
7. Saint Augustin
Where you've seen it: Emergency Couple
Remember when Oh Chang-Min's (Choi Jin-Hyuk) mother set him up with Han Ah-Reum (Clara)? This was the restaurant where it exactly happened. If you want to take a break from Korean cuisine, you should try this Pan-Asian fusion resto with a bit of Western influence.
Address: 19, Junghak-dong, Jongno-gu | B1F The K-Twin Tower, Seoul, South Korea
Business Hours: 11:30 a.m. – 12:00 p.m. (Sunday – Thursday), 11:30 a.m. – 3:00 a.m. (Friday – Saturday)
Comments
Load More Stories