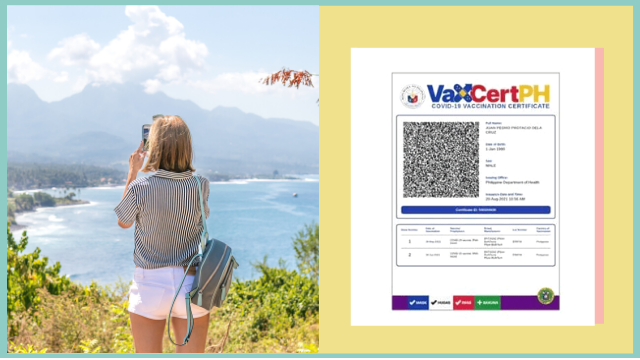 Fully vaccinated Filipinos travelling locally can now apply for a VaxCertPH digital vaccine certificate as proof of immunization against COVID-19.
The digital vaccine certificate was previously available only for those travelling abroad, but the Inter-Agency Task Force on COVID-19 recently approved the adoption of VaxCertPH for domestic travel.
ADVERTISEMENT - CONTINUE READING BELOW
Individuals can generate their own vaccination certificates. But in cases where there are errors in pulling up the vaccination data, the applicant may need to upload their vaccination card and valid ID to verify their record.
How to apply for VaxCertPH for local travel
Those who want to apply for VaxCertPH for domestic travel can visit vaxcert.doh.gov.ph to initiate the process.
In the website, confirm your vaccination status and input your personal details as may be indicated in your vaccination card. You will also need to input the date and place of your vaccination.
Double check your vaccination details before continuing, and input the seven digit characters that will be shown on your screen to begin the validation process.
Once the system has pulled up your vaccination record, you may choose to generate your digital vaccination certificate or input your passport number if you're using it for international travel. You also have the option to update your vaccination record.
After generating the digital vaccination certificate, you may download it from the website, print a copy, or simply take a screenshot of it.
VaxCertPH is required for individuals travelling to Iloilo City and Negros Occidental. Other destinations simply require vaccination cards from tourists, while some have waived the negative RT-PCR and antigen test result requirement.
ALSO READ:
RT-PCR Test Requirement is Waived for Fully-Vaccinated Tourists in These Spots
Staycations Allowed in These 40 Metro Manila Hotels, says DOT
Load More Stories