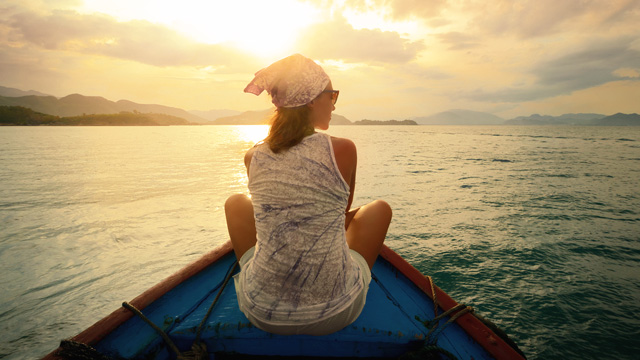 At some point in your life, you'll need to venture out on your own. The occasion can either mark a major milestone or simply be a way to escape your everyday grind, but whatever your reason may be, there are so many great things waiting for you when you realize that yes, exploring the unknown can sometimes be exactly what you need. Create your own eat, pray, love adventure starting with these destinations:
ADVERTISEMENT - CONTINUE READING BELOW
Puerto Princesa, Philippines: Scribbles and Snacks
CONTINUE READING BELOW
Recommended Videos
More than just the famous Honda Bay and Underground Caves, Puerto Princesa in Palawan offers quiet beaches just beyond the beaten path if you know the right person to ask. Don't expect resorts and tourist amenities in these secret places because there won't be any; however, if you come looking for reprieve, then you'll get what you came for.
ADVERTISEMENT - CONTINUE READING BELOW
This city also has a vibrant art scene, and many events and establishments cater to local artists and enthusiasts alike. You can visit Scribbles and Snacks for good food and maybe a workshop or two if you're interested in exploring your creative side.
Kyoto, Japan: En Tea House
ADVERTISEMENT - CONTINUE READING BELOW
Known as the Old Capital, Kyoto is where you go to when you want to take a break from the lights and sounds of Tokyo while taking a peek at Japan's past. Full of small streets that lead to interesting locales such as cafes, pastry shops, and yes, even love hotels, this bustling city is a beautiful blend of both old and new and will no doubt make you wish that you could stay longer.
Dive deeper into the culture by going for tea at En Tea House. This place is very welcoming of tourists, and even has an English-speaking staff to teach you how to participate in the traditional tea ceremony. If you're into it, you can rent a kimono in one of the many shops in the city before your visit to make the experience more authentic.
ADVERTISEMENT - CONTINUE READING BELOW
Yosemite National Park, U.S.A.: The Majestic Yosemite Hotel Dining Room
Entering Yosemite National Park is like visiting a place out of a movie: the quaint shops lining the roads, the massive trees filtering sunlight, and the trails that lead you to the most scenic waterfalls, lakes, meadows, and shores can do so much for a stressed-out city woman searching for an escape.
ADVERTISEMENT - CONTINUE READING BELOW
If you're planning to stay in Yosemite for a while and explore everything that it offers, you may want to book at The Majestic Yosemite Hotel and enjoy your meals at the Dining Room. Its stone walls, high ceilings, warm lighting, and of course, good food will definitely get you to take a well-deserved breather.
ADVERTISEMENT - CONTINUE READING BELOW
Frankfurt, Germany: Holbein's at the Städel Museum
Finding yourself in Frankfurt in January to February means that you're right smack at the height of winter and the atmosphere could feel very glum. Snow mutes everything into shades of white, gray, and brown, and it can be very lonely if you're traveling solo. Here's a tip: know where to look for beauty, because Frankfurt has it in really, really huge doses. Walk by rivers. Visit museums like the Städel, and while you're at it, have a glass of beer at Holbein's (and maybe an ox soup too, if it's on the menu). Winter can be warm and cozy, if you just find the right nook to settle in.
ADVERTISEMENT - CONTINUE READING BELOW
Load More Stories