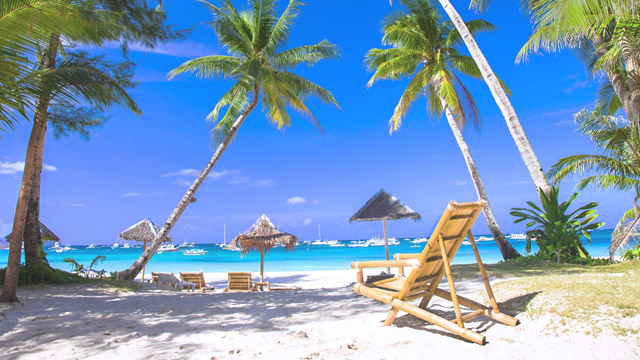 It was a long six months of rehabilitation but the island of Boracay, one of the most visited tourist destinations in the Philippines, is set for a "soft opening" on October 26. Last August, the Department of Tourism (DOT) named 25 hotels that have complied with the requirements of the Department of the Interior and Local Government (DILG) and Department of Environment and Natural Resources (DENR). This month of October, it has added 43 more accommodations to the list, increasing the number of rooms to 3,519 (from the original number of 2,063).

But before you book your tickets and your accommodations, make sure that it's part of the DOT's approved list. In a public advisory released on Facebook on October 15, the DOT reminded everyone to "avoid transactions with establishments that have not yet secured the necessary clearances, permits, and/or accreditation from the DOT, DENR, and DILG." These establishments have no assurance of reopening in the future.

The DOT also urged non-compliant accommodations to delete or put on-hold all online promotions and advertisements until they have complied with government regulations. "The actions of these non-compliant establishments in soliciting and/or accepting booking reservations (despite the lack of clearance to open) may be considered deceptive and may subject them to civil liability/suits," the advisory read.
ADVERTISEMENT - CONTINUE READING BELOW
The list of accredited hotels allowed for Boracay's reopening on October 26 is as follows:
Station 3
357 Boracay Resort
Astoria Current Resort
Blue Coral Resort
Calypso Resort Hotel
Canyon de Boracay
Casa Pilar Beach Resort
Dave's Straw Hat Inn
Greenyard Inn
Hey Jude South Beach
Moreno's Cottages
Ocean Breeze
Paradise Garden Resort Hotel & Convention Center
Roy's Rendezvous Resort & Bungalow
St. Vincent Cottages
Sulu Plaza Lodge
Station 2
7 Stones Boracay Suites
Alice in Wonderland Beach Hotel
Azalea Hotels & Residences
Best Western Boracay Tropics
Boracay Haven Resort
Boracay Holiday Resort
Boracay Mandarin Island Hotel
Boracay Travelodge Beach Resort
El Centro Beach Resort
Ernest's Place Resort
Hey Jude Resort Hotel
Hue Hotel (Luana Hotel)
Isla Azul Boracay Hotel
Isla Gecko Resort
Island Inn
Jeffrey S Hotel
Lady Jean Resort
Luxx Boutique Hotel Boracay
Nigi-Nigi Nu Noos 'e' Nu Nu Noos
Nirvana Beach Resort           
Pinjalo Resort
Tan's Guesthouse Main
Tan's Guesthouse Annex
Taj Resort and Spa Main
Taj Resort and Spa Annex
Villa Simprosa
Station 1
Boracay Haven Suites
Boracay White Coral
Discovery Shores Boracay
Fairways & Bluewater Resort
Frendz Boracay Hostel
Frendz Resort
Hampstead Boutique Hotel
Hannah Hotel
Hotel Soffia
Jony's Beach Resort
Jony's Boutique Hotel
Lugar Bonito
Miliflores de Boracay (Jinjiang Inn)
Red Coconut Beach Hotel
Shangri-La Resort
Shore Time Hotel – Annex
Sol Y Sombra
Sunshine Place
The Club Ten Beach Resort
The Strand Boracay
Villa Sunset Boracay
White Beach de Boracay
White House Beach Resort
Bulabog Beach
Lanterna Hotel
Reef Retreat Beach Resort
The Ferra Premier by JG Hotel
The Lazy Dog Cottages
Boracay will also have lifeguards to ensure the safety of tourists engaging in water activities. The Philippine Coast Guard has trained 200 qualified lifeguards of hotels, resorts, and tour boats, according to The Philippine Star.
Though the island is reopening on October 26, the DOT will continue to rehabilitate the island in stages. As reported by The Philippine Star, the first phase of rehabilitation will be completed this month, the second by the middle of next year, and the third by the end of 2019.
A "dry run" was held last October 16, and CNN reported there were already plastic cups and other forms of garbage that littered the island. If you're going to the island, please pick up your trash.
DOT chief Berna Romulo Puyat posted on Twitter that Cebu Pacific Air donated trash bins. "No more excuses to litter. Throw your trash in the garbage bins, where they belong. Keep our beaches clean and pristine," she said in her tweet.
ADVERTISEMENT - CONTINUE READING BELOW
Thank you @CebuPacificAir for donating these beautiful trash bins, which are now being placed around Boracay island.

No more excuses to litter. Throw your trash in the garbage bins, where they belong. Keep our beaches clean and pristine. #betterboracay #responsibletourism pic.twitter.com/2BJj0v2hKH

— Berna Romulo Puyat (@BernaPuyat) October 16, 2018
Excited to plan for your trip? Cebu Pacific has already released its flight schedules to and from Caticlan, which is the central hub that services Boracay. You can check this page for the list of flights available.


This story originally appeared on Smartparenting.com.ph.
* Minor edits have been made by the Femalenetwork.com editors.
Recommended Videos
Comments
Load More Stories