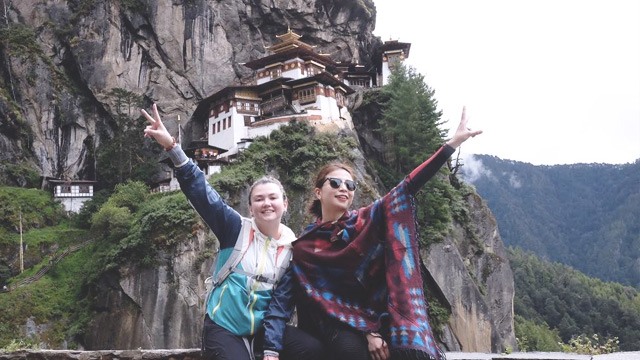 Angelica Panganiban and Glaiza de Castro have been friends for more than a decade now, and they're currently celebrating in Nepal, which is eight hours and five minutes by air from Manila.
Their first project together was the movie White Lady, released in 2006.
Last week, upon arriving in Kathmandu, Nepal's capital, they started documenting their trip using the hashtag #WagKangNepal on Instagram.
ADVERTISEMENT - CONTINUE READING BELOW
From there, they flew to Bhutan, which is more than an hour away from Kathmandu by plane.
Known for being the "happiest place on earth," it is currently Angelica's "favorite place on Earth." 
Bhutan, according to CNN Travel, is "a happy little nation high in the highest mountains, cut off from the wars and worries of the modern world."
Also called the Land of the Thunder Dragon, it measures its success in gross national happiness, and not the gross national product.
Angelica was mesmerized. "Ikaw ang pinakamagandang lugar na napuntahan ko. Unti-unti mo kong binabago.
"Dahan-dahan mo kong binubuo. Tunay ka ngang regalo ng Panginoon."
They also went to see the Great Buddha Dordenma, a gigantic Shakyamuni Buddha statue.
Known as the Buddha point, it has a magnificent view of the Thimpu, the kingdom's "capital, largest and only city."
Tourists have two words for it: calm and clean.
Here's the front view.
CONTINUE READING BELOW
Recommended Videos
The actresses dropped by Tashichho Dzong, aka "fortress of the glorious religion."
According to DrukAsia.com, "it is an impressive structure that houses the Bhutanese government and stands on the right side of the Wangchu River (Thimphu)."
Of course, they included the most-iconic and most-photographed landmark in Bhutan: the Paro Taktsang or Tiger's Nest.
This small monastery on a cliff was where the "Second Buddha" is supposed to have meditated.
The site entailed a seven-hour hike and was 3,100 meters high.
It was difficult, but worth it.
Angelica related, "Kinaya namin!!! 7hours hike to tigers nest. 3,100meters high. Kinaya ko! Na isang paa lang ang willing and able.
"Eto na ang pinakamataas na mountain na inakyat namin. (Malamang. First time namin mag hike e) habang umaakyat ako, naiiyak na ko, iniisip ko, bakit ko ba to ginagawa.
"Nanginginig na yung isa kong binti dahil pilay yung kanan kong paa. umulan pa ng paulit ulit. Pero wala eh.
ADVERTISEMENT - CONTINUE READING BELOW
"Napasubo na ko eh. Nandyan na 'yan. At ang pinakamalupit, naunahan ko pa ang mga guide at yung kaibigan kong wala naman pilay. (Puro harot kasi) malupit!
"Malupit ka Bhutan.. talagang #BHUTANinamo."
She was referring to Glaiza, whose post was, "Sus napakadali lang naman pala netong Tiger's Nest. First time pa at may injured pa akong kasama. Parang wala lang sa kanya at nauuna pa. Happiness."
September 21 was also World Gratitude Day, and Angelica and Glaiza took the time to be thankful for their blessings.
Glaiza said: "And I'm thankful for new experiences, lessons, destinations and people who constantly give me inspiration."
On their way back to Nepal, Angelica caught a glimpse of Mt. Everest, the earth's highest mountain.
"Dito talaga magagamit ang hashtag blessed eh. Thank you for letting me see you Mt. Everest."
The two ladies are now back in Nepal.
Here's Glaiza's shot of Boudhanath, a stupa in Kathmandu.
ADVERTISEMENT - CONTINUE READING BELOW
According to Britaannica.com, a stupa is a "Buddhist commemorative monument usually housing sacred relics associated with the Buddha or other saintly persons."
At the Pashupatinath Temple, a famous and sacred Hindu temple, a Sadhu (monk) whispered "good luck" to Angelica, who exclaimed, "Kinilabutan ako eh!!! Bakit ako na fragile sa goodluck?"
The two just finished their day hike from Pokhara to Sarangkot, where they were rewarded with an amazing view of the sunrise.
Glaiza wrote: "Catching the sunrise and we're ready to climb again."
Angelica's caption: "Cheers to more mountains, adventures, and sunrises."
This story originally appeared on Pep.ph.
* Minor edits have been made by the Femalenetwork.com editors.
Load More Stories