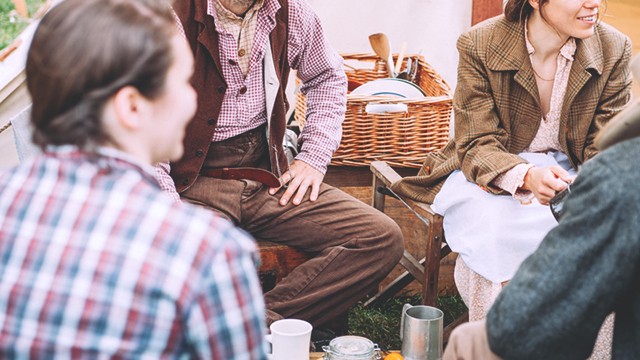 Everyone looks forward to going on a trip somewhere nice. Whether it involves being in a new town, city, or country, it's really exciting and fun especially with the right company. We've given you reasons to travel with your friends, your boyfriend, and even your dog. Now, here are five reasons why your officemates also make the perfect travel buddies:

1. Because Ms. Becky, your team leader with the good hair, is actually a rock star in disguise.
Your colleagues are not just the report-generating robots or the proposal-developing androids that you think they are—they also know the definition of fun, including how and when to have it. These personalities are let out of their cages when the team goes on a vacation together where everyone becomes less formal and the avenue for casual talk and interaction opens up. You might be surprised to learn that the new IT guy actually runs the travel blog you religiously follow, or that your Hitler-like manager shares the same love for calligraphy as you.

2. Because de-stressing is better with officemates.
You are with your officemates almost the entire day: they breathe in the same musty office air, endure the same freezing temperatures from the AC, and have the same KPIs, so chances are, they feel the same amount of stress as you do. Traveling with your colleagues allows you to talk about your feelings about work, discuss the challenges that you're facing, and how you can deal with them—while pigging out on lechon in Cebu or lounging by the shores of Alona Beach in Bohol.

3. Because traveling with officemates is like a more fun and exciting team building activity.
Unlike in formal team building seminars where participation is required, traveling with your officemates doesn't limit the places you can visit and the things you can experience together. You get to bond with each other while planning the itinerary and doing the leisure activities you've chosen. Even the personal stuff that you discover about each other like who snores while sleeping or your food choices all contribute to developing what team building activities aim to create: camaraderie.

4. Because you'll create memories that will make work lighter and easier to bear when times get rough.
Aside from forming a strong bond with your officemates, travelling with them creates fun and fond memories together that you can look back on when the going gets tough at work. You also have something fun to talk about during coffee and lunch breaks.

5. Because officemates can become your friends for life.
Traveling brings out the best in people, and it can also bring out the worst in them. Seeing both sides of your officemates will make you realize that they are also human like you. The more you know each other, the more you can relate with one another. And the more precious memories you have together, developing a friendship bound by trust and loyalty naturally follows.

This story originally appeared on Travelbook.ph.
*Minor edits have been made by the Femalenetwork.com editors.
ADVERTISEMENT - CONTINUE READING BELOW
CONTINUE READING BELOW
Recommended Videos
Load More Stories