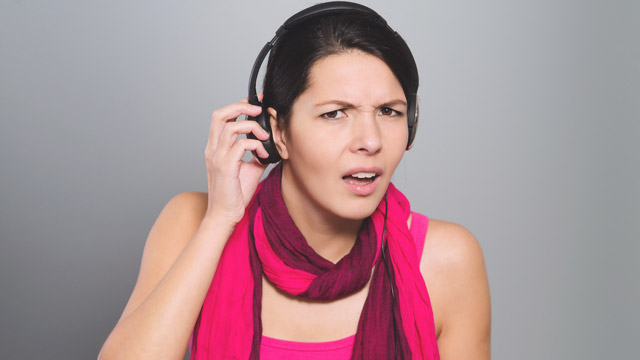 So this happened: three days ago, a guy who goes by the handle RolandCamry noticed that this recorded pronunciation guide (click on the link to listen) on Vocabulary.com sounded strange to his ears.
He turned to his fellow Reddit users on the wonderfully descriptive sub called /blackmagicfuckery to ask for their opinions and opened Pandora's is-it-a-blue-or-black-dress box.
ADVERTISEMENT - CONTINUE READING BELOW
RolandCamry says that he was on Vocabulary.com listening to the pronunciation guide for the word "laurel" when "my sister was like why do you keep playing yanny and I was like wtf."
The top-voted comment on the thread is from a user who says, "I hear Laurel and everyone is a liar."
However, others chimed in to say that they heard differently: "I hear Laurel now but Yanny at first," said one. "Yanny. Not even close to Laurel. Is this supposed to be some blue-black dress bs?"
The thread itself didn't even reach the front page of Reddit, but it has spread like wildfire on Twitter, where some of the most influential Twitterati have weighed in:
— christine teigen (@chrissyteigen) May 15, 2018
Literally everything at my show just stopped to see if people hear Laurel or Yanny. I hear Laurel. https://t.co/efWRw1Gj0L

— Ellen DeGeneres (@TheEllenShow) May 15, 2018
I only hear Yanni ;) hahaha https://t.co/WrMMVvl8iX

— Yanni (@Yanni) May 15, 2018
Off Twitter, even the prestigious New York Times joined the fray with a detailed blow-by-blow account of the developing Internet war. A continent away, so did The Guardian. The Atlantic spoke to a linguist to get to the bottom of the auditory confusion. Its sister site, Quartz, published a philosophical essay (!) about the nature of reality, concluding that "It's useful to have a Yanny/Laurel moment every once in awhile—to remember that there are multiple versions of reality, which exist outside the boundaries of the self."
ADVERTISEMENT - CONTINUE READING BELOW
You may recall that the Big Internet War of the Blue/Black Dress was waged way back in the ancient era of 2015. It has since spawned another skirmish regarding the color of a pair of Vans Old Skool sneakers that may have been pink and white or gray and teal. "The Dress" has its own Wikipedia entry, even, with a long list of references to remind us of that tragically divisive time in our browser history.
This story originally appeared on Esquiremag.ph.
* Minor edits have been made by the Femalenetwork.com editors.
Load More Stories